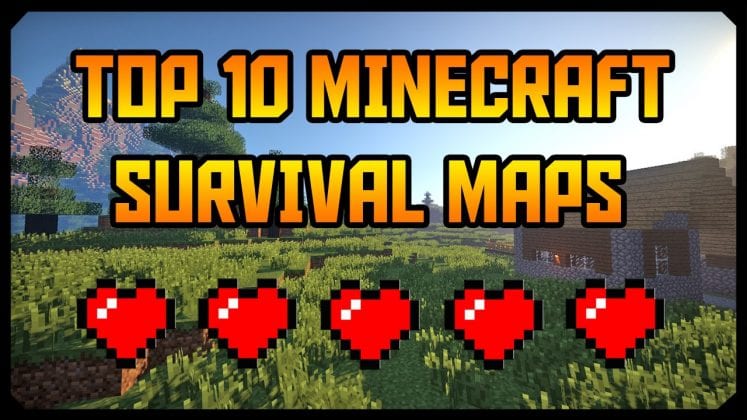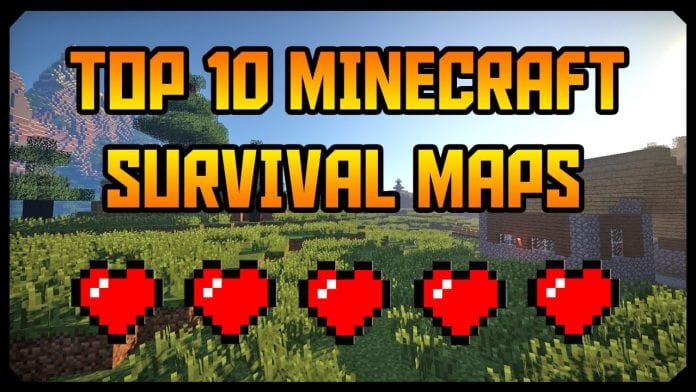 What Are The Best Minecraft Survival Maps
Do you want to test how good you are at surviving in Minecraft? You might have already played in different biomes, played in hardcore mode and survived up to 300 days. You might have already created a giant empire in your Minecraft survival mode but are you thirsty to try and challenge yourself even further? If yes, then you should really try one of our top 10 survival maps!
Look no further, here at minecraft-resourcepacks.com we specialise in only the best custom content Minecraft has to offer. So sit back, relax and take off those diamond boots, because we're about to dive into the top 10 best Minecraft survival maps. Let's go!
What Do Minecraft Survival Maps Do?
To those not in the know, Minecraft survival maps are custom content made by other players focused on giving unique and challenging forms of Minecraft survival. These maps are great for playing with friends, or for players who are looking for something exciting and new from survival.
Essentially Minecraft survival maps will pre-load presaved content for you. It loads a "survival" map which was designed to make surviving in the game a living hell. Some examples of this include sky block where you are suspended high in the sky with only a few blocks and very minimal resources to start with.
In default gameplay you are usually able to travel the vast land of your world but in a survival map your space is usually very limited and your only goal is to keep surviving by using what very small resources you have. You can also bump into challenges which you can find in forums or reddit. These challenges make survival maps even more fun as you try hard to best the other players.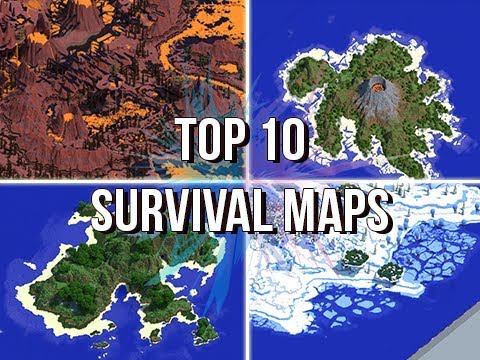 Our Top 10 Minecraft survival maps Downloads List
We have taken hundreds of our going through forums, playing on different servers and having a survey with over 100,000 players involved. We took our time to get valuable data to give you this years Top 10 Minecraft Survival Maps!
To those not in the know, Minecraft survival maps are custom content made by other players focused on giving unique and challenging forms of Minecraft survival. These maps are great for playing with friends, or for players who are looking for something exciting and new from survival.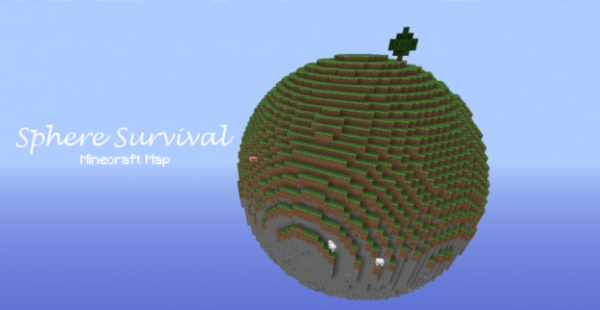 Survival maps should be daring. And what's more daring in Minecraft that a map made entirely in the shape of a sphere? This compact little map consists of a single floating sphere, and to gain items and materials you'll have to carefully dig your way through it.
Just watch out for the pockets of monsters and traps along the way. You can even take a trip to the nether and survive on a single nether sphere too. Try your luck, who knows maybe you can survive.
Click here to download this Minecraft Survival Map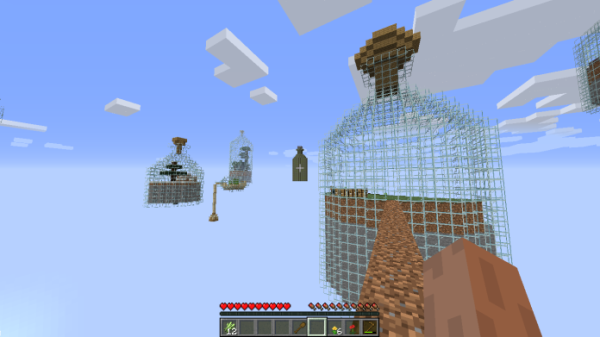 Cute. Friendly. Approachable. No, this isn't some dating profile, it's all the best quality of World in a Jar! This survival map is great for those who are new to custom survival content and are looking for a fun and rewarding experience.
The map consists of jars filled with different biomes that are suspended high in the air. To progress and survive, you'll have to break out of the confines of your comfy peaceful jar into those off in the distance. The jars are like safe havens floating in the sky, but beware, one wrong step and you—and more importantly your items—will be done for.
Click here to download this Minecraft Survival Map
Like our previous entry, Ant Farm Survival works around a single little idea: you are now an ant. And with that new found responsibility of ant-hood you find yourself stuck inside a glass colony with barely any resources to survive.
What's neat about this map is that its very focus on vertical progression. You'll have to dig like an ant to the lower regions of the tank in order to get better loot and materials.


Deadly Orbit is a survival map...in space! You are placed adrift in a broken off piece of a space shuttle. It is your task to reach back to the shuttle and make your way through the dizzying heights of the giant spacecraft. With great builds and excellent game design, this map is always a blast.
Challenge yourself to try and survive in this cruel survial map where you are only given very little resources to begin with and confidence to start. You need to be thoroughly creative and inventive if you want to survive Deadly Orbit.
Click here to download this Minecraft Survival Map

Like many maps, Planet Impossible has you crash land somewhere and forces you to fight for your life. But this time with dinosaurs! On a bizarre alien planet you'll uncover hidden secrets, fight massive dinos and pitch up camp in one of the most peculiar environments around. There's just no guessing what you'll find in this out-of-this-world map.
Unline most of the survival maps where only your skills and will of survival are tested this map takes it to the next leve! You get to battle massive hoards of enemies, and at the same time get to travel and adventure throughout the map. Grab your pickaxes, it's time to take a trip to planet impossible.
Click here to download this Minecraft Survival Map

"Brr. I feel chilly. Did we just crash into an iceberg?" are probably the words uttered just before Arctic survival begins. In this map you'll find yourself stranded on an icy tundra in the midst of constant snow. With no food in sight and night slowly approaching, can you overcome this chilly challenge?
Arctic is the ultimate Minecraft survival map for anyone who wants to portray and play through survival on icy terrains. Every saw the movie revenant? or maybe even titanic? We all know Leo loves the cold. Do you too? Download Arctic and find out if you have what it takes to survive the chilly weather.

This survival map isn't just your regular sandbox survival map where you are given some resources then left to survive. This Minecraft survival map actually has plenty of content and a very nice story added to it.
Containment Survival 2 is a map that focuses a lot on narrative and storytelling. It pulls a lot of inspiration from Portal to deliver a very unique survival experience. I won't spoil it here, but expect sci-fi shenanigans abound!
Click here to download this Minecraft survival map!

Do you love the wild wild west? Are you a cowboy or a cowgirl who wants to yeehaw your way to survival inside Minecraft? Then this survival map is just for you! Download this map now and feel the way of the win on your hair as you survive in a land full of dessert, cactus and cows. Yeehaw!
Wild West is a map with an obvious theme. If you're into some gunslinger action, then this is the map for you. Keep your wits about your as you use a cowboy's arsenal to reign supreme. Yee-haw!
Click here to download this Minecraft survival map!

Have you ever seen the movie Cast Away? Chances are you are someone who is 20+ but loves to play Minecraft. So, you must have seen that movie. Ever wondered how it felt like to actually live the life of the main character in that story? Well now is your chance!
Survival Island is as vanilla as survival maps come. In minimalist fashion you are given a simple basic island to survive with. You'll need to be smart and efficient with resources in this castaway adventure. Just make sure to take a friend with you. Or maybe make a friend instead.


A true classic of Minecraft survival maps. And that's why it belongs at the top of our list. Skyblock has been the inspiration for countless clones, rip-offs and spiritual successors, and for good reason. The gist of it is: you must survive and you've only got a tiny island in the sky to do it. Feeling up to it?
Skyblock is the ultimate challenge! It is the proving grounds for anyone who dares call themselves Minecraft veterans. Skyblock requires patience, steady hands, good knowledge of the game and perseverance. Also you should not be afraid of heights.
Click here to download Skyblock 1.14.4
How to download Minecraft Survival Maps
To download Minecraft Survival Maps you just need to follow these few little basic steps:
Download any map from our website.
After you download, you should see a zipped file with the name of the map.
Unzip the zipped file using winzip, winamp, or any software.
Go to %APPDATA%\.minecraft on windows folder explorer.
Go to Saves
Copy the unzipped folder from desktop or download folder (the downloaded map)
Paste it on Saves
Run Minecraft
Viola! Enjoy the new challenge of a minecraft survival map.
If you want to learn more details about how to download and install Minecraft survival maps properly then read our full article "How to Install Minecraft Survival Maps".
Note: always check that the map isn't part of a wider piece of custom content. Sometimes creators use resource packs, shaders, or even mods to give you a full experience. Sometimes maps will work in vanilla Minecraft, but it's always better to check.
Conclusion
Minecraft survival maps are the best way to challenge yourself and find out if you are truly fit to be called a Minecraft veteran. Newbies may want to try survival maps as well to improve their skills and knowledge of the game fast. However, we strongly recommend Minecraft survival maps only to those brave souls who want to take on the game with the very least amount of resources. These maps are not for hoarders!