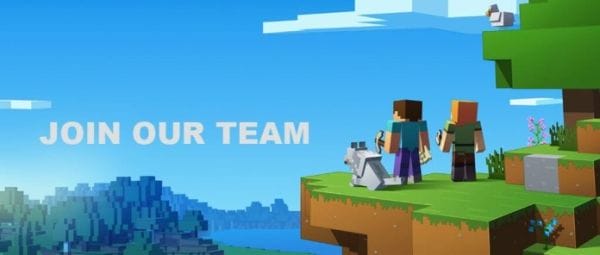 We are always looking for amazing Minecraft fans who are committed to providing the Minecraft universe with awesome new texture packs, resource packs, mods, or any content at all which helps players get better satisfaction while playing the game. We are recruiting cool people to join our team of Minecraft maniacs. We can offer some monetary compensation and more!
It's easy to submit your application. All you need to do is go to our contacts page, use "application – position" (ex. application – Graphics Designer) as the subject, and include a link to your resume or portfolio. If we think you are a fit we will be contacting you really soon. It's that easy.
Right now we are looking for the following talents:
Content Writer
We are looking for awesome writers who can quickly visualize and turn any pack into a full readable article complete with details and an honest review. You need to at least have some minor experience with content writing and be able to follow instructions flawlessly.
Also, it's a super bonus if you have already previously had some experience with any CRM and word processing. Also, you need to have a legitimate version of Minecraft of course.
Graphics Designer
We are looking for a super cool Minecraft maniac who can create texture packs, edit graphics, take screenshots, and more. Basically, we do not need the next Da Vinci, someone with prior knowledge is enough. Let us grow together. you'll need to show us your portfolio and your previous work.
It's a great bonus if you are able to edit texture packs, and edit videos as well.
Pack Creators
Although not necessarily a part of our team, we are always looking for awesome pack creators who would want to collaborate with us. We will promote your packs on our website, our social media accounts, and more! You will get exposure from all of our media sources. All you really need to do is send us your pack, and link to us as the download source. We have an awesome collaboration with some of the famous pack makers, one of our biggest collaborators is iSparkton.
Collab with us and get exposed to millions and millions of our readers.