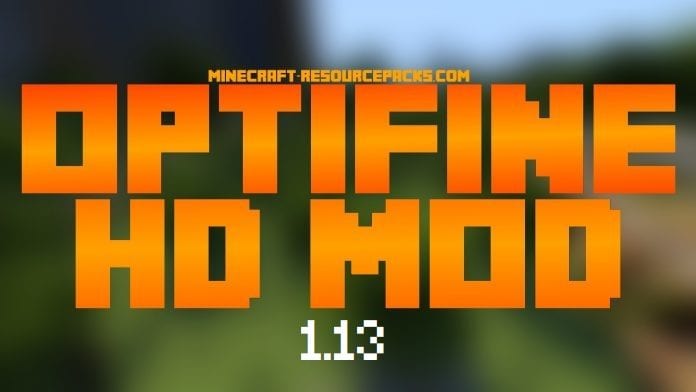 Optifine 1.13 is the most downloaded and the most famous mod in Minecraft. It is compatible with any texture pack and resource pack known to man. It dramatically improves the performance of Minecraft and at the same time, it also takes the game to new heights as it increases graphics and adds more heart to the game.
Optifine 1.13 reduces lag spikes, graphics distort, and most of all the problems that you had with the vanilla version of Minecraft.
THE OFFICIAL RELEASE OF OPTIFINE 1.13 IS STILL COMING SOON BUT WE WILL KEEP YOU UPDATED RIGHT AWAY WHEN IT BECOMES AVAILABLE.
You can find the download link at the bottom of the page.
Here is the changelog of the following versions of Optifine 1.13
OptiFine 1.13.1_HD_U_E3_pre2
Early preview, not all functions are tested
Not working: anisotropic filtering, antialiasing
Partially working: shaders
- fixed crash with custom texture animations
- optimized chunk loading
- fixed default connected textures
- replaced smooth biomes with biome blend radius
- fixed custom animations
- fixed shaders normal/specular animations
- fixed Custom Items
- fixed missing chunks when loading the world
- merged MCPBot mappings
- fixed black horizon on disable shaders
- fixed mipmap type and blending
- fixed load visible chunks (F3+L)
- fixed shaders uniform isEyeInWater for waterlogged blocks
- fixed parsing of shader texture metadata
- fixed shader options sliders
- fixed button Done in GuiMessage
- fixed crash with Java 9+
- removed check for lowercase resource locations
- added native memory info in debug screen
- fixed out of memory crash with shaders
- fixed compatibility with legacy launcher (#1635)
- fixed double scanning default resource pack
- fixed startup logo rescaling
- fixed parsing of full CTM paths (#1700)
- fixed Better Grass for grass path block (#1684)
- fixed CTM log orientation (#1685)
- fixed MultiMC resource loading (#1705)
- fixed leaves having checkerboard pattern with Smooth Biomes OFF
- fixed connected glass panes (#1661)
- fixed cloud height
- fixed crash with block slab using wrong block state (#1717)
- fixed Dynamic Lights to correctly reset on enable/disable (#1680)
- fixed water colormap
- fixed fluid animations with Smart Animations
- fixed rendering of players with non-latin usernames (#1637)
- fixed crash with TIS-3D Rift (#1677)
- fixed Video Settings to save on ESC
- fixed custom lightmap channels
- added Fullscreen Resolution
- fixed crash in Statistics
- fixed Fast Math accuracy
- added shader uniform "fogDensity"
- fixed fog options
- fixed FXAA flipping screen vertically
- updated to 1.13
(20.09.2018)
OptiFine 1.13.1_HD_U_E3_beta9
Early preview, not all functions are tested
Not working: anisotropic filtering, antialiasing
Partially working: shaders
- replaced smooth biomes with biome blend radius
- fixed custom animations
- fixed shaders normal/specular animations
- fixed Custom Items
- fixed missing chunks when loading the world
- merged MCPBot mappings
- fixed black horizon on disable shaders
- fixed mipmap type and blending
- fixed load visible chunks (F3+L)
- fixed shaders uniform isEyeInWater for waterlogged blocks
- fixed parsing of shader texture metadata
- fixed shader options sliders
- fixed button Done in GuiMessage
- fixed crash with Java 9+
- removed check for lowercase resource locations
- added native memory info in debug screen
- fixed out of memory crash with shaders
- fixed compatibility with legacy launcher (#1635)
- fixed double scanning default resource pack
- fixed startup logo rescaling
- fixed parsing of full CTM paths (#1700)
- fixed Better Grass for grass path block (#1684)
- fixed CTM log orientation (#1685)
- fixed MultiMC resource loading (#1705)
- fixed leaves having checkerboard pattern with Smooth Biomes OFF
- fixed connected glass panes (#1661)
- fixed cloud height
- fixed crash with block slab using wrong block state (#1717)
- fixed Dynamic Lights to correctly reset on enable/disable (#1680)
- fixed water colormap
- fixed fluid animations with Smart Animations
- fixed rendering of players with non-latin usernames (#1637)
- fixed crash with TIS-3D Rift (#1677)
- fixed Video Settings to save on ESC
- fixed custom lightmap channels
- added Fullscreen Resolution
- fixed crash in Statistics
- fixed Fast Math accuracy
- added shader uniform "fogDensity"
- fixed fog options
- fixed FXAA flipping screen vertically
- updated to 1.13
(13.09.2018)
OptiFine 1.13_HD_U_E3_beta4
Early preview, not all functions are tested
Not working: anisotropic filtering, antialiasing
Partially working: shaders
- fixed compatibility with legacy launcher (#1635)
- fixed double scanning default resource pack
- fixed startup logo rescaling
- fixed parsing of full CTM paths (#1700)
- fixed Better Grass for grass path block (#1684)
- fixed CTM log orientation (#1685)
- fixed MultiMC resource loading (#1705)
- fixed leaves having checkerboard pattern with Smooth Biomes OFF
- fixed connected glass panes (#1661)
- fixed cloud height
- fixed crash with block slab using wrong block state (#1717)
- fixed Dynamic Lights to correctly reset on enable/disable (#1680)
- fixed water colormap
- fixed fluid animations with Smart Animations
- fixed rendering of players with non-latin usernames (#1637)
- fixed crash with TIS-3D Rift (#1677)
- fixed Video Settings to save on ESC
- fixed custom lightmap channels
- added Fullscreen Resolution
- fixed crash in Statistics
- fixed Fast Math accuracy
- added shader uniform "fogDensity"
- fixed fog options
- fixed FXAA flipping screen vertically
- updated to 1.13
(28.08.2018)
For more versions of OptiFine, you can DOWNLOAD THEM HERE
Last Updated on