How to Download From Minecraft-resourcepacks.com
Minecraft-resourcepacks.com is one of the best and top websites you can find on the internet with legit and working download links and texture packs. All of our texture packs and resource packs have been tested and demanded by tons of our avid visitors, guests, pack makers and guests.
Since we are a self-hosting site, downloading texture packs from us might be a little different compared to simply downloading from Mediafire or it's likes. You actually go through our entire download flow.
Although our entire download flow is very simple and easy to use some players might have some troubles trying to download packs. This is why we have written this blog post to show you how to easily install from Minecraft-resourcepacks.com.
Steps on How to Download From Minecraft-resourcepacks.com
Here are the steps you can follow to ensure that you download from us efficiently and correctly.
1. Go to our official website https://minecraft-resourcepacks.com/
Make sure that you are visiting our site and not a clone or phishing site. Our exact URL is https://minecraft-resourcepacks.com/
After you visit our site, you can view and skim over which packs you would like to download. You can find the most in-demand sites on our top 12 packs. Why 12? Because 10 isn't enough.
2. Select which pack you would like to download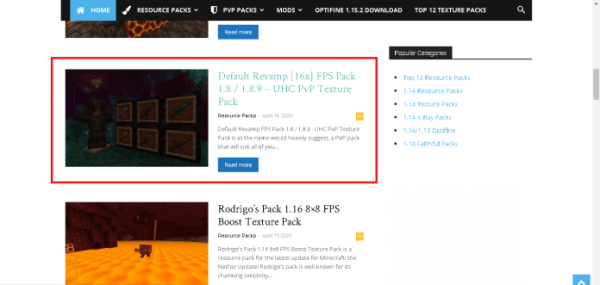 Once you pick which pack you would like to download simply click on the readmore button or any the name of the pack itself.
3. Read and learn about the pack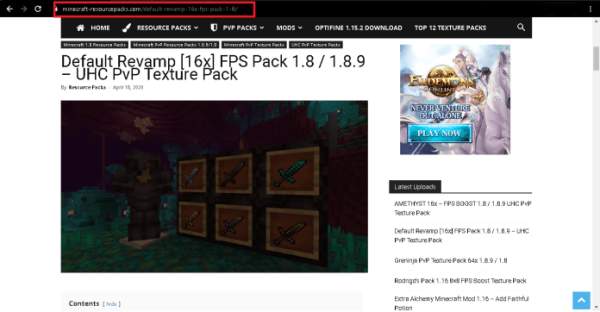 After you have clicked on the texture pack of your choice you will be redirected to the individual pack's page. In this page you can read our review about this pack and about the info and details that you need to know about a pack such as pros and cons.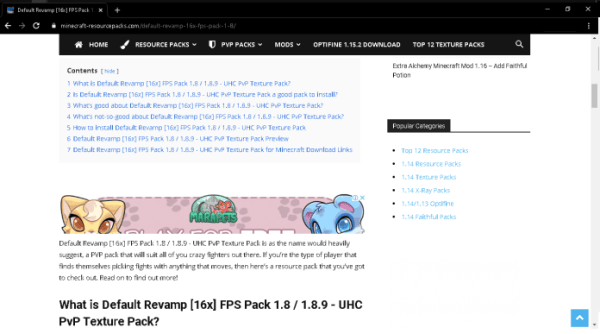 You can also see and read installation instructions, some screenshots, and more!
You will need to scroll down more to reach the download links
4. Scroll down to the download links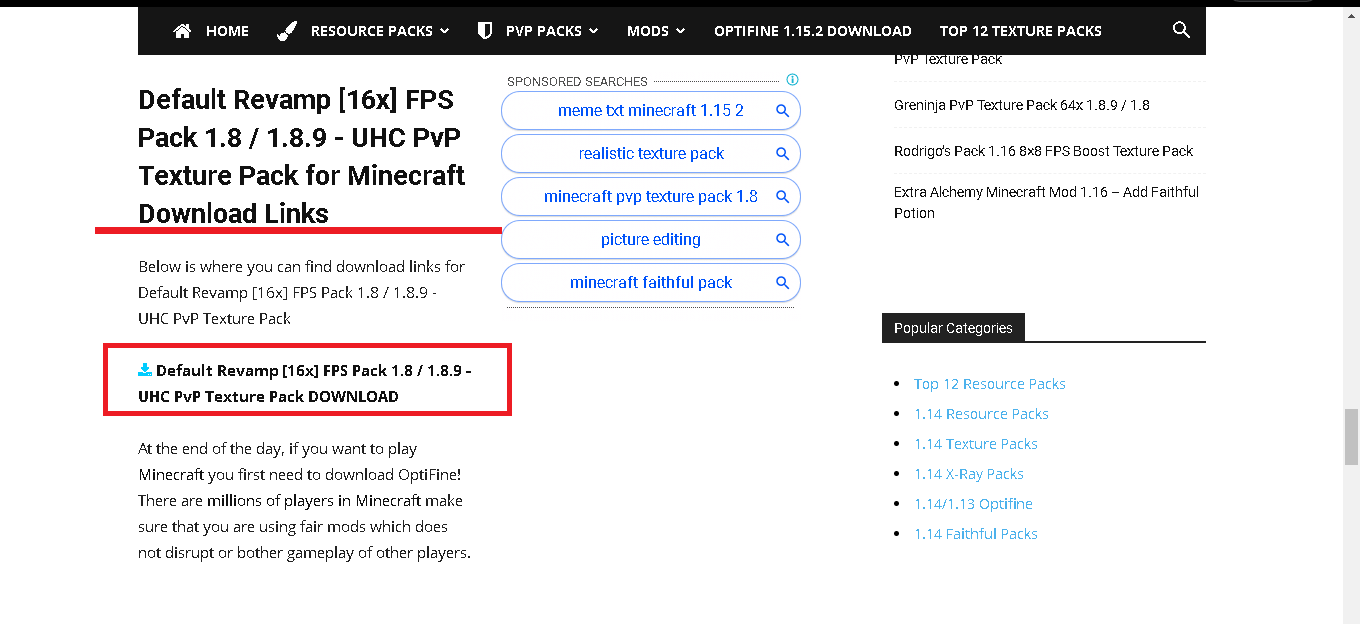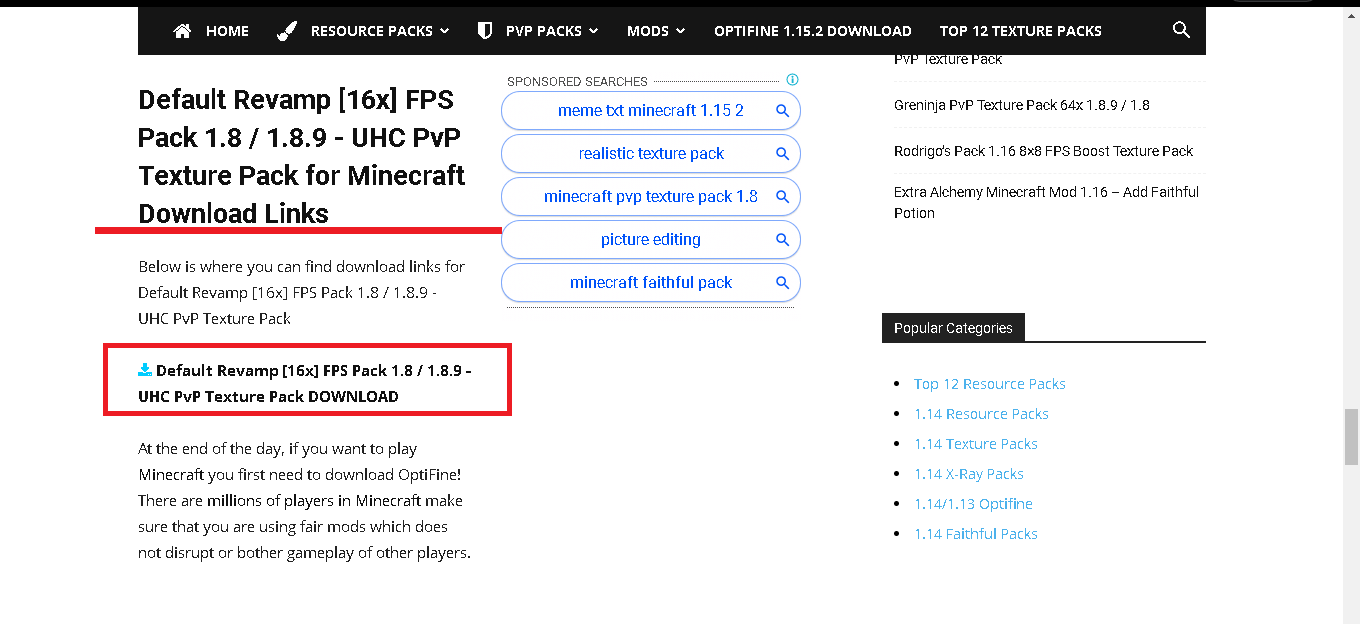 After reading and learning about the texture pack you can scroll down to the most bottom part of the page and locate where it says "for Minecraft Download Links" which is underlined by red on our example. You can identify it is that part from those lines.
After you have reached the download links section, you can click on the official download link. It is preceded by the blue download icon.
5. Wait for Download to Load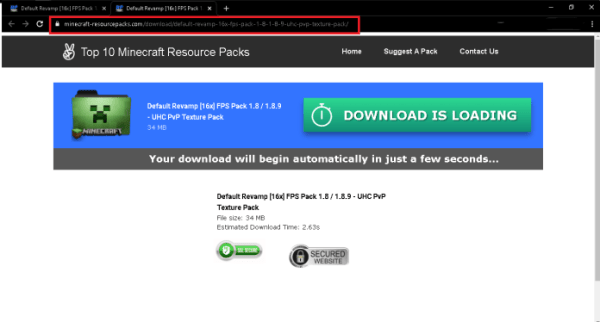 After you have clicked the download link a new tab will open with the URL of the name of the pack which you are downloading.
It will say that "download is loading". This is because since we are a self hosting site it might take some time for download to start automatically. It usually takes 8-10 seconds maximum for it to load.
Please stay on the page until the download is ready indication is shown.
6. Download is ready – Start Downloading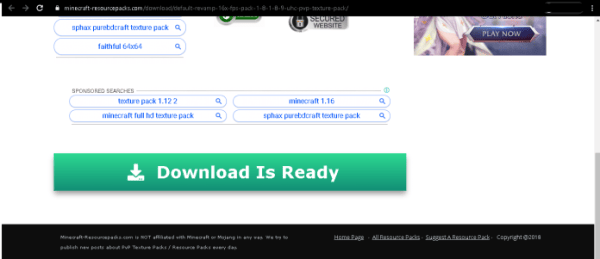 After 8-10 seconds from clicking the download link from the main post the download is ready indication should pop-up signifying that download is ready to downlad.

A second after download is ready shows your download should automatically start! You do not need to click on anything. Once the download starts, please save the pack anywhere you would want but we recommend you put it on desktop temporarily so it is easy to spot and find.
7. Install Pack
After you have followed the steps and have downloaded all the zipped files you want you can now install the packs in your game and enjoy!
8. Install to Minecraft
View this image which shows the full guide on how to Install Resource Packs and Texture Packs to your Game.


How to Download From Minecraft-resourcepacks.com Video Demo
If you are still having some troubles and issues with downloading from Minecraft-resourcepacks.com please view and look at this demo video created by one of our avid pack makers Pack-Nationin order to understand how to download resources and textures from us.
Have fun!
We would like to constantly remind you that if you want to play Minecraft you first need to download OptiFine! There are millions of players in Minecraft make sure that you are using fair mods which does not disrupt or bother gameplay of other players.
The Best Resource Packs, Texture Packs, and Mods
Having a hard time deciding what Minecraft customization to download first? Here is a quick list of the best packs you can download.