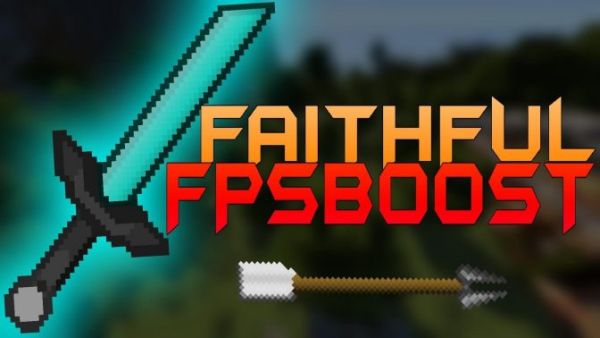 FPS Boost Texture Pack and Fps Boosting Faithful PvP Texture Pack is a very good texture pack to use for when you need to increase your game's performance to kick serious butt online. PvP Texture Pack FPS Boosting Faithful was made for all people that love Faithful but suffer from the low FPS-rates they get because of a bad computer. But in many cases using faithful in combination with Optifine can fix that problem.
With this Texturepack Cods released a pretty nice faithful texture pack edit that can improve your fps rate. It is based on the famous "Faithful" Texture Pack. However, many people think that the original faithful swords are way too long for PvPing. The Faithful Edit we will present you today features PvP suitable swords.
This texture pack is dedicated for the purpose of giving you badass looking swords which are perfect for PvP combat. It has also optimized textures and particles to help you get that extra boost in FPS for super dynamic PvP action. It is recommended to try out FPS Boost Texture Pack if you want to dominate PvP.
If you are interested in Faithful packs, be sure to also check out these awesome packs.
Top 10 Faithful PvP Texture Packs
As you already have known there are literally thousands of Faithful texture packs each with its different percentages of being faithful. They also vary from their performance boosts and the way they modify the game and change the overall dynamics.
We have summarized it all for you! No need to scavenge through thousands and thousands of texture packs to select which are the best faithful packs which can help you make your gaming experience better complete with details.
Click below to see the top 10 Faithful packs for you!
Watch our Top 5 FPS Boost Texture Packs
Aside from this texture, there are also other packs which have proven their dynamics to significantly increase your game's performance and give you double, triple or even more FPS than before simply by installing the texture pack.
We have compiled the top 5 best of the best FPS boosting PvP Texture packs for your heart's content.
Fps Boost Texture Pack - Faithful Review - 5 over 5 stars

Faithful texture packs are already known by the Minecraft universe to successfully increase the response time of your game. They have been reported to make the game run better and significantly improve your overall gaming experience. However, this texture pack takes the cake on the means of improving FPS.
This texture pack made by Cad's was significantly edited from the original faithful to suite and make it better for PvP! This is one of the reasons why it has more PvP suitable swords plus the extra reduction with fire and particles. It not only looks rad, but it's also one of the best FPS boost texture pack available.
We gave this faithful pack a perfect 5 stars despite it being an Edit from the original Faithful. This is because it has made the lives of fellow Minecraft players better by helping them make the game run faster. This in return has given countless players a little edge making it one of the most perfect packs for PvP.
How to install this Fps Boosting Faithful PvP Texture Pack
We recommend the 4-step installation below
1. Install the Optifine HD Mod
2. Run Minecraft.
3. Navigate from "options" > "Resource Packs" > "Open resource packs folder".
4. Put the FPS boosting PvP Texture Pack (zip) in the folder that just opened.
When you launch Minecraft just click on the Resource Packs button to display your installed Packs. If you need additional help, please leave a comment below! The community will try to help you if you are still having problems getting the Texture Pack to work.
If you need some additional help, please leave a comment below! The community will try to help you if you are still having problems getting the Texture Pack to work.
Fps Boosting Faithful PvP Texture Pack Download
Fps Boosting Faithful PvP Texture Pack optimized for higher fps-rates.
Download below:
Source/Submitted by Cods.
Last Updated on