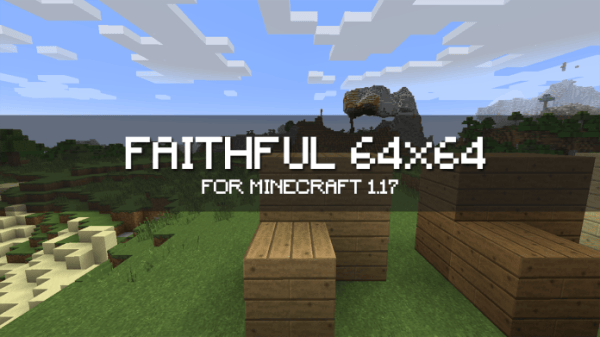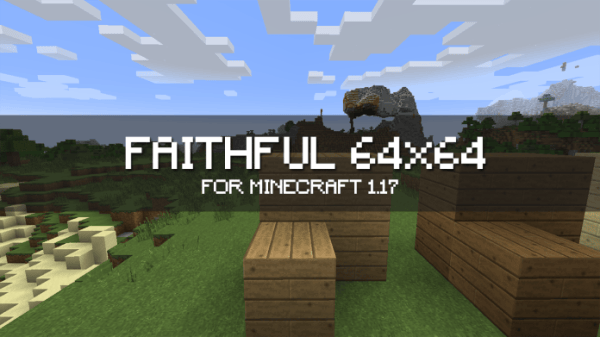 Sure, you could play 1.17 without Faithful 64x 1.17, but why would you? This pack kicks some serious blocky butt and is considered to be one of the best resource packs out right now. So, what are you waiting for? Keep reading to find out more!
What is Faithful 64x 1.17 Texture Pack for Minecraft?
What's Faithful 64x? Only the best faithful resource pack that's out there! And with the recent release of a 1.17 compatible version, you can now enjoy everything from the Cave and Cliffs update in beautiful 64x64 resolution. That's 4 times the amount of vanilla Minecraft! But all those extra pixels don't mean that Minecraft's original aesthetic is lost. No way! In fact, this pack is all about keeping Minecraft's spirit alive and making sure the same tone of the vanilla textures are evoked. Also, if you are not interested in the 64x version you can also try the Faithful 32x 1.17 download for half the resolution
Is Faithful 64x 1.17 Texture Pack for Minecraft worth the download?
Faithful 64x is worth the download to anyone who loves Minecraft, but just wishes that the game had some higher resolution textures for an overall better visual experience. If that sounds like you, then the answer to the question above is definitely a resounding 'yes'.

Faithful 64x takes everything you love about Minecraft and really ups the ante. While the aesthetic of Minecraft is instantly recognizable, it can become a bit tiresome after long periods of play. Ever just wished you could hit the reset button and experience it all again for the first time? Well with this resource pack, you can do just that.

While the game's classic blocks like grass, sand, and stone all look the best they ever have, it's in the 1.17 content where the Faithful 64x resource pack really shines. The wonder of discovering a new crystal deposit in a cave definitely isn't an experience I'll forget soon and the wonderful visuals that Faithful 64x adds on top really just enhances everything that 1.17 brings to the table.

Whether it's goats, creepy cave details, or new blocks, Faithful 64x brings the Caves and Cliffs update to life in a way that's just not quite matched in vanilla Minecraft.

If this review has got you wanting to try out Faithful 64x for yourself, keep reading! Further down this page, you'll find a basic guide on resource pack installation, that will show you how to install this pack, and pretty much any pack you might want to play with.

What's good about Faithful 64x 1.17 Texture Pack for Minecraft?:
✔ Offers lots of personalities whilst keeping the spirit of the game alive
✔ Increases the texture resolution of Minecraft by a number of magnitudes
✔ Considered to be one of the best resource packs of all time
What's not good about Faithful 64x 1.17 Texture Pack for Minecraft?:
X Would not recommend to people who like themed or IP-inspired resource packs
X Starts to travel a bit far away from Minecraft's original designs due to increased resolution
X Nothing else, really!
How to install Faithful 64x 1.17 Texture Pack for Minecraft
The installation for Faithful 64x is surprisingly simple, even I could do it! If the installation process is stopping you from enjoying this pack, then simply take a look at my guide below to see how you can get it up and running in just a couple of minutes.
First, download Faithful 64x. This will come as a zip file, but you don't need a file extractor to open it. Just move it somewhere safe until later.

The next step needs you to open up Minecraft's resource pack folder. This isn't as hard as it sounds, so don't worry. All you need to do is go to Minecraft's main menu, navigate to settings>resource packs>open resource pack menu. The folder you need should then open automatically.
If you're a bit more adventurous, you can actually access the folder without opening Minecraft at all. To do this, open up your file explorer, and go to one of the following file directories listed in the table below:
| | |
| --- | --- |
| OS | Location |
| Windows | %APPDATA%\.minecraft |
| macOS | ~/Library/Application Support/minecraft |
| Linux | ~/.minecraft |
Once you have the resource pack folder open, place the zip file you downloaded earlier inside of it. When you've done that, go to the resource pack menu in Minecraft and activate Faithful 64x. It's as easy as that.

Note: Currently, Faithful 64x for Minecraft 1.17 is not yet released to the public. However, you can download the previous versions while the developers work on their 1.17 version.
Faithful 64x 1.17 Texture Pack for Minecraft Preview
Faithful 64x 1.17 Texture Pack for Minecraft Download Links
As of now the official downloads for Faithful 64x 1.17. has not yet been released. However please bookmark this page or keep visiting our site as we will be one of the first to upload it soon and make sure that you will get a strong and fast download.
[kkstarratings]