Better PvP Mod 1.14.4 is a Minecraft mod for the combat aficionado looking to shake off the shackles of vanilla Minecraft's basic combat user interface. Read on to get started buffing those stats!
What is the Better PvP 1.14.4 mod?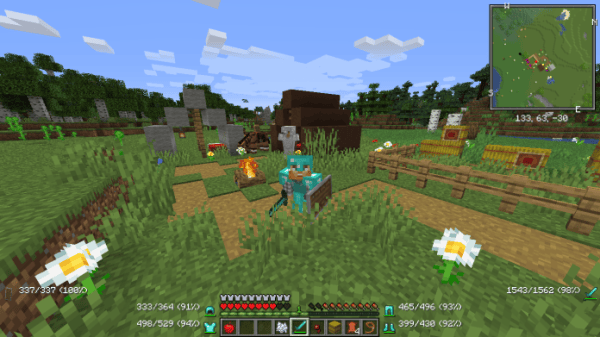 There's a long history in Minecraft mods with creators trying to one-up features of the base game, and Xaero's confidently-titled Better PvP 1.14.4 mod is no different. Better PvP doesn't add extremely different or unusual combat mechanics, it simply streamlines the combat system, making it far more user-friendly compared to vanilla Minecraft. The mod is actually made by the same creator of Xaero's Minimap. What's cool is that Better PvP 1.14.4 actually includes Xaero's Minimap and even has the option to disable it if minimaps aren't your thing.
What is the Better PvP 1.14.4 mod good for?
If vanilla Minecraft has ever felt vague or obtuse in how it displays your stats and current potion effects, Better PvP takes all that info and puts it where it really belongs—where you can see it. With the mod installed you can see armour types, armour durability percentages, potion effects, enemy health, and even assign new special key bindings.

The whole feel of the mod is very reminiscent of RPGs or MMOs where you have on-screen timers, icons and cooldowns to show you what's happening in the game. There's special icons for incoming arrows, imminent explosions, low health, low hunger and risk of drowning. It's in the moments of frantic combat and ridiculous skirmishes that the mod really shines. When you're knee deep in a raid, you'll be thankful you've got all your stats right in front of you.
The devil is certainly in detail with Better PvP. You can go as deep as you want, but the surface level functions pack quite a punch. One that springs to mind is the interface that displays mobs that are in the view of your cursor. It even has a real-time 3D display of the mob you're looking and even how many hearts they have left.

The mod seems to mostly be a UI combat overhaul, and perhaps it would be more accurate to call it that. This isn't a mod that will totally blow your socks off with new and exciting things to play with, but it will make any Minecraft player's combat experience much more enjoyable.
What's clear from Xaero's other work, is that they definitely take a faithful approach to minecraft modding. Better PvP takes no leaps in artistic direction, but is way better off for it. The text, UI and even the new custom icons feel right at home with vanilla Minecraft.
What are the pros to Better PvP 1.14.4?
Simple, yet very beneficial changes to combat UI

Includes minimap mod 

Tons of detail and customization



What are the cons to Better PvP 1.14.4?
No changes to fundamental combat mechanics

Lots of finer details to get to grips with

Art style could be more inspired
How do you install the Better PvP Mod 1.14.4?
Looking to get serious about combat? Here's our guide on how to download and install Better PvP for Minecraft 1.14.4.

First off, download Better PvP mod. Better Pvp is a Forge mod, so you'll need Forge installed. Check out our detailed tutorial on how to do that here.
Once downloaded, locate your .minecraft folder. You can find this in the following directories:

| | |
| --- | --- |
| Windows | %APPDATA%\.minecraft |
| macOS | ~/Library/Application Support/minecraft |
| Linux | ~/.minecraft |
Go into your .minecraft folder, and find your "mods" folder inside. If you can't find the mods folder, make a new one and call it "mods". Open up Minecraft with Forge at least once and close the program. Now take your downloaded .jar file and move it into your mods folder. Once you start Minecraft Forge from the Launcher, you will now have Better PvP installed to your Minecraft.