Advanced Xray Mod 1.17.1 will be Amazing! With all of those caves and cliffs to explore in the 1.17.1 release of Minecraft, aptly named the Caves and Cliffs update.
There's never been a better time to have x-ray vision to help you see what discoveries might be lying underground.
Want to know how to get an x-ray vision in Minecraft? Read on!
What is Advanced Xray Mod 1.17.1 for Minecraft?
From the name of this review and of the mod we'll be discussing, you can probably tell that it's a mod that lets you see through pretty much everything in the world of Minecraft.
This allows you to locate hidden treasures without even having to dig a single block. Whether it's dungeons, ore deposits, or other the bases of other players, you'll be able to see it all! But remember, no cheating on multiplayer!
Alternatively, if you don't like mods, you can try the texture pack version of Minecraft xray 1.17.1 which all you need to do is turn it on or off to activate.
What does Advanced Xray Mod 1.17.1 for Minecraft do?
X-ray mods are a similar bunch. That said, Advanced Xray Mod 1.17.1 for Minecraft offers a lot more than your average offering, and combined with the Caves and Cliffs update.
This mod is a super powerful tool no matter what your playstyle might be.

Focusing on streamlining the x-ray mod experience, Advanced Xray adds a level of polish that just isn't seen in other mods. For instance, this mod doesn't immediately remove all the blocks from the game.
Now, this might sound counterproductive, but Advanced Xray 1.17.1 actually lets you pick and choose exactly which blocks you'd like to remove from view, whether it's the new copper ore or Azalea Leaves.

This refreshing take on x-ray vision means that you can have any number of combinations in your x-ray whitelist, letting you decide what you want to search for at any time you like.
You can choose which blocks you want quickly and easily through the convenient selection menu that the mod introduces to the game.
The menu offers a handful of ways to find which blocks you'd like, including a search bar and selection from the block the player camera is facing.
Advanced Xray Mod's unique way of presenting x-ray vision is incredibly user-friendly, and despite being one of the more versatile x-ray mods available, it is also arguably one of the easiest to use. As soon as you jump into your favorite Minecraft world.
You'll have the ability to find any particular block or resource your heart desires, often in less than a minute. Obviously, if you're playing a survival world, this is an invaluable tool to have at your disposal.
Of course, one big downside to x-ray mods is that they can be used to cheat during online play.
Sure, on single player you're free to experiment however you like, but we urge that people use this pack responsibly to avoid grieving and cheating on multiplayer servers.
What's good about Advanced Xray Mod 1.17.1 for Minecraft?
✔ Very useful for finding new 1.17.1 content, as well as treasures, structures, and ore deposits
✔ Much more ambitious than other x-ray mods out there
✔ Has a user-friendly GUI and is very simple to use
What's not so good about Advanced Xray Mod 1.17.1 for Minecraft?
X Not recommended to hardcore players who don't use cheats or enhancements
X Can easily be used in online play by griefers, trolls, and cheaters
X Doesn't offer much for players using creative mode
How to install Advanced Xray Mod 1.17.1 for Minecraft
Want to become a Minecraft superman and give yourself x-ray vision. Well, buddy, you've come to the right place.

To install this mod, you'll need a modloader. We'll be using Forge, but you're free to use any alternative you wish. If you don't have Forge installed, we have a simple guide here.
The steps are always the same, but just make sure to download the right release version. Run the Forge installer and follow the prompts to make a Forge profile in your MC Launcher.
With Forge installed, download the zip for Advanced Xray Mod 1.17.1. Ensure that you launch Minecraft with the Forge profile at least one time.
Using the file directories below, make your way to the 'mods' folder in Minecraft's game files:
| | |
| --- | --- |
| OS | Location |
| Windows | %APPDATA%\.minecraft |
| macOS | ~/Library/Application Support/minecraft |
| Linux | ~/.minecraft |

To install Advanced Xray, place the zip you downloaded earlier into the 'mods' folder. When you start the game with Forge, you should now have the x-ray mod activated. To see how to use the mod in-game, check out the 'controls' section found in the options menu.
Note: Currently, Advanced Xray for Minecraft 1.17.1 is not yet released to the public. However, you can download the previous versions while the developers work on their 1.17.1 version.
Advanced Xray Mod 1.17.1 Preview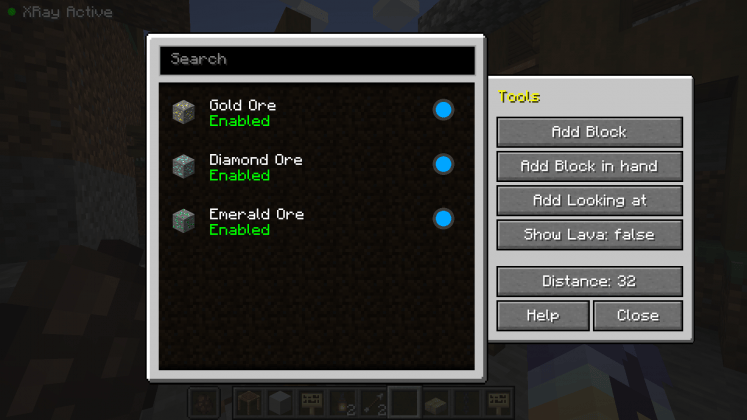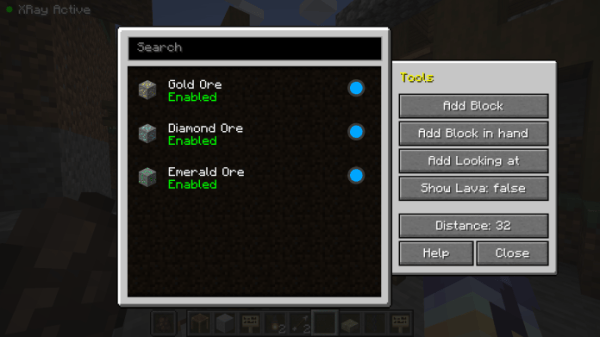 Advanced Xray Mod 1.17.1 for Minecraft Download Links