Xray Ultimate 1.17.1 is still the best Xray Texture Packs available in the world! With the release of the Caves and Cliffs update for Minecraft 1.17.1, there hasn't been a better time to get into x-ray resource packs.
Offering full control over how you see the world of Minecraft, these powerful resource packs can help you find any resource you could ever want. Does that sound interesting? Keep reading!
What is Xray Ultimate 1.17.1 for Minecraft?
Xray Ultimate 1.17.1 for Minecraft is what you might expect from the title. Ever wish you could simply see through the ground to find all those precious materials your heart desires?
Well, with this resource pack, you can do just that! Easy to install and even easier to use, this resource pack makes half of the gameplay in Minecraft about half as fast!
What does Xray Ultimate 1.17.1 for Minecraft do?
Whether you're looking for the brand new Amethyst Geode, Copper Ore, or even a Spore Blossom, Xray Ultimate is the perfect tool for finding whatever you might need in the Caves and Cliffs update.

While many x-ray custom content for Minecraft is based on mods, Xray Ultimate 1.17.1 is actually a resource pack.
This means that you don't have to worry about installing a modloader, and you can easily switch between x-ray mode and normal mode on the fly.

Since Xray Ultimate is a resource pack, the way it works to give players an x-ray vision is quite ingenious.
By making most of the game's textures transparent, the effect is essentially the same as what many x-ray mods can achieve.
But because Xray Ultimate doesn't use fancy Minecraft mod wizardry, it keeps the game running smoothly and hassle-free.
Unfortunately, this pack could very easily be used to cheat or abuse server rules in multiplayer mode.
While the pack is a very powerful and useful tool for single player, we recommend that nobody uses the pack to grief other players or to cheat on survival servers.

Luckily, while the pack might have a handful of downsides, the pros definitely outweigh the cons. In fact, Xray Ultimate most likely will boost your overall game performance.
If you want to treat yourself during the Caves and Cliffs update by finding all the game's new content right away, then Xray Ultimate 1.17.1 is the way to go!
Want to download the pack for yourself? Just take a read down the page below to find our handy download and guide section.
What's good about Xray Ultimate 1.17.1 for Minecraft?
✔ A lot simpler to install when compared to Minecraft x-ray mods
✔ Makes finding important resources, structures, and bases much easier
✔ Doesn't affect performance negatively—oftentimes improves it
What's not so good about Xray Ultimate 1.17.1 for Minecraft?
X Can be used as a tool by griefers and cheaters in multiplayer modes
X Can't provide the same amount of features of an x-ray mod
X Not useful for hardcore survival players or players against cheating
How to install Xray Ultimate 1.17.1 for Minecraft
Think that you could benefit from seeing through the world in your Minecraft playthroughs? Well, downloading Xray Ultimate 1.17.1 is definitely the way to go. Check out the simple guide below to get started.
Because Xray Ultimate is just a resource pack, it's incredibly easy to install compared to an x-ray mod. As usual, we recommend that you have OptiFine installed, but it's not necessary to get this pack working.
The first thing you need to do is download Xray Ultimate 1.17.1, which will come in the form of as a zip file.

Once you've done that, it's time to find Minecraft's resource pack folder. The simplest way of doing this is done by going to the game's main menu and then making your way to options>resource packs>open resource pack folder.

You can also find the folder by going to one of the following file directories:
| | |
| --- | --- |
| OS | Location |
| Windows | %APPDATA%\.minecraft |
| macOS | ~/Library/Application Support/minecraft |
| Linux | ~/.minecraft |
Installation is simple, just place the zip file into the folder you opened! Make sure to go to the game's resource pack settings and activate Xray Ultimate.
Xray Ultimate 1.17.1 for Minecraft Preview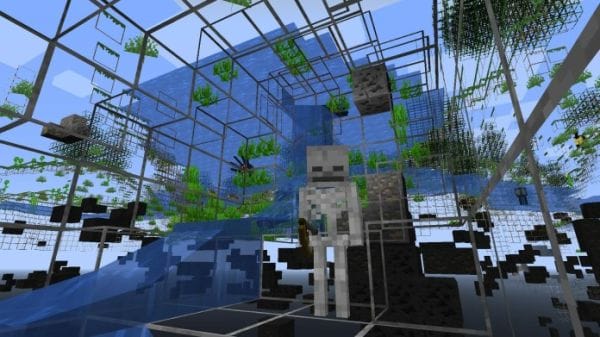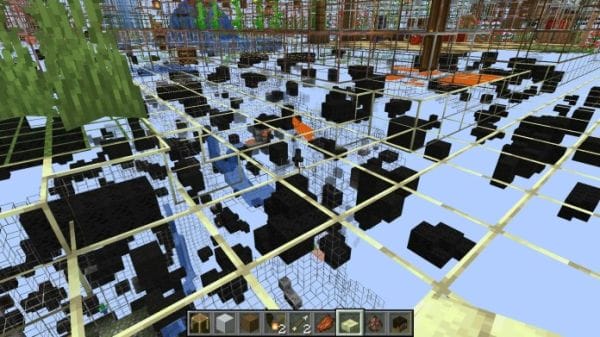 Xray Ultimate 1.17.1 for Minecraft Download Links
Download Links of Xray Ultimate 1.17.1 for Minecraft are listed below:
Alternative versions of Xray Ultimate 1.17.1