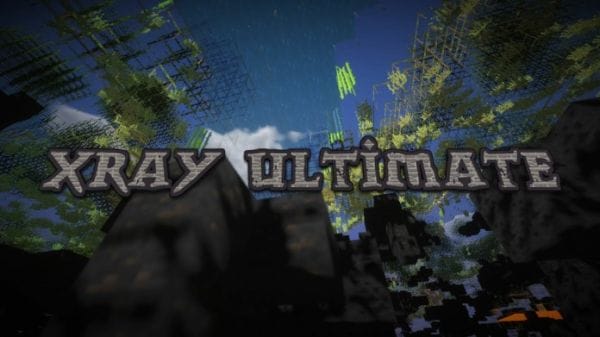 Hey you! Did you know that Xray Ultimate for Minecraft 1.16.3 is out? Well, now you do! For all of you excitable x-ray vision users reading this review, you'll be happy to hear that one of the best x-ray packs is now available for the most recent version of Minecraft. Keep reading!
What is Xray Ultimate 1.16.3 for Minecraft?
Xray Ultimate 1.16.3 is an x-ray pack for the most recent version of Minecraft. But this pack isn't your average x-ray mod. This is actually an x-ray resource pack with no messy mod installation necessary! It's a great option for players who prefer not to play with mods, and for those who need a bit of helping to find those much sought-after resources and precious materials.
What does Xray Ultimate 1.16.3 for Minecraft do?
While still giving all of the same results as any worthwhile x-ray mod, Xray Ultimate 1.16.3 is an easy way for players to make use of the in-game resource pack menu to find each and every rare material in the world of Minecraft.

Rather than use mods to remove certain blocks from the game's visuals, Ultimate 1.16.3 cleverly changes the game's textures to be more invisible, meaning that players can simply see through most of the game world's terrain, allowing them to peer through walls and caverns to discover the hidden treasures below.
With the pack installed, you won't have any trouble finding any of the materials that you are searching for. Ores, structures, and even cave systems can be found very quickly and easily thanks to the pack's see-through textures. What's more is that every block has an unintrusive outline, meaning that you'll still be able to navigate the world comfortably while being able to see straight through most of it!
Unfortunately, one of the biggest disadvantages to this pack comes with the fact it can be easily used to ruin the fun of other players. Cheating is rife in certain corners of survival multiplayer, and packs like these sadly make those instances far more common.
To summarise, Xray Ultimate 1.16.3 is a great way for players to access the same x-ray vision found in the best of x-ray mods. Keeping things simple, this pack makes a great choice for players who don't want to mess around with mods and like to keep things pretty vanilla.
Give it a try for yourself and see our guide down below!
What's good about Xray Ultimate 1.16.3 for Minecraft?
✔ Very simple and easy to use compared to installing x-ray mods
✔ Awesome and convenient tool for finding ores, structures, bases, and other hidden objects
✔ Doesn't cause lag or frame rate drops
What's not so good about Xray Ultimate 1.16.3 for Minecraft?
X Can be exploited by cheaters, griefers, and troll in multiplayer mode
X Doesn't offer the same amount of features as x-ray mods
X Not recommended to fans of hardcore survival 

How to install Xray Ultimate 1.16.3 for Minecraft
Want to try Xray Ultimate 1.16.3 rather than other messy x-ray mods? Take a look at the instructions below to see how to get it installed in just a few minutes.
Luckily, Xray Ultimate 1.16.3 is a resource pack, so it's pretty easy to install. We always suggest having Optifine installed, but don't worry if you don't have it for this specific resource pack.
To start, download Xray Ultimate (which should come as a zip file). You need to find and open Minecraft's 'resource pack' folder, which can be accessed by navigating to: main menu>options>resource packs>open resource pack folder.

Alternatively, use one of the directories in the table below, depending on your computer's operating system:
| | |
| --- | --- |
| OS | Location |
| Windows | %APPDATA%\.minecraft |
| macOS | ~/Library/Application Support/minecraft |
| Linux | ~/.minecraft |
To start the installation, move the zip file from earlier into the open 'resource pack' folder. Once that's done, go to the game's resource pack menu and activate Xray Ultimate 1.16.2 using the arrows.
Xray Ultimate 1.16.3 for Minecraft Preview

Download Xray Ultimate 1.16.3 for Minecraft for Minecraft