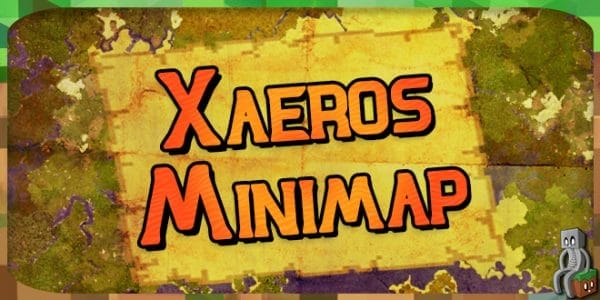 Xaero's Minimap 1.14.4 is a Minecraft mod that gives you a god-like view over your Minecraft world. Well maybe "god" is a bit much. But it'll certainly help when you wander a bit too far from your base!
What is Xaero's Minimap?
Xaero's Minimap 1.14.4 is a simple, yet sophisticated way of applying a minimap to your Minecraft playthrough. The design of the map is simple, and Xaero even takes care to mention that its style is intended to closely resemble the aesthetic of vanilla Minecraft. Great for people who like to keep things faithful to the original!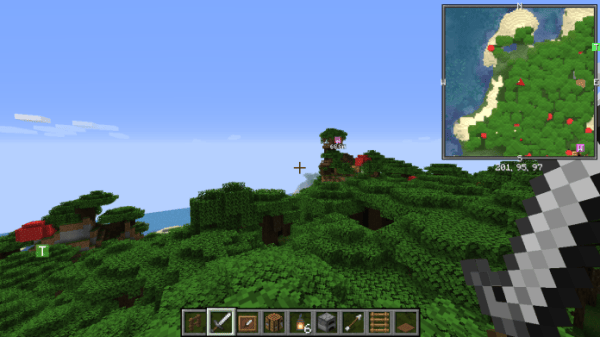 The colour display used on the map is faithful to Minecraft on-screen. Not only does Xaero's minimap reflect the colours used in vanilla Minecraft, but it works with whatever resource pack you're using as well. In my time playing, the minimap was accurately reflecting the colours of all blocks, regardless of what resource pack I had enabled. If you'd rather just use the default Minecraft colours, then there's a toggle for that.
What is Xaero's Minimap 1.14.4 like?
I had some initial concerns about the scope of the map, as the initial view gives somewhat of a short range view of your surroundings. However, this is easily fixed through alternating between the map's numerous zoom levels (I and O by default). The shortest gives an intimate look around your immediate surroundings, whilst the furthest gives a sweeping view across of the surrounding area. This is an awesome feature to have for keeping track of builds in densely populated biomes like jungles.

What's also neat is that the map also displays light from light sources, as well as slopes in the terrain, which gives a pleasing view over your Minecraft kingdom. Still, you can change these functions, as well as tons of other options, including dynamic movement of the map on the screen, mob identification colours, waypoints, map size and even death markers. Waypoints and death markers in particular make survival a much more pleasant experience.
Display underground seemed inconsistent. Sometimes when walking the map would change to say that I was in a cave, despite being above ground and under the cover of some trees. This may simply depend on the terrain though, and there are plenty of options to fiddle with if any problems arise. This can sometimes bring benefits though, as the map revealed a lava pool right underneath my base that I otherwise wouldn't have found. Sweet!

Mobs and other entities are marked clearly on the map in real time. This can be a lifesaver knowing that there's a creeper right outside your door, or that you're just ten blocks away from some baddies in the night. However in more cramped areas it can be difficult to see what's what before fiddling with the settings and getting accustomed to what colours certain mobs are.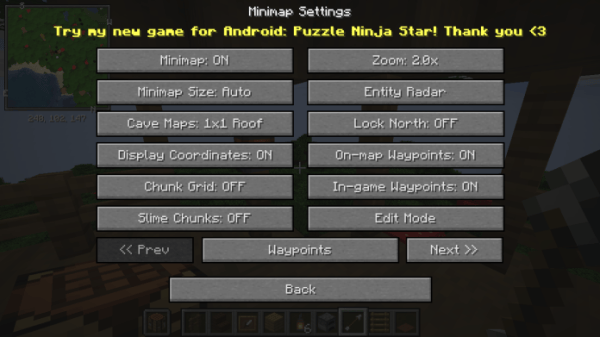 All in all though, Xaero's minimap is the golden standard of what Minecraft mods should be. Easy to use, highly customizable, and able to provide an extra layer of fun to the game. Definitely worth trying out for yourself.
Xaero's Minimap Pros:
Simple to use

Tons of customization

Compatible with any resource pack
Xaero's Minimap Cons:
Struggles with cave systems and underground areas

Minimap can appear cluttered before disabling certain settings

Takes a while to get used to certain functions
How do I install Xaero's Minimap?
Stuck? Here's our guide on how to download and install Xaero's Minimap.

Firstly install the version of the minimap for your version of Minecraft. Xaero's Minimap is a Forge mod, so you'll need Forge installed. Check out our detailed tutorial on how to do that here!
Once downloaded, locate your .minecraft folder. This can be found in the following directories depending on your OS:

| | |
| --- | --- |
| Windows | %APPDATA%\.minecraft |
| macOS | ~/Library/Application Support/minecraft |
| Linux | ~/.minecraft |
Open your .minecraft folder, and locate the folder named "mods". If there isn't a folder there, make a folder and name it "mods". Open up Minecraft with Forge at least once and then close the game. Now take your downloaded .jar file and move it into your mods folder. Boot up Minecraft Forge again from the Launcher and voila! You have successfully installed Xaero's Minimap to your version of Minecraft.
Xaero's Minimap 1.14.4 Download Links
Below is where you can find download links for Xaero's Minimap 1.14.4
Last Updated on