VoxelMap 1.14.4 is a minimap mod for Minecraft. And like all minimap mods, VoxelMap gives you a real-time mini display of your minecraft world. Ever wanted to see your Minecraft world from above whenever you wanted? Of course you have! Read below on how to get yourself suited and booted with a fancy new Minecraft minimap.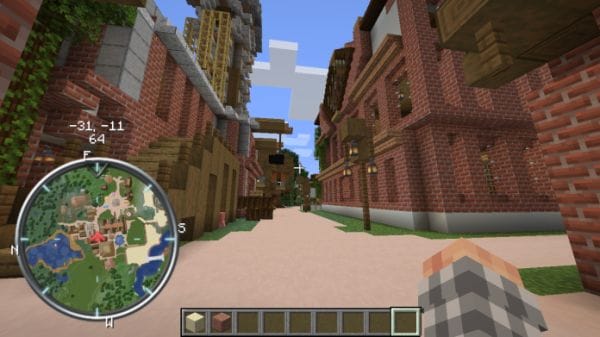 What is VoxelMap 1.14.4?
VoxelMap gives you two maps to work with: the minimap and the general map.The general map is a great way to see your minecraft world from a bird's eye view. This would be great for a server and a group of friends. This main feature is useful for planning out builds, locating geographical spots or simply just admiring your creations from above.
What can you do with VoxelMap 1.14.4?
Although the two main map features are the basis of VoxelMap, where the mod really shines is in the additional features. Namely, the mod lets you create custom waypoints with options for naming, icons and colours. So each waypoint can be as unique as you want. If you've got permissions enabled, you can also teleport to waypoints, making the trip back home take just a few seconds. In a lot of ways, this is a lot more convenient that making the in-game map items, as this costs you nothing and goes wherever you go. I found that underground map displays are also super accurate, and you can see the map update real time each level you move.

There are plenty of settings to play with too, including positioning, size, map icons and more, so you can personalise your map to your preference.

VoxelMap also has a nice selection of options to install, including the mod loaders Forge, Fabric and Lifeloader. However this is a double-edged sword (perhaps a diamond one?) as it can take a little while to locate which exact file you need to download depending on which particular mod loader you're using. 

Aesthetically the map isn't the prettiest compared to more basic affairs like Xaero's Minimap. But what it lacks in looks it certainly makes up in useability. The mod gives loads of different sizes, from the most minimally small, to the most in-your-face-big you can think of. The mod really shines in a big world with tons of builds. It's no wonder most servers employ some kind of map mod, as there's no feeling quite like seeing your hours of hard work displayed in full in just a keyboard stroke.

What was noticeable however is that the colours on the map aren't quite that accurate to what's on screen. Although, the lighting level is very accurate. But at nighttime this makes the map very difficult to use unless used in well-lit areas. Aesthetically the map style isn't anything to shout about, but it's not offensive either.
VoxelMap 1.14.4 Pros:
Tons of customization 

Detailed map interactivity

Works great with big servers and groups of friends
VoxelMap 1.14.4 Cons:
Not the prettiest minimap available

Accuracy of light levels can make map hard to use 

Locating the correct version download can be arduous
How do I install VoxelMap 1.14.4?
There's a lot of different download versions for VoxelMap, so you need to make sure you download the correct one for which modloader you're using, be it Forge, Fabric or any other. Though the mod installation process should still be the same.
Firstly install the correct version of VoxelMap for the version of Minecraft you're playing. Once downloaded, locate your .minecraft folder. See which directory you need below:
| | |
| --- | --- |
| Windows | %APPDATA%\.minecraft |
| macOS | ~/Library/Application Support/minecraft |
| Linux | ~/.minecraft |
Open your .minecraft folder, and open the "mods" folder. If no such folder exists, make a folder and call it "mods". Start Minecraft with your modloader at least one time and then close the game. Then take the VoxelMap .jar file and place it into your mods folder. Open Minecraft again with your modloader. You know should have VoxelMap safely installed onto your version of Minecraft.
VoxelMap 1.14.4 Download Links
Below is where you can find download links for VoxelMap 1.14.4