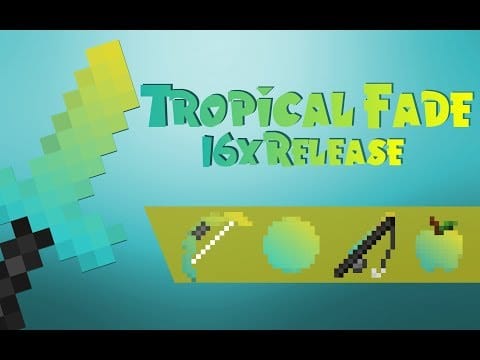 Tropical Fade Resource Pack [16x] was created by Colbb. is one of those texture packs that you should have in your packs collection. It gives you that tropical feel with its aqua faded and yellow themed light colors. You won't be seeing this much color schemes in any other texture pack. These colors are very refreshing and good to look at.
This pack is also ideal for PvP players. This is because it removes the noise which can improve your concentration when fighting against another player in a battle to the death. This way you won't have to be distracted by the noise that is brought in by in-game sounds as you get to focus solely on PvP and strategizing your plan to win the battle.
This Resource pack has been one of the most searched texture packs in Google and YouTube.
To make sure you get the best game experience possible we strongly recommend using PvP Texture Pack in combination with Optifine. For the best PvP experience, we recommend you use Minecraft version 1.8 or 1.7.
If you love this pack and want to have more in the future, you can show your love to Colbinator100++.  You can check his Youtube Channel to support him. You can check more PVP packs over here.
How to Install Tropical Fade Resource Pack [16x] for Minecraft 1.8.9
Simple 6-step installation below is recommended! 
1. Make sure you have installed Optifine.
2. Download the Tropical Fade Resource Pack [16x] from the official links.
3. Start Minecraft, navigate to "options" then.
4. Navigate from "options" > "Resource Packs" > "Open resource packs folder".
5. Drag and drop the pack into the folder.
6. When you now launch Minecraft you should see the Pack.
Tropical Fade Resource Pack [16x]
Tropical Fade Resource Pack [16x] Download