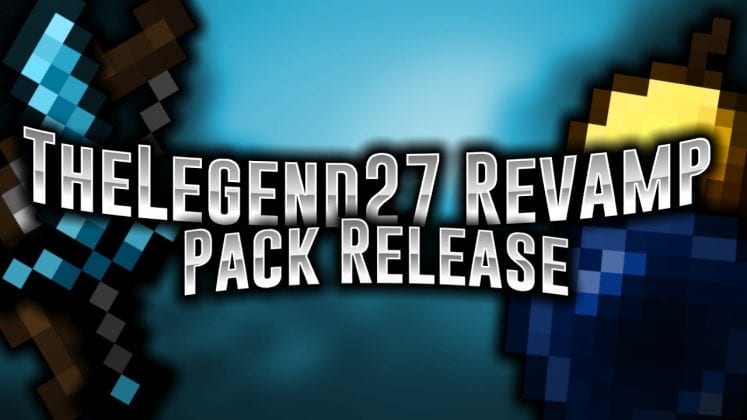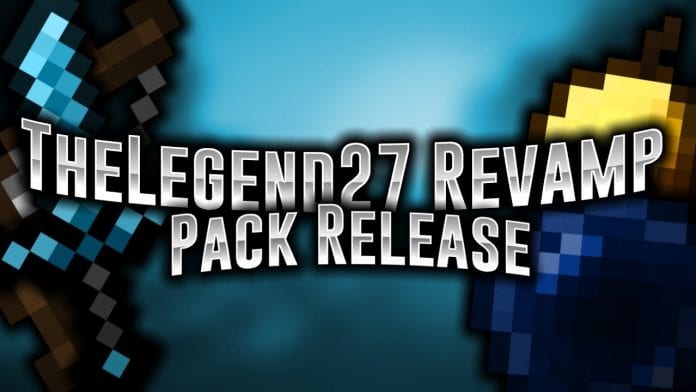 TheLegend27 Revamp PvP Texture Pack 1.8.9 / 1.8 is a simple, yet super cool resource pack for players who love PVP and 16x16 resolution packs. Sound like you? Keep reading to hear about what makes this pack 'legendary', hah!

What is TheLegend27 Revamp PvP Texture Pack 1.8.9 / 1.8?
TheLegend27 is a pack by the eponymous creator TheLegend27 (obviously). It's got a stripped back and charming art style that is not only well suited for PVP play, but is perfect for people who love Minecraft's crunchy, pixely 16x16 default resolution as well.
What's TheLegend27 Revamp PvP like to play with?
TheLegend27 Revamp doesn't come across as if it's trying too hard. In fact, as far as resource pack's go, it's incredibly understated. It makes a few very welcome changes to the Minecraft we all know and love, but the creator has a great sense of what makes the base game work, and what is overdue a bit of a rehaul.

The game's hotbar is a perfect example of this. Gone away is the old, boring vanilla hotbar. Now we have a sleek, basic (but not bad), new hotbar that takes some minimalist inspiration to create a stripped back piece of user interface that has a big impact despite how little is actually on screen.
The hotbar is now a stone-like material, yet the creator has added clever shading effects so that when you're playing around a lot of stone blocks, the hotbar doesn't get lost amongst everything else around you. Textures have been altered, but not in ways that are immediately obvious. Most clear is the ores, which now have bright, bordered textures that are colour coordinated depending on what ore the block is. This is great for fast paced PVP matches where you need to collect ore.

Items have also seen some changes be made to them as well. All sets of armour have been redesigned to have brand spanking new textures that make them look totally awesome, but still keep Minecraft's original vanilla flair.
The new designs have been given tactical bold outlines that'll help you spot enemies even in the most camouflaged or turbulent of PVP situations. The same attitude has been taken with swords as well, as the vanilla textures have been transformed into much more visually interesting weapons that have sharp diagonal edges that are sure to make you feel like an awesome Minecraft warrior.

If you've been after a new PVP resource pack that gives you the advantage over the competition, but doesn't deviate too far from Minecraft's original style, then you have got to try out TheLegend27 Revamp PVP Texture Pack. Download it now for a pack that runs well, looks great, and most of all a pack that delivers on its promise of a great PVP experience.
What's good about TheLegend27 Revamp PvP?
✔Streamlined for a great PVP experience
✔Very faithful to vanilla Minecraft
✔Stripped back and minimal fuss
What's not so good about TheLegend27 Revamp PvP?
X Some players will want a more flashy resource pack
X Some might find the style boring
X Some could use some further item redesigns
How do you install TheLegend27 Revamp PvP Texture Pack?
Won you over with our review of TheLegend27 Revamp PvP Pack? The only thing stopping you from doing it is not knowing how to get the darn thing installed? Look no further my friend, as we've put together a simple guide below on how to install Minecraft resource packs in a number of minutes.

To start off, download TheLegend27 Revamp PVP Pack. This will come as a zip file. When that's done, you need to locate the place where your Minecraft resource pack folder is. To do this easily, boot up Minecraft and from the main menu select options>resource packs>open resource pack folder. Alternatively, you can use the table below to find where your folder is stored depending on your operating system.

To make sure you get the best game experience possible we strongly recommend using PvP Texture Pack in combination with Optifine. For the best PvP experience, we recommend you use Minecraft version 1.8 or 1.7.
How to install TheLegend27 Revamp PvP Texture Pack 1.8.9 / 1.8 for Minecraft?
If you don't know how to install TheLegend27 Revamp PvP Texture Pack 1.8.9 / 1.8 for Minecraft? just look below, we'll provide you with a short tutorial there. This installation guide should work with all Minecraft versions. To see the Official Download Links just scroll down.
After you have seen the instructions we recommend that you first install OptiFine. Also please note that you might have to zip the zipped file twice if ever the zip file contains another zip file. Some packs might have been zipped twice for better compression which is why please be wary of double zipped texture packs to make sure that all the packs run perfectly well without any issues.
Simple 6-step installation below is recommended! 
1. Make sure you have installed Optifine.
2. Download TheLegend27 Revamp PvP Texture Pack 1.8.9 / 1.8 for Minecraft?  from the official links.
3. Start Minecraft, navigate to "options" then.
4. Navigate from "options" > "Resource Packs" > "Open resource packs folder".
5. Drag and drop the pack into the folder.
6. When you now launch Minecraft you should see the Pack.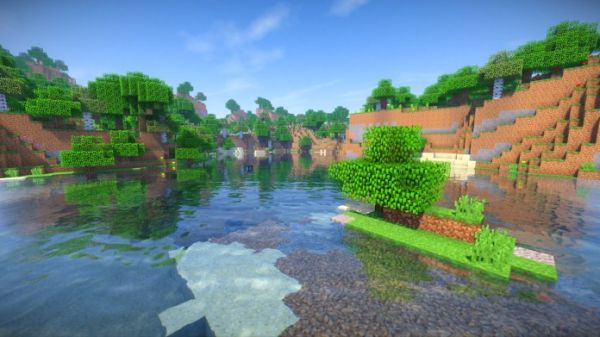 OptiFine for Minecraft 1.14.3 / 1.14.2 / 1.14.1 / 1.14 Resource Packs & Texture Packs
Before Proceeding to download this texture pack and play it like the pro that you are we would like to recommend OptiFine! Please download and install OptiFine to ensure that you will not be having any problems or troubles after downloading this texture pack.
Although texture packs are known to have already altered the resolution and quality of the default looking textures and particles of Minecraft you still can't go wrong with OptiFine. OptiFine will help your game load better with any default texture pack and at the same time ensure the compatibility.
OptiFine can make Minecraft 1.14 combined with texture packs run faster, look better and significantly make the game better all around.
Here are awesome links to help you download OptiFine,
TheLegend27 Revamp PvP Texture Pack 1.8.9 / 1.8 for Minecraft Download
TheLegend27 Revamp PvP Texture Pack 1.8.9 / 1.8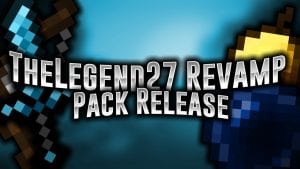 TheLegend27 Revamp PvP Texture Pack 1.8.9 / 1.8 is a simple, yet super cool resource pack for players who love PVP and 16x16 resolution packs. Sound like y
Price Currency: USD
Operating System: 1.8.9 / 1.8
Application Category: Texture Pack