Synthwave 1.14.4 256x PvP UHC Minecraft Texture Pack is a PVP focused resource pack that will transform your old boring Minecraft look with one that will give even the most seasoned of PVP players that extra edge.
What is Synthwave 1.14.4 256x?
This pack is a retro, 80s-style letter of love to all your nostalgia heads out there. If you want an epic resource pack with a nostalgic twist that will transform your PVP experience, then check this one out!
What is Synthwave 1.14.4 256x like to play with?
If you've seen any of the work made by the creator of this resource pack, you'll probably know what you're getting into. What the creator does best is making resource packs that are very PVP focused, but with each pack they make, the creator always provides a new or unique theme.
And Synthwave 1.14.4 is no different. This pack uses a very interesting and unique theme of synthwave—a genre of electronic music influenced by the 80s aesthetic—and applies it to Minecraft.

The pack's theme is most apparent in its very noticeable skybox. This new skybox is an absolute homage to the 80s style and is made up of giant geometric mountains, and a deep blue and purple background.
The look of the skybox is great and really sells the resource pack's unique gimmick. I particularly loved the stylish starry sky that is very reminiscent of retro-futurism. The downside of this part of the pack however is that it doesn't really gel all that well with the rest of the pack's textures. That, combined with the animated rotation of the skybox left me feeling that it didn't quite fit together with everything else.

The hotbar is also great. It adopts the same purple and blue visual style that just makes all the items pop. It's a perfect example of a visually interesting but also effective hotbar that actually can give an advantage in a PVP situation.
I loved the cohesion between the hotbar and the skybox. The similarities between them provides a regular reminder of the pack's overall theme. It's sad to say, however, that some other aspects of the pack don't quite fall into this framework. I'll get onto that now.

It must be said that the textures of the rest of the pack are pretty okay. The 256×256 resolution brings a ton of detail that some players who seek out higher resolution packs will absolutely love, but the textures don't really play with a resource pack that is themed around the 80s aesthetic.

If you're a Minecraft PVP fanatic and love some retro and nostalgic spice in your video game experience, you must try out Synthwave 1.14.4. After playing it for the first time, it'll definitely leave you saying "I'll Be Back".

What are the pros of Synthwave 1.14.4 256x?
✔Interesting art style
✔Uses high resolution textures
✔Colourful and bold colour palette 
What are the cons of Synthwave 1.14.4 256x?
X Resource pack imposes constant nighttime
X Not very inspired
X Skybox clashes against rest of resource pack
How do I instal Synthwave 1.14.4 256x?
Love the 80s and Minecraft PVP, but never got to grips with downloading and installing resource packs for Minecraft? Then look no further, my friend. All you need to do is read our easy to follow guide below that goes through step by step on how to install resource packs quickly and easily. Read on and you'll be fighting in a retro landscape in no time.

Firstly, you need to download Synthwave 1.14.4 256x. This will come in the form of a zip folder named Synthwave. Once you've done that, you need to locate the directory where your Minecraft resource folder is. This can be done really easily by starting up Minecraft and going to options>resource packs>open resource pack folder. Alternatively, you can find it outside of Minecraft by using the table below:


| | |
| --- | --- |
| OS | Location |
| Windows | %APPDATA%\.minecraft |
| macOS | ~/Library/Application Support/minecraft |
| Linux | ~/.minecraft |

When you've found the resource pack folder, just pop the downloaded zip file in there. Then just make sure to activate the resource pack in the Minecraft resource pack menu.



How to install Synthwave 1.14.4 256x PvP UHC Minecraft Texture Packs for Minecraft?
If you don't know how to install Synthwave 1.14.4 256x PvP UHC Minecraft Texture Packs for Minecraft? just look below, we'll provide you with a short tutorial there. This installation guide should work with all Minecraft versions. To see the Official Download Links just scroll down.
After you have seen the instructions we recommend that you first install OptiFine. Also please note that you might have to zip the zipped file twice if ever the zip file contains another zip file. Some packs might have been zipped twice for better compression which is why please be wary of double zipped texture packs to make sure that all the packs run perfectly well without any issues.
Simple 6-step installation below is recommended! 
1. Make sure you have installed Optifine.
2. Download Synthwave 1.14.4 256x PvP UHC Minecraft Texture Packs for Minecraft?  from the official links.
3. Start Minecraft, navigate to "options" then.
4. Navigate from "options" > "Resource Packs" > "Open resource packs folder".
5. Drag and drop the pack into the folder.
6. When you now launch Minecraft you should see the Pack.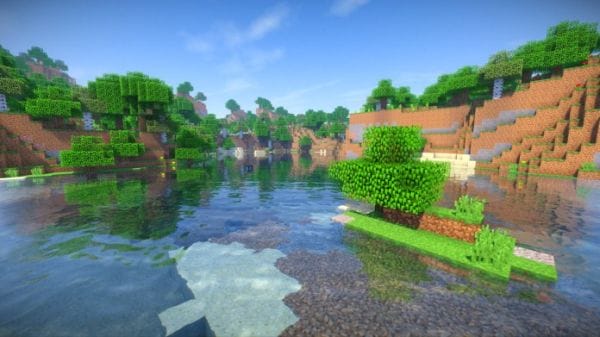 OptiFine for Minecraft 1.14.3 / 1.14.2 / 1.14.1 / 1.14 Resource Packs & Texture Packs
Before Proceeding to download this texture pack and play it like the pro that you are we would like to recommend OptiFine! Please download and install OptiFine to ensure that you will not be having any problems or troubles after downloading this texture pack.
Although texture packs are known to have already altered the resolution and quality of the default looking textures and particles of Minecraft you still can't go wrong with OptiFine. OptiFine will help your game load better with any default texture pack and at the same time ensure the compatibility.
OptiFine can make Minecraft 1.14 combined with texture packs run faster, look better and significantly make the game better all around.
Here are awesome links to help you download OptiFine,
Synthwave 1.14.4 256x PvP UHC Minecraft Texture Packs for Minecraft Download