Seaweed 1.14.4 V2 PvP UHC Minecraft Texture Packs is a resource pack that combines awesome textures, compatibility and cool armour skins. Sounds pretty good to us. Read through our review below and learn all about this super cool resource pack.
What is Seaweed 1.14.4?
Seaweed 1.14.4 is a slick resource pack that gives vanilla Minecraft a bit of a glow up. Although focused on PVP, this pack is great for general use and uses one of the most eye catching selection of colours out there.
Is Seaweed 1.14.4 fun to play with?
Seaweed is a PVP resource pack at heart. Most of the blocks have been basically updated with a slightly higher resolution look, but the most impactful parts of this pack are PVP items and the skybox.

The skybox is where this pack draws its name from. Like Aiyrez's other packs, the main differentiator for this pack is the colour that the resource pack centres around. For Seaweed, this is a mixture of blue and green.
At the ground level, the sky is transformed into a celestial gradient that subtly albeit ostentatiously covers the entire sky. As you go higher up the map, the skybox continues to become a spacey and galactic vista with giant green planets that honestly take your breath.

All of the items in your PVP toolbox have also had a makeover. Swords, armour and even fishing rods have been updated here to give them snappy new designs that are a lot more menacing than their vanilla originators.
Speaking of items, one issue with the resource pack's unique style is colour issues with the hotbar and wider world. It can be difficult to spot items easily in the hotbar due to the similarity of colours with the items, hotbar and skybox.
Because so much of this resource pack pulls colour from the same area in the spectrum, I found that items could blend into the background or hotbar and this can be an issue with PVP.

The redesigns are all much higher resolution than the vanilla Minecraft textures and fans of higher fidelity will love these. Items such as the lava bucket stand out fantastically against the blue-yellow colour scheme.
Though, items such as the diamond sword have perhaps too much detail with shading that the aforementioned muddying of items can become a common occurrence.

If you're looking for a resource pack that is focused on PVP and looking cool, then this is the resource pack for you. With all the items you need for PVP with some fresh new looks, you'll be totally ready for some PVP brawls in this colourful resource pack.

What is good about Seaweed 1.14.4?
✔PVP focused
✔Awesome skybox
✔Looks very cool

What is not-so-good about Seaweed 1.14.4?
X Not much use for non PVP players
X Plays it very safe
X Can get old quickly

How do I install Seaweed 1.14.4?
Love the sound of PVP with a beautiful blue-green backdrop? Not sure how to install resource packs? We've got you covered. Read our handy guide below on how to install resource packs for Minecraft quickly and easily in less than 10 minutes.

Firstly, download Seaweed 1.14.4. This will come in the form of a zip folder. To install resource packs, you need to place them into your resource pack folder. You can do this by starting Minecraft and going to options>resource packs>open resource pack folder. Another way to do this without opening Minecraft is going to default directory for your operating system:


| | |
| --- | --- |
| OS | Location |
| Windows | %APPDATA%\.minecraft |
| macOS | ~/Library/Application Support/minecraft |
| Linux | ~/.minecraft |

Once you've accessed your resource pack folder either copy or move the zip download into it. Then, make sure to activate the pack through the resource pack menu within Minecraft. Have fun!

How to install Seaweed V2 1.14.4 PvP UHC Minecraft Texture Packs for Minecraft?
If you don't know how to install Seaweed V2 1.14.4 PvP UHC Minecraft Texture Packs for Minecraft? just look below, we'll provide you with a short tutorial there. This installation guide should work with all Minecraft versions. To see the Official Download Links just scroll down.
After you have seen the instructions we recommend that you first install OptiFine. Also please note that you might have to zip the zipped file twice if ever the zip file contains another zip file. Some packs might have been zipped twice for better compression which is why please be wary of double zipped texture packs to make sure that all the packs run perfectly well without any issues.
Simple 6-step installation below is recommended! 
1. Make sure you have installed Optifine.
2. Download Seaweed V2 1.14.4 PvP UHC Minecraft Texture Packs for Minecraft?  from the official links.
3. Start Minecraft, navigate to "options" then.
4. Navigate from "options" > "Resource Packs" > "Open resource packs folder".
5. Drag and drop the pack into the folder.
6. When you now launch Minecraft you should see the Pack.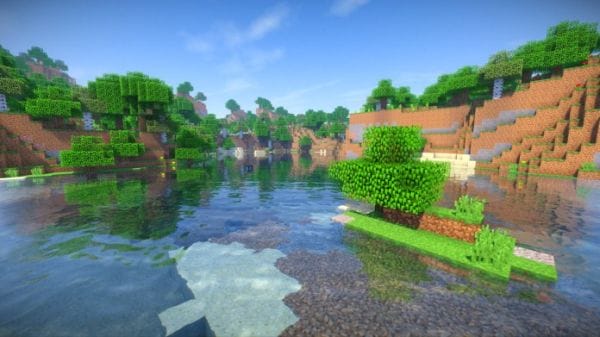 OptiFine for Minecraft 1.14.3 / 1.14.2 / 1.14.1 / 1.14 Resource Packs & Texture Packs
Before Proceeding to download this texture pack and play it like the pro that you are we would like to recommend OptiFine! Please download and install OptiFine to ensure that you will not be having any problems or troubles after downloading this texture pack.
Although texture packs are known to have already altered the resolution and quality of the default looking textures and particles of Minecraft you still can't go wrong with OptiFine. OptiFine will help your game load better with any default texture pack and at the same time ensure the compatibility.
OptiFine can make Minecraft 1.14 combined with texture packs run faster, look better and significantly make the game better all around.
Here are awesome links to help you download OptiFine,
Seaweed V2 1.14.4 PvP UHC Minecraft Texture Packs for Minecraft Download