Sea PvP Texture Pack  1.8.9 / 1.8 is an epic resource pack that is super stylised and equally awesome. Wanna find out what makes this pack so sweet? Then keep on reading.
What is Sea PvP Texture Pack 1.8.9 / 1.8?
Sea PvP Texture Pack is a resource pack focused on simply delivering an enhanced version of Minecraft's PVP experience. If you're after an amped up version of what we all know and love, then this could be the next pack for you.

What's Sea PvP Texture Pack like to play with?
Sea PvP takes a different approach than many other packs. Instead of making a massive amount of change, it instead works to make a much smaller impact. Frankly, I'd say it hopes to make as little impact as possible. One of the more noticeable changes is the pack's hotbar. The creator chose a simple black design for the hotbar, allowing the selected item in your hotbar to always be visible even in the most frantic of fights.

If you're familiar with other PVP-focused resource packs, then you'll know what changes to expect in this pack as well. Armour has been given a bit of a facelift, with diamond armour now having more detail as well as a fancy gold trim. Ores are super visible now too, and you'd be forgiven for not realising they are ore blocks.
They now have a much more simple design that is simply based on the colour of the relative ore. The selection of swords now have much brightly coloured designs that really pop out fantastically against the dark black hotbar, and overall have a much stockier and shorter design that that of their vanilla Minecraft counterparts.

My biggest gripe with the resource pack is the very bold skybox. It must be said that the new skybox is a little garish to say the least. Compared to the skyboxes seen in the more popular resource packs out there, this one isn't the prettiest. Unfortunately it's quite low resolution and is very prominent.
There's no getting away from the giant red sky, so it could be a bit of a deal breaker if extreme skyboxes aren't your thing. Likewise, if you're after a pack that has more going on, you might want to look elsewhere.

If you've been looking to use a new resource pack that will give you an improved PVP experience, but doesn't undermine the overall Minecraft aesthetic and style, then you've got to check out Sea PvP Texture Pack. Give it a try for a super simple pack that will change your Minecraft PVP experience for the better. What's more is that there's no fancy technical stuff going on that'll slow your computer down.


What's good about Sea PvP Texture Pack?
✔Simple and effective resource pack
✔Great for lower end PCs
✔Stripped back and minimal fuss
What's not so good about Sea PvP Texture Pack?
X Very basic
X Some players might find it boring
X Garish skybox
How do you install Sea PvP Texture Pack? 1.8.9 / 1.8
Feeling inspired after reading our rundown and found yourself wanting to install Sea PvP Texture Pack for yourself, just not sure on how to go about it? That's no problem, we've got you covered. Below you'll find our easy to follow guide on how to install Minecraft resource packs in just a couple of minutes.

To begin, download the Sea PvP Texture Pack as a zip file. Once the download is complete, you need to move the download into your Minecraft resource folder. You can find the folder easily by going to the Minecraft main menu and selecting options>resource packs>open resource pack folder. Conversely, you can also access the folder by going to one of the following directories below:
To make sure you get the best game experience possible we strongly recommend using PvP Texture Pack in combination with Optifine. For the best PvP experience, we recommend you use Minecraft version 1.8 or 1.7.
How to install Sea PvP Texture Pack 1.8.9 / 1.8 for Minecraft?
If you don't know how to install Sea PvP Texture Pack 1.8.9 / 1.8 for Minecraft? just look below, we'll provide you with a short tutorial there. This installation guide should work with all Minecraft versions. To see the Official Download Links just scroll down.
After you have seen the instructions we recommend that you first install OptiFine. Also please note that you might have to zip the zipped file twice if ever the zip file contains another zip file. Some packs might have been zipped twice for better compression which is why please be wary of double zipped texture packs to make sure that all the packs run perfectly well without any issues.
Simple 6-step installation below is recommended! 
1. Make sure you have installed Optifine.
2. Download Sea PvP Texture Pack 1.8.9 / 1.8 for Minecraft?  from the official links.
3. Start Minecraft, navigate to "options" then.
4. Navigate from "options" > "Resource Packs" > "Open resource packs folder".
5. Drag and drop the pack into the folder.
6. When you now launch Minecraft you should see the Pack.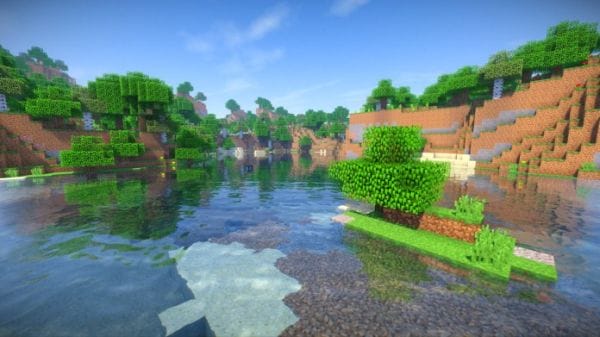 OptiFine for Minecraft 1.14.3 / 1.14.2 / 1.14.1 / 1.14 Resource Packs & Texture Packs
Before Proceeding to download this texture pack and play it like the pro that you are we would like to recommend OptiFine! Please download and install OptiFine to ensure that you will not be having any problems or troubles after downloading this texture pack.
Although texture packs are known to have already altered the resolution and quality of the default looking textures and particles of Minecraft you still can't go wrong with OptiFine. OptiFine will help your game load better with any default texture pack and at the same time ensure the compatibility.
OptiFine can make Minecraft 1.14 combined with texture packs run faster, look better and significantly make the game better all around.
Here are awesome links to help you download OptiFine,
Sea PvP Texture Pack 1.8.9 / 1.8 for Minecraft Download