Red Killua 1.14.4 32x Revamp PvP UHC Minecraft Texture Pack is an awesome, PVP-focused resource pack that gives you cool new item textures and an epic new skybox. Sound good? Read on to hear why this resource pack is totally red-ical.
What is Red Killua 1.14.4 32x?
Red Killua 1.14.4 32x is an epic resource pack that transforms vanilla Minecraft into a brand new red-tinged redux. Though it focuses on PVP like the creator's other packs, this is one awesome resource pack you're going to want to have in your collection.

Is Red Killua 1.14.4 32x fun to play with?
The most substantial changes in the Red Killua resource pack are almost immediately recognisable. Namely, what we have in this pack is an awesomely and intensely red skybox, as well as a slew of newly textured items for PVP use.

Firstly, the skybox, as you might have guessed, is incredibly red. The term 'red' doesn't simply do it justice. It is certainly a deep and almost powerful feeling red tinge across the entire sky. What's more is that the skybox is also animated.
The result is a swirling distant storm that constantly blows across the entire map that is evocative of marbled surface of jupiter, or the eldritch horrors depicted in Lovecraft.

Now onto the PVP items. If you're a big PVP player, you'll know that a fully-stocked PVP inventory is a must for any successful player vs player brawl, and its equally important that you're able to quickly pick and choose from your hotbar mid battle.
For the most part, the new textures allow the items to contrast sharply against the new dark gradient. This is especially apparent in items such as the devilishly red diamond sword. Where the pack does lack is with items that don't pop out as much like the bow and arrow, which has been given a very cool looking—but ultimately difficult to see—new texture.

Like the creator's other packs, the textures used in the pack are higher resolution than the standard Minecraft texture pack. This adds a great amount of detail in items that you're going to be staring at for long times if you're a frequent PVP fanatic.
However, with the pack being so similar to the creator's other colourful variations, it shares some of its bugbears. The biggest issue stems from some of the items having too much shading and too similar colour to that of the hotbar, making it disappear somewhat into the background.

With all that said, if you're a PVP pro and you want a resource pack that reflects your skills but will also give you that extra bit of streamlining to take you to the next level, try out Red Killua. 

What is good about Red Killua 1.14.4 32x?
✔Very bold and stylish
✔Great for PVP players
✔Strong aesthetic

What is not-so-good about Red Killua 1.14.4 32x?
X Only useful for PVP players
X Colours need to be more balanced
X Skybox is a bit garish
How do I install Red Killua 1.14.4 32x?
Want to use this red-obsessed resource pack for your PVP sessions, but don't know how to install resource packs? Then look no further my PVP fanatic friend. Just use our simple step-by-step guide below to have Red Killua installed in just a few minutes.
Firstly, download Red Killua 1.14.4 32x. Once the download is finished you should have a zip file titled as Red Killua. The next step is to place the resource pack in your Minecraft resource pack folder. There are two ways to do this: either start Minecraft and go to options>resource packs>open resource pack folder, or you can go to table below for directories for different operating systems.


| | |
| --- | --- |
| OS | Location |
| Windows | %APPDATA%\.minecraft |
| macOS | ~/Library/Application Support/minecraft |
| Linux | ~/.minecraft |

When the zip file is in your resource pack, make sure to activate the resource pack. Easy!

How to install Red Killua 32x 1.14.4 Revamp PvP UHC Minecraft Texture Packs for Minecraft?
If you don't know how to install Red Killua 32x 1.14.4 Revamp PvP UHC Minecraft Texture Packs for Minecraft? just look below, we'll provide you with a short tutorial there. This installation guide should work with all Minecraft versions. To see the Official Download Links just scroll down.
After you have seen the instructions we recommend that you first install OptiFine. Also please note that you might have to zip the zipped file twice if ever the zip file contains another zip file. Some packs might have been zipped twice for better compression which is why please be wary of double zipped texture packs to make sure that all the packs run perfectly well without any issues.
Simple 6-step installation below is recommended! 
1. Make sure you have installed Optifine.
2. Download Red Killua 32x 1.14.4 Revamp PvP UHC Minecraft Texture Packs for Minecraft?  from the official links.
3. Start Minecraft, navigate to "options" then.
4. Navigate from "options" > "Resource Packs" > "Open resource packs folder".
5. Drag and drop the pack into the folder.
6. When you now launch Minecraft you should see the Pack.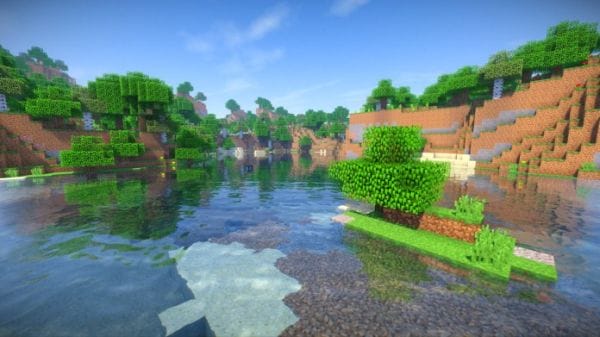 OptiFine for Minecraft 1.14.3 / 1.14.2 / 1.14.1 / 1.14 Resource Packs & Texture Packs
Before Proceeding to download this texture pack and play it like the pro that you are we would like to recommend OptiFine! Please download and install OptiFine to ensure that you will not be having any problems or troubles after downloading this texture pack.
Although texture packs are known to have already altered the resolution and quality of the default looking textures and particles of Minecraft you still can't go wrong with OptiFine. OptiFine will help your game load better with any default texture pack and at the same time ensure the compatibility.
OptiFine can make Minecraft 1.14 combined with texture packs run faster, look better and significantly make the game better all around.
Here are awesome links to help you download OptiFine,
Red Killua 32x 1.14.4 Revamp PvP UHC Minecraft Texture Packs for Minecraft Download