Since Pixelmon was released tons of players have been trying to look for the perfect Pixelmon Texture Pack for Minecraft which could make the game even more immersive.
The default texture pack and sprite designs seem okay however the hunt to make it even more fun to rekindle the love for the Pokémon franchise burns.
This pack might be the solution that every player of this famous mod has been looking for in a long time due to how good the feel is.
What is Pixelmon Texture Pack for Minecraft
This awesome 16x texture pack was designed specifically for the Pixelmon extension of Minecraft. It makes the whole gameplay even more entertaining.
It adds in tons of custom UI and textures to make the game seem like you are indeed inside the world of Pokémon while playing Minecraft.
The pack itself is pretty dynamic and you can use other packs together with it. You are even given the freedom to use Minecraft shaders to make the entire world seem more alive.
Some of the very notable features that you can observe are the grass which were made to look very the same like the ones you can see in the Pokémon games in the past.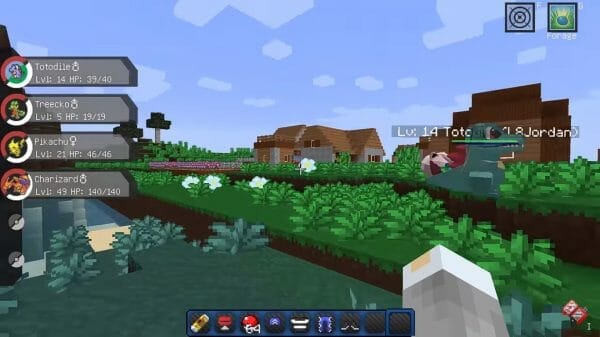 Is PokeBallers Pixelmon Texture Pack Worth the Download
If you are an avid player of Pixelmon then this is definitely one of the best possible texture packs that you can download to make it even more enjoyable and immersive.
However, if you do not play Pixelmon there is very little benefit or reason why you should be downloading this texture pack.
Overall it is indeed a very good looking pack for the theme that it is conveying. Definitely worth downloading and installing.
To ensure that you get this pack running at 100% compatibility you are recommended to download Optifine first before installing the mod and this texture pack.
Pros
Very immersive to the whole Pokémon theme
Has tons of Pokémon sprites that look so good
Plenty of the voices are also added into the game
Cons
Only really useful if you are playing Pixelmon
Might be a tad difficult to install the mod and this texture pack then making it work all together
PokeBaller Texture Pack Preview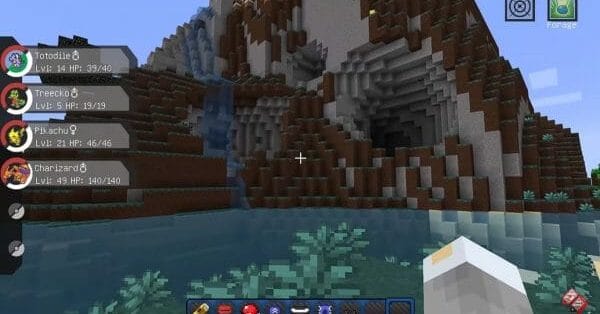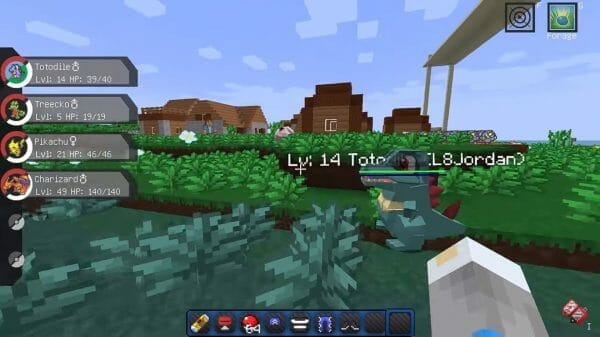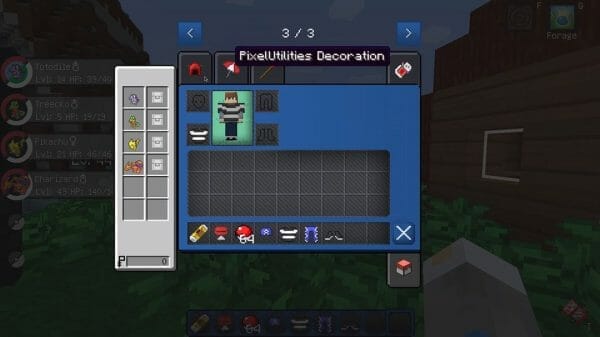 How to Download Pixelmon Texture Pack for Minecraft:
Step 1: How to Download from Minecraft-Resourcepacks.com
If this is your first time downloading from our site, rest assured downloading from minecraft-resourcepacks is safe. Before downloading review the basics of how to download a pack here.
Step 2: Download Optifine
Before attempting to download and install, you need to have Optifine to ensure the texture pack will run properly.
Step 3: Download Texture Pack
To start, download the zip file from the link below. Place the zip file into your Minecraft Resource Pack folder.
To find the folder easily, go to Minecraft's options menu and navigate to resource packs>open resource pack folder. Alternatively, use the table below to see which file directory your folder is stored in.
File Locations of Minecraft Resource Packs Folder:
| OS | Location |
| --- | --- |
| Windows | %APPDATA%.minecraft |
| MacOS | ~/Library/Application Support/minecraft |
| Linux | ~/.minecraft |
With the resource pack folder open, place the zip file inside. Finally, activate the texture pack in-game via Minecraft's resource pack menu on the game menu.
​Pixelmon Texture Pack for Minecraft Download
Below you can see legit downloads for Minecraft texture pack named Pixelmon Texture Pack for Minecraft. Click on the button to download now.
This resource pack has tons of beneficial retextures however there are more awesome texture packs which you can check. We have HD texture packs as well which can make the game look highly defined.
We also have some realistic texture packs that you can download and install to make Minecraft seem like it is in real life.
As a hardcore Minecraft PvP enthusiast you might be also interested in looking at our wide gallery of Minecraft 1.8.9 PvP texture packs and Minecraft 1.12.2 PvP Texture Packs.