If you still have not yet given the time to play Minecraft Dungeons, then you should definitely read this article.
Minecraft has been one of the biggest video games in the history of gaming ever. Although it has been widely considered to be a kids game tons of PvP players and Redstone engineers beg to differ. There has been a decently huge prize pool for some PvP tournaments to be legible to call it an e-sport at the same time the number of crazy contraptions created through red stones have been proven to be very deep in terms of engineering levels.
However, since it has been in the market for a long time Mojang has thought of adding a new twist to the game. They have decided to create an RPG version of Minecraft which they called Minecraft Dungeons. Let us go and dig deep into this game.

What is in the New Minecraft Dungeons Game?
Minecraft Dungeons is an RPG style dungeon crawler from 3rd person perspective. It skips Minecraft's building and crafting sandbox-style gameplay for non-stop hack and slash action. All dungeons are randomly generated and filled with monsters, puzzles, traps, plus more! From the first view, it does look fascinating.
Some people might think that oh, it's just another RPG hack-and-slash game. But, one thing they are missing is the fact that this whole theme is unique in a sense. Unlike most MMOs and RPGs, there is no class or skill. All of the powers and abilities that you will be getting are granted from artifacts, equipment, and gear that you can acquire throughout the entire gameplay of the game. Another aspect is the fact that combat isn't complicated. It's speedy, it's colorful, and it's messy! 
Basic commands have bound the melee and ranged attacks to left and right mouse clicks. Artifacts that grant special abilities are bound through number keys and best of all the health potions are bottomless.
How does playing Minecraft Dungeon Feel like?
Playing Minecraft Dungeons is gonna be a unique feeling. Why? First of all, levels are randomly generated so there is no map you can find online which can help you easily win it. Also, loot and mobs that spawn are totally random as well. So basically, you can't easily just find a guide on how to pass a level. You have to explore and experience each level yourself and grind yourself to the top.
Every level has a fixed number of goals. However, all the pathways in-between are randomly generated. This means that if you would like to play a mission again the goals and objectives would be the same however the way to defeat the level would be totally different every time.
When was the Minecraft Dungeons Release Date
Mojang has already stated that the official release date of Minecraft dungeons was on May 26, 2020. Aside from the beta players, you should be able to play the full game on that date. However, there are plenty of beta players who were able to sign-up for a preview version of the game but do not worry because according to Mojang all their saved data will be reset once the official release takes place. So, progression wise, we are all still in the same book.
The developers of Minecraft Dungeons – Mojang originally planned to release the full game late April. But, due to a pandemic, the official release date has been completely moved to late May. Mojang has released in one of their interviews that the April release just isn't possible right now given the current circumstances.
What's the combat in Minecraft Dungeons like?
The combat of Minecraft Dungeons would be completely different from Minecraft. First of all, since it is a 3rd person RPG you won't be able to experience the first person POV from the original Minecraft game. 
It's a combination of ranged and melee battles versus huge numbers of mobs from a birds-eye POV. It is very similar to the ever-popular Diablo game series. Controls are ensured to be very minimalistic and easy to use so you wouldn't need to discover how to play the game all over again like what you did with Vanilla Minecraft.
As we have mentioned earlier, there are no classes pretty much like the game Fable. This means that you can utilize melee and ranged weapons, including arcane forces at the same time. You can either focus on swords, hammers, and axes and annihilate enemies at close combat or you can go more subtle and kill them one by one with ranged weapons such as bows and crossbows.
The entire build of your character is based on the equipment that you are using including the enchantments that you have made on that item. You can quickly swap items to adapt to a different situation easily. For instance, if you need to be bulky you can equip tank-like gear to survive heavy damage bursts, but when it is time to dish out damage you can quickly change equipment to burst damage yourself.
The armor set is the most important aspect when trying a playing style. For example, some armor can give you more HP and more defense making you harder for mobs to kill. At the same time, you can use light armor to move and navigate faster.
As we have also mentioned above, you will be able to locate artifacts that give you arcane abilities that you can use. The destructive force of each special ability all depends on the rarity and strength of the artifact.
Mojang has stated that there would be a different number of weapon types and artifacts. IT also includes multiple customization options through enchantments. They stated that there would be at least 20 melee weapons, 20 artifacts, and at least 20 ranged weapons.

Minecraft Dungeons will have no mining or building 
This is one of the biggest questions. Since it is Minecraft, will there be mining, crafting, and building? Well, the short answer would be no. You won't be able to build or mine in the Dungeons at all. Mojang has stated that the main reason for the decision is to keep players moving forward without distracting them from grinding better equipment or harvesting resources.
Since there won't be any crafting you won't be able to make your own weapons. Instead, you can find loot in chests or on fallen opponents. Like any RPG you can also buy some equipment from NPCs using "emeralds" as the main currency for trade.
In multiplayer, looting has been individualized. This means that when a chest is opened all the loot inside would be distributed accordingly to each party member so they will get their own piece of the cake. But, Mojang has mentioned that mission items such as food, TNT, arrows will be awarded to the player who gets it before everyone else.

What mobs will you fight in Minecraft Dungeons?
You will be fighting mostly the same mobs from the original Minecraft but we have heard that Mojang has thrown in some villains which can make the game harder and more challenging. This includes additions of mini-bosses and bosses which we hope will make any player bite their teeth with thrill.
You will be fighting against creepers, zombies, skeletons, necromancers, and more! Since mobs are randomly spawned you won't really know who you can face. The best advice to keep is to expect the unexpected.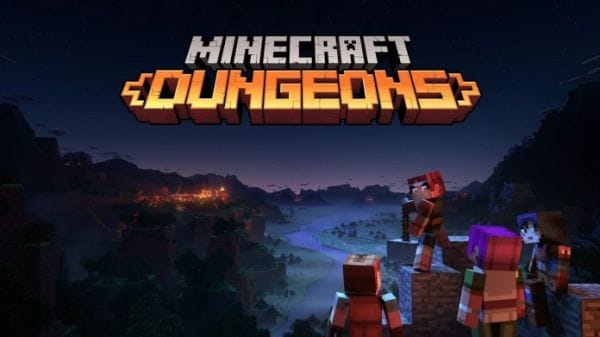 Will Minecraft Dungeons support crossplay?
The short answer is no. Minecraft Dungeons does not support crossplay. Mojang has stated that they might look into it in the future but right now cross-play is not possible. However, since Mojang is affiliated with Windows we might be able to expect crossplay between Xbox and Windows players in the near future.
Will Minecraft Dungeons have mod support? 
Mojang has not stated nor disapproved about mod support or resource packs in that matter. The closest thing to opensource they did say is that they are exploring the possibility to allow players to design and create their own dungeons and let their friends play and survive in it.
FAQs
When is the official Minecraft Dungeons Release Date?
Minecraft Dungeons was officially released on May 26, 2020. It was originally planned for an April release date but, as with many other games and events in 2020, has been pushed back thanks to the effects of COVID-19 coronavirus spread.
Is Minecraft Dungeons going to be free?
No, the base game costs $20. However, a  $30 special "Hero" edition will come with two DLCs. Minecraft Dungeons will have two editions. The base game and the Hero edition which has been described by Mojang as a mini-season pass. Mojang plans to release further DLC, both free and premium if the game takes off. It will also arrive as part of the Xbox Game Pass subscription.
Can you build on Minecraft Dungeons?
No, unlike Minecraft, Minecraft Dungeons has no crafting or building. Instead, it focuses on being a dungeon crawler game, where the player explores randomly-generated dungeons filled with randomly-generated monsters, and also deals with traps, puzzles, and finding treasure.
What platforms will Minecraft Dungeons be on?
Minecraft Dungeons will release digitally on Xbox One, Windows, Nintendo Switch, and PlayStation 4.Crossplay is potentially available. Likely PC and Xbox crossplay, but no guarantee for other platforms.