A lot of your time in Minecraft Dungeons is spent shaking up your gear loadout to make sure that you're cutting through the game's many enemies with speed, proficiency, and efficiency. That said, relying on just any old sword that you find on your merry adventures won't cut it. That's where enchanting comes in. Keep reading this article to find out how to enchant and upgrade your weapons and equipment in Minecraft Dungeons.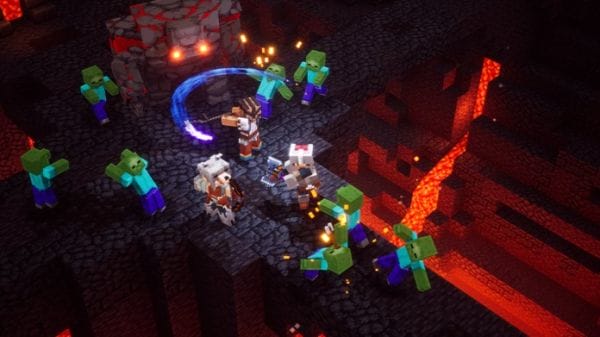 Enchanting in Minecraft Dungeons
Enchanting in Dungeons is a fairly simple process and is very similar to that found in vanilla Minecraft.  Enchantment is done by using enchantment points, which kind of work like your average video game skill points. Each weapon in the game has a set of unique enchantments that make them stand out from other available games.

Interestingly, enchantments can also be stacked on top of each other, resulting in some crazy effects. The developers actually have stated that they wanted to keep this aspect of the game as an option to increase the game's fun levels as high as possible.
Upgrading Gear in Minecraft Dungeons
Upgrading isn't difficult in Minecraft Dungeons and is fairly self-explanatory. That said, it can help to know what you're looking for if you want better gear right away.

To upgrade your Dungeons equipment, open up your inventory, which will be prompted each time you level up, and earn enchantment points. Once there, select the particular piece of kit that you'd like to upgrade from your inventory. Now press Y/Triangle to open up the item's enchantment options. Read through the available enchantments and select the one you'd like to unlock. Press A/X to spend your current points and unlock the selected enchantment to your kit.

How to Quickly Enchant and Update Your Gear
There's no better advice for getting better gear faster than simply playing the game. The way to get more enchantment points and better gear is by continuing through the game's story, defeating enemies and replaying levels. That said, you can also grind further for more materials by playing through the game's procedurally generated sections, which can be found hidden in each level.
Pro Tips to Remember about Minecraft Dungeons
Remember: the best way to explore and gain new enchantments is simply done by continuing to play through the game. Replaying levels is a simple way of doing this, and so is repeatedly playing through the game's procedurally generated sections.

Enchantment points out that you spend can be regained. When you sell the unwanted weapons that you've already spent points on, the game kindly reimburses you for the spent points, so you should never be out of enchantment points for long!
The different enchantments that you apply to your weapons can be stacked. These combinations of different enchantments result in creative and awesome mixtures that have an immense impact on the Arch-Illager and his many minions.