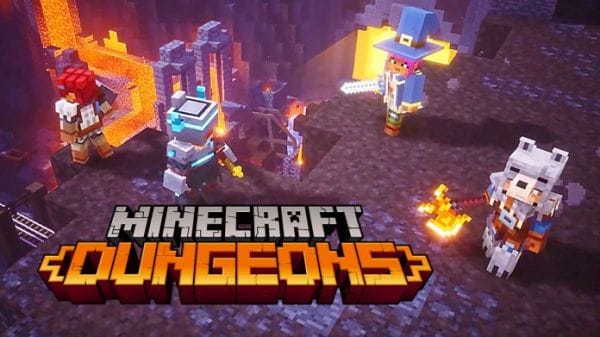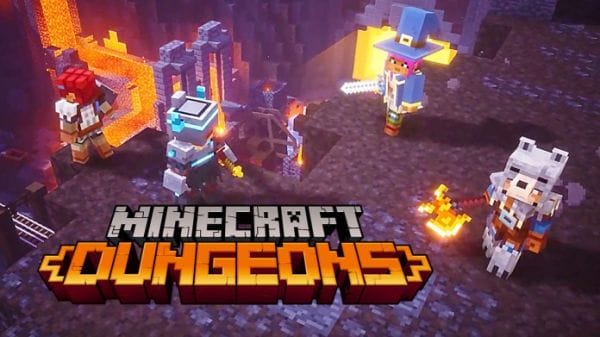 The Minecraft Dungeons Story: Lore and Synopsis have been one of the most researched stories in the world. With Minecraft's monumental rise from indie darling to worldwide superstardom, it should be little surprise that the game would eventually splinter off into new creative ventures in the effort to explore the franchise's instantly identifiable universe. But what's the actual story in this Minecraft spin-off? Take a look below to find out everything you need to know about Dungeon's lore and story.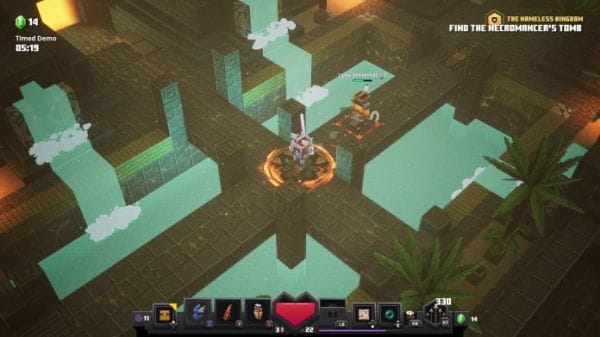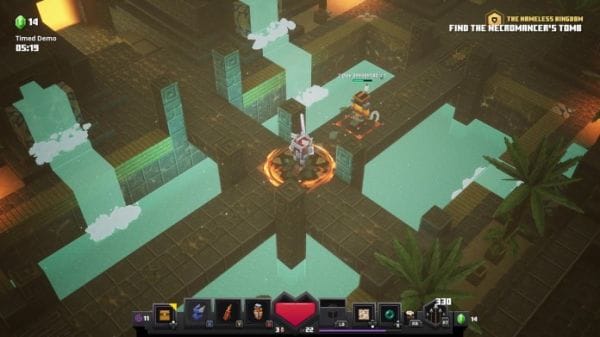 Minecraft Dungeons Story
Minecraft Dungeons places the player straight into the blocky Minecraft world that we're all familiar with. The developers of the game even went out of their way to make the jump from vanilla Minecraft to Dungeons as natural as possible, including fan-favorite mobs, blocks, and even sounds from the original game.

Though, unlike vanilla Minecraft, this game has a pre-designed linear narrative, giving you and your buddies the adventure of a lifetime with predetermined goals and objectives. To add to this, the game has a totally different game style to vanilla Minecraft, opting for a higher level of graphic quality as well as Diablo-inspired gameplay. Players are given the opportunity to smack, swing, and blast their way through hordes of enemies, traveling to exciting new locations, and collecting new loot and weapons along the way.
Players begin their journey in the tutorial section at the quaint Squid Coast, a large villager settlement. Though, there's no time to enjoy the sights, as you are immediately tasked with fending off the invading forces of skeletons and zombies working for the evil Arch-Illager. 
As the developers have explained themselves, there isn't a super deep story throughout the campaign of Minecraft Dungeons, but there is a narrative running across the whole game to keep you engaged and to offer a sense of motivation. As you traverse the new and exciting Minecraft world that lays before you, you'll battle through mines, swamps, forests, as well as tons of other locations in an effort to save the world of Minecraft from the ruthless Arch-Illager.

Who is the main protagonist in Minecraft Dungeons?
Like vanilla Minecraft (and all good stories) the protagonist of this tale is you, the player! Either solo or with a band of friends, you'll play as Dungeon's hero, tasked with battling through the game's titular dungeons to save the world for the scourge of the Arch-Illager and his many minions, mobs and monstrosities.
The player is able to play as a multitude of different classes, which can be changed simply by changing up your armor, weaponry, and playstyle. See an awesome bit of heavy armor? Grab that thing and become a tank! Prefer to stay light on your feet? Wear some light armor and suppress enemies with your ranged attacks!
And this wouldn't be a Minecraft game if you couldn't customize your hero to look the way you want. Although the game doesn't boast the same sort of skin customization as the Java version of vanilla Minecraft, Minecraft Dungeons does come with a boatload of unique and awesomely designed skins for you to choose from. Just try not to fall out with your fellow heroes on who gets to use the coolest skins.

It's unlikely that we'll get to have the same kind of skin creation seen in vanilla Minecraft, as it seems that a number of DLC skin packs are planned to be released. Also, note that if you've purchased any skins for any of the versions of vanilla Minecraft, they will not be transferable to Dungeons.

Who is the main antagonist in Minecraft Dungeons?
Though Minecraft Dungeons adds a whole new selection of mobs and creatures to battle, there's one particular foe that you and your friends will be chasing throughout the Dungeons story: the Arch-Illager.

This creepy little guy is instantly recognisable. With a short and wide head, The Arch-Illager also dons large, menacing eyebrows that make him totally different to all other illagers in appearance. He's also got a tendency to have a bit of a temper, and won't shy away from doing whatever it takes to stop you and your gang of heroes from getting in his way.

According to the game's lore, the Arch-Illager was once a young illager excluded from regular villager society. Leaving into the wilderness, the Arch-Illager discovered a source of awesome power hidden deep inside of a mountain named the Orb of Dominance. With the Orb safely in his clutches, and with a heart full of revenge, Archie soon took complete control over the other illagers, swearing revenge on all of villager-kind.
That's where you (and up to three other friends) come in. It's your job to stop the Arch-Illager's sinister plot and save the villager population from total destruction. 

What is the endgame story of Minecraft Dungeons?
With this game being a Minecraft game, the end is always going to be something that will inevitably be on players' minds. The developers of the game have been keen to promise players a satisfying and uniquely designed ending that should hopefully give everyone a welcome surprise at the end of their Dungeons journey. 
With players still yet to make their way through the game, we won't divulge any spoilers here once the game releases to the wider public, but players can expect an impactful ending to neatly wrap up their Minecraft adventure in a fun and satisfying way. 
Hopefully this ending will be a little bit better received than the one vanilla Minecraft got all those years ago!