Achievement hunters, seekers, hoarders, whatever you'd prefer to be called, listen up. The upcoming Minecraft Dungeons achievement list has been released, giving us some unique insight into the highly anticipated game! Take a look below for the full Minecraft Dungeons achievements list for Xbox One.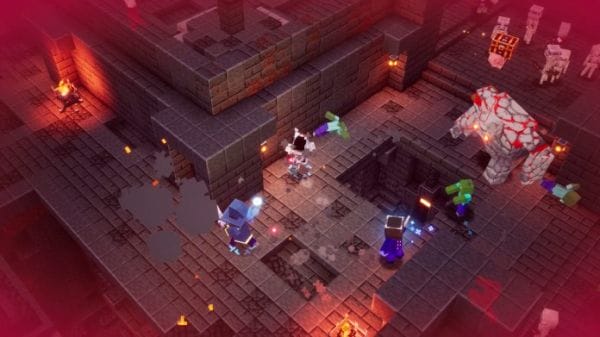 Minecraft Dungeons Introductions
If you've somehow got here without already knowing, Minecraft Dungeons is the upcoming entry into the series of Minecraft games. But this game is not a creative, block-building game. Instead, Dungeons harks back to classic dungeon crawlers and combines them with the unique world of Minecraft. You'll find new locations, gear, enemies and even a new arch-nemesis, the aptly named Arch-Illager. 
With its engrossing story and simple-yet-powerful fighting mechanics, this game is pegged to be one of the hottest and most popular games of 2020. Originally slated for release back in April, the game is now slated to release on the 26th of May 202 for PC, PS4, Xbox One and Switch.
How can you play Minecraft Dungeons on Xbox
Minecraft Dungeons will release in May of 2020 on Xbox One, Windows, PlayStation 4, and Nintendo Switch, but we're focusing on the Xbox One release today.
All of you with an Xbox can play Minecraft Dungeons on May 26th through the Xbox Marketplace. At the moment there is no physical release planned for Dungeons, but this may arise if the game receives DLC later down the line, like the original release of vanilla Minecraft on Xbox 360. 
If you have Xbox Game Pass, you can also pre-order the game and re-install the game right now in order to play as soon as the game is available on release day.
Why are there achievements in Minecraft Dungeons
There's just something so satisfying about getting achievements and increasing your gamerscore. While other companies have attempted to match the fun of and glory of that iconic 'achievement unlocked' pop-up, none have managed to quite meet the same experience put forward by Xbox.

Thousands of Xbox players are dedicated to hunting down each and every achievement in their libraries, and every game on Xbox comes with a selection of achievements to unlock, meaning there's quite a lot to get through!

Minecraft Dungeons is no different. The game has a full list of achievements that range in difficulty and gamerscore. Thankfully, this game seems to have been designed with achievement hunters in mind, and from the descriptions alone it appears that getting 100% in Minecraft Dungeons shouldn't be too much of a challenge.

Many of the achievements are unlocked simply by going through the game's levels. And it seems that by playing through the game's campaign will unlock a significant portion of the game's achievements alone. Even the achievements worth 100 gamerscore like 'Ooh! Shiny!' and 'Expert Explorer' seem to be easily unlocked once you've got a fair number of hours of playtime.
We can see the game's many levels here too. Pumpkin Pastures, Soggy Swamp, Cacti Canyon,
Fiery Forge and many others are clearly names for game levels, and we can definitely start to imagine what these sections of the game will play like, with the developers having lots of places to draw inspiration from found in the original version of Minecraft.
Minecraft Dungeons Achievements List for Xbox One
So enough chit-chat. That's a quick rundown on Minecraft Dungeons for Xbox One. Now here's the list of achievements in full detail that should hopefully give you an idea of what you'll be getting up to in the game:
| | | |
| --- | --- | --- |
| Name | Description | Gamerscore |
| Life of the Party | Revive a downed friend 20 times. | 50 |
| Wooden Sword | Defeat 50 mobs. | 10 |
| Diamond Sword | Defeat 2,500 mobs. | 30 |
| Passive Aggressive | Defeat 50 passive mobs. | 10 |
| Break the Spell | Defeat 50 enchanted mobs. | 30 |
| Scrappy Scout | Reach Level 10. | 10 |
| Apprentice Adventurer | Reach Level 25. | 30 |
| Expert Explorer | Reach Level 50. | 100 |
| Fancy That! | Find and open your first 'fancy' treasure chest. | 10 |
| More For Me | Open 100 treasure chests. | 30 |
| Cha-ching! | Collect a total of 1,000 emeralds. | 30 |
| Oooh! Shiny! | Collect a total of 5,000 emeralds. | 100 |
| Om Nom Nom | Eat 200 food items. | 10 |
| Happy Camper | Complete Squid Coast and set up camp. | 10 |
| Out of the Woods | Complete Creeper Woods. | 10 |
| The Plot Thickens | Complete Pumpkin Pastures and Soggy Swamp. | 20 |
| Built On Sand, Set in Stone | Complete Redstone Mines and Cacti Canyon. | 50 |
| High and Dry | Complete Desert Temple, Fiery Forge and Highblock Halls. | 80 |
| Saved the Overworld | Defeat the Arch-Illager at the Obsidian Pinnacle. | 100 |
| High Treason | Defeat the Arch-Illager on Apocalypse difficulty. | 100 |
| Blast Radius | Kill any 10 mobs at once with TNT. | 30 |
| Maxed Out and Geared Up | Equip a gear set consisting of fully enchanted items (3 enchantment slots upgraded to level 3). | 100 |
| Worked like a Charm | Enchant an item and upgrade the enchantment to Tier 3. | 20 |
| A Friend in Need | Use artifacts to summon the Wolf, Llama and Iron Golem allies at least once each. | 30 |