Minecraft Anniversary Texture Pack 1.16 is one of the most beautiful and amazing texture packs that you can ever find on the whole internet. This texture pack was specially dedicated to Mojang and Minecraft itself during its 10th year anniversary on May 17, 2020. This texture pack was purely created with all of the effort and time.
Minecraft Anniversary Texture Pack 1.16 was created by the pack maker that goes by the name of ChlorineHarmony. To commemorate and show his respects to Mojang and Minecraft this texture pack is Gold themed. This texture pack will replace most of your textures with majestic looking Gold textures. This even includes a "gold creeper" which makes the iconic mob look even more awesome.
Minecraft Anniversary Texture Pack 1.16 also includes tons of eater eggs and brilliantly placed changed textures which you can find out for yourself when you download this pack. If you have been a big fan of Minecraft, we recommend this texture pack for you! Download it now! Do not forget to share this pack with your friends and family as well.
If you love this pack and want to have more in the future, you can show your love to its original creator. You can see credits of who made this pack in texture packs section of Minecraft settings. You can check his Youtube Channel to support him. You can check more PVP packs over here.
To make sure you get the best game experience possible we strongly recommend using PvP Texture Pack in combination with Optifine. For the best PvP experience, we recommend you use Minecraft version 1.8 or 1.7.
How to install Minecraft Anniversary Texture Pack 1.16 for Minecraft?
If you don't know how to install Minecraft Anniversary Texture Pack 1.16 for Minecraft? just look below, we'll provide you with a short tutorial there. This installation guide should work with all Minecraft versions. To see the Official Download Links just scroll down.
After you have seen the instructions we recommend that you first install OptiFine. Also please note that you might have to zip the zipped file twice if ever the zip file contains another zip file. Some packs might have been zipped twice for better compression which is why please be wary of double zipped texture packs to make sure that all the packs run perfectly well without any issues.
Simple 6-step installation below is recommended! 
1. Make sure you have installed Optifine.
2. Download Minecraft Anniversary Texture Pack 1.16 for Minecraft?  from the official links.
3. Start Minecraft, navigate to "options" then.
4. Navigate from "options" > "Resource Packs" > "Open resource packs folder".
5. Drag and drop the pack into the folder.
6. When you now launch Minecraft you should see the Pack.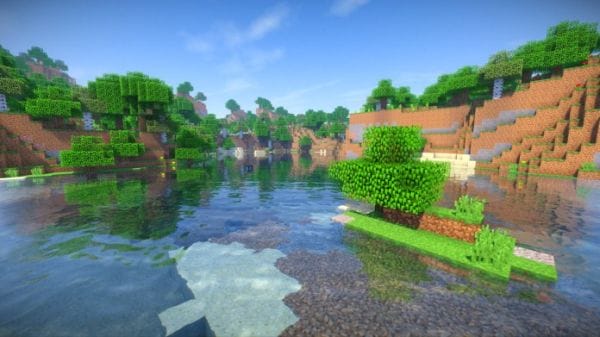 OptiFine for Minecraft 1.15.2 / 1.14.3 / 1.14.2 / 1.14.1 / 1.14 Resource Packs & Texture Packs
Before Proceeding to download this texture pack and play it like the pro that you are we would like to recommend OptiFine! Please download and install OptiFine to ensure that you will not be having any problems or troubles after downloading this texture pack.
Although texture packs are known to have already altered the resolution and quality of the default looking textures and particles of Minecraft you still can't go wrong with OptiFine. OptiFine will help your game load better with any default texture pack and at the same time ensure the compatibility.
OptiFine can make Minecraft 1.15.2 combined with texture packs run faster, look better and significantly make the game better all around.
Here are awesome links to help you download OptiFine,
Minecraft Anniversary Texture Pack 1.16 for Minecraft Download