Mazarine 32x PvP Texture Pack 1.8.9 / 1.8 is a fantastic resource pack that has made the rounds for years as a go-to resource pack for the PVP aficionado. Want to hear what makes the pack so great? Read on to find out!
What is Mazarine 32x PvP Texture Pack 1.8.9 / 1.8?
Mazarine 32x combines the best elements a resource pack can provide and condenses them into a single pack. You may never need another pack again!
Is Mazarine 32x PvP Texture Pack 1.8.9 / 1.8 good to play with?
Mazarine 32x PVP is one of those packs that manages to stand on its own two feet, while evoking the same characteristics shown by the original Minecraft textures. Too often you see creator's attempt to have their packs break through the boundaries of Minecraft's blocky aesthetic, and often with less than great results. Mazarine totally avoids this. It does so through its use of tastefully and artistically designed textures that help to enhance the experience rather than totally reinvent it.

Block textures in this pack are clean, crisp and most of all visually distinct from one another in a way that never leaves you feel confused or lost. Ores are a great example of this. All Minecraft players know how important it is to spot ore, and with this pack you're sure never to miss any ever again.
In the pack, ores have super blocky designs with thick outlines. Even the pockets of ore within the texture are large square and rectangular pieces in sizes that would make even the lowest resolution resource packs blush. The pack's menus are sleek and minimal and consist of simple tables with transparent backgrounds, giving the pack a very spacious feeling and just further streamlining the whole experience.

Items, although not totally revamped, have seen slight changes in design. One particular detail that I enjoyed was the more stripped back versions of non-diamond tools, making diamond ones look just as good as they are to use. Those who love epic looking armour with their resource packs may be disappointed however.
The pack takes a very faithful approach to textures, and the armour selection here is no different. That said, with the diamond armour being a must have for PVP, the armour set's design has been given a handful of visual flourishes that help it stand out against its lesser material cousins.

If you are a Minecraft PVP fanatic and want something that gives you a streamlined experience without an excessive visual style, Mazarine is something you can bet your bottom diamond on. With a faithful aesthetic and just a high level of quality overall, Mazarine 32x PVP is a resource pack you can count on.

What are the pros of Mazarine 32x PvP?
✔Streamlined for a great PVP experience
✔Maintains vanilla Minecraft's tone
✔Textures look great 
What are the cons of Mazarine 32x PvP?
X Will leave some players wanting more
X Some might find the style boring
X Not the most extensive pack available.
How do I install Mazarine 32x PvP Texture Pack?
Want to install Mazarine 32x PvP Texture Pack but don't know how to do it? Don't sweat it because we've put together a simple guide on how to download and install resource packs for Minecraft. It'll only take a few minutes, promise!

To begin, you need to download Mazarine 32x PVP as a zip file. When that's done you need to move the downloaded zip file into your Minecraft's resource pack folder. Don't know where that is? Just start up Minecraft and from the main menu go to options>resource packs>open resource pack folder. Alternatively, you can access the folder by going to one of the directories below:

To make sure you get the best game experience possible we strongly recommend using PvP Texture Pack in combination with Optifine. For the best PvP experience, we recommend you use Minecraft version 1.8 or 1.7.
How to install Mazarine 32x PvP Texture Pack 1.8.9 / 1.8 for Minecraft?
If you don't know how to install Mazarine 32x PvP Texture Pack 1.8.9 / 1.8 for Minecraft? just look below, we'll provide you with a short tutorial there. This installation guide should work with all Minecraft versions. To see the Official Download Links just scroll down.
After you have seen the instructions we recommend that you first install OptiFine. Also please note that you might have to zip the zipped file twice if ever the zip file contains another zip file. Some packs might have been zipped twice for better compression which is why please be wary of double zipped texture packs to make sure that all the packs run perfectly well without any issues.
Simple 6-step installation below is recommended! 
1. Make sure you have installed Optifine.
2. Download Mazarine 32x PvP Texture Pack 1.8.9 / 1.8 for Minecraft?  from the official links.
3. Start Minecraft, navigate to "options" then.
4. Navigate from "options" > "Resource Packs" > "Open resource packs folder".
5. Drag and drop the pack into the folder.
6. When you now launch Minecraft you should see the Pack.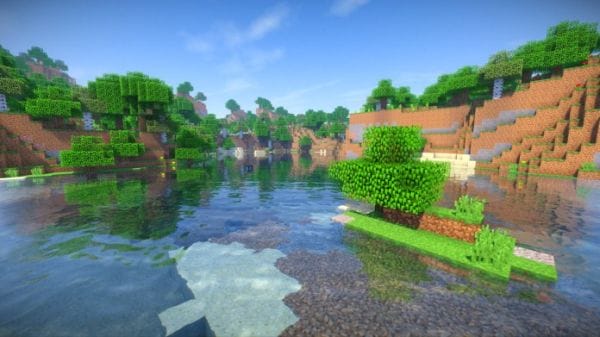 OptiFine for Minecraft 1.14.3 / 1.14.2 / 1.14.1 / 1.14 Resource Packs & Texture Packs
Before Proceeding to download this texture pack and play it like the pro that you are we would like to recommend OptiFine! Please download and install OptiFine to ensure that you will not be having any problems or troubles after downloading this texture pack.
Although texture packs are known to have already altered the resolution and quality of the default looking textures and particles of Minecraft you still can't go wrong with OptiFine. OptiFine will help your game load better with any default texture pack and at the same time ensure the compatibility.
OptiFine can make Minecraft 1.14 combined with texture packs run faster, look better and significantly make the game better all around.
Here are awesome links to help you download OptiFine,
Mazarine 32x PvP Texture Pack 1.8.9 / 1.8 for Minecraft Download