Lots More Food 1.14.4 is a resource and data pack that adds a ton of scrumptious and delicious new items to Minecraft. Read on to find out about this pack that you can really sink your teeth into!
What is Lots More Food 1.14.4?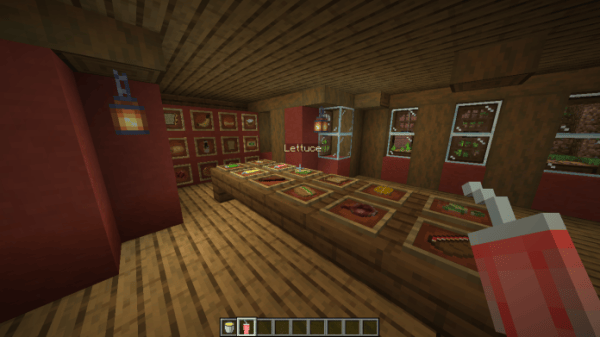 Lots More Food really delivers on its name, as this pack has a lot of food items to sift through. The pack plays host to pizza, cereal, sandwiches, cakes, sodas, teas, waffles, butters, kebabs, even a pot of wedges as well. If you find the current selection of Minecraft food a little measley, this resource/data pack is an extensive smorgasbord of delicately options to play with that is certain to wet your appetite. Okay enough food puns.
What is Lots More Food 1.14 like?

The massive amount of food available is definitely fun if you're into the more culinary side of Minecraft or if you're looking to set up a custom foodie adventure map. It was super satisfying to the eponymous lots-o'-food sprawled out on a table. This amount of food on display would be fantastic for a medieval feast, or even a modern city server. Imagine a supermarket or restaurant roleplay map with all the potential meals on offer. Yum!

Because the pack requires some additional downloads, you also get to play with the cultivation side of the added food options. Namely, there's seeds for coffee and berries, as well as saplings for plums, lemons and even bananas. It was nice seeing the items incorporated into the minecraft world this way. Although as of yet, there's no natural way of using the items outside of creative.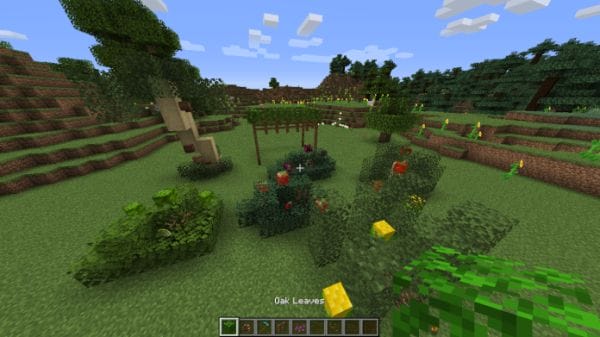 On that note, the biggest immediate problem with Lots More Food is the arduous installation process. You actually need to download a total of three packs to get the pack working properly. This can be frustrating, and the pack would certainly benefit from a one large pack rather than multiple separate installs. What makes things worse is that since the pack uses data packs, you have to manually insert the data packs into each save you want to use the items with. So it's not a pick-up-and-go sort of addon.

You can't access the new food items from the creative inventory. You actually have to type in a series of commands into the text chat. What's more is since there's so many food items, you can't easily see all of the food on offer because your inventory is replaced with each command.

Ultimately, the issues in this pack make the experience a little clunky, but it still has its charms. If you're hungry for more food options, then Lots More Food has will keep you noodling around for in the kitchen for hours on end. Heh. Noodling.
What are the pros of Lots More Food 1.14.4?
Tons of food types

Attention to detail

New saplings for food types
What are the cons of Lots More Food 1.14.4?
Overly complicated install

Unappealing art style

No survival mode support
How do you install Lots More Food 1.14.4?
Consider yourself a foodie? Read below to see how to get Lots More Food up and running for Minecraft 1.14.4.

To get Lots More Food running you'll need the two extra packs installed from here. Once you've got those installed, it's time to focus on Lots More Food. The food pack consists of both a resource pack and data pack, so you'll need to download each. Unzip the download and transfer the folder labeled with "resource pack" into your resource pack folder (easily located through the Minecraft main menu. Then, transfer the folder labeled with "data pack" to your data pack folder (found in .minecraft/saves/(world)/datapacks). Choose the world you'd like to use with the food items.

Once you boot up Minecraft, enable the two resource packs. When you're in the world, input the following commands:

/function give:morefood/food/all
/function give:moreplant/plant/all