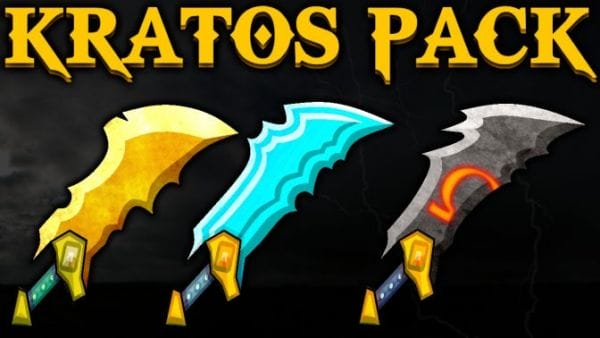 Kratos PvP Texture Pack is an amazing HighRes PvP Resource Pack with LowFire which was made by the austrian PvP pack creator "JabaPacks". The pack is also known as "KRATOS PvP Texture Pack" The pack has been tested successfully with Minecraft 1.8.9, 1.8.8, 1.8.6, 1.7.10, 1.7.9 and most previous versions. Jaba is also the creator of the popular "3D CS:GO PvP Resourcepack" and "Future Texturepack for Minecraft 1.9"
This very famous texture pack has been very much searched and looked for, but here in Minecraft-resource packs, we have successfully found a new download which you can exclusively get here! This pack features some items and armor that is originally used in the rea God of War game itself.
This pack works best with 1.9 and 1.10 although the original one was designed for 1.8, we have already made changes to make it applicable and usable to 1.9 and 1.10.
To make sure you get the best game experience possible we strongly recommend using PvP Texture Pack in combination with Optifine. For the best PvP experience, we recommend you use Minecraft version 1.8 or 1.7.
Minecraft PvP Texture Pack 1.9.4
How to install Kratos PvP Texture Pack 1.9
Simple 3-Way install below is recommended!
Run Minecraft.
Navigate from "options" > "Resource Packs" > "Open resource packs folder".
Drag and drop the pack into the folder that just opened.
PvP Texture Pack Download 1.9