Jhnathan's Diamond and Gold Netherite 1.16.5 PvP Texture Pack is a premium pack created by Jhnathan. He has stated in the initial release of this texture pack that it was heavily inspired by fellow pack creators Yukamii and Lukka. He has based the armor and weapons from Lukka and the tools from Yukamii. When we first received this pack, we were immediately in awe after seeing such an amazing pack.
This texture pack can be categorized as a PvP Texture Pack due to the fact that it does not replace any of the blocks, ores, resources and other items aside from the tools, armor, weapons and other PvP related items. It also does not replace the potions.
Jhnathan's Diamond and Gold Netherite 1.16.5 PvP Texture Pack highly features the Netherite Armor and Weapons. This amazing pack replaces your boring looking Netherite Armor with something more fit for a Miner with blocks and blocks of diamonds. This texture pack is highly immersive and has very attractive features such as it's well balanced linings making this texture truly great.
Is Jhnathan's Diamond and Gold Netherite 1.16.5 PvP Texture Pack Worth The Download?
Before we venture any further, you need to know that this texture pack has 2 versions. We have the Diamond Netherite and the Gold Netherite. You can pick on the download links below on which you prefer. However, in our opinion you can quickly see that the Gold Netherite version looks way better. It looks like a medieval armor that could have been worn by kings.
As we have already mentioned above, this texture pack only replaces your Netherite armor sets, and Netherite weapons, and tools sets. If you are looking for a texture pack for the purpose of re-inventing your entire game then this might not be for you. However, if you are only looking to replace the hideous looking vanilla Netherite armor then this is absolutely for you.
PvP-wise, this texture pack is also really good. It runs on 16x so you can be sure that it is extremely lite-weight in terms of the file size and it's particles. It is fairly speedy despite it's well designed and detailed look. Aside from that it also runs with good FPS and does not cause the game to slow down whatsoever. So to answer this question, yes this texture is definitely worth the download if you love to use it for PvP, or if you would like to just replace your vanilla Netherite armor.
Pros
This texture pack is ideal for those who are only interested in replacing the PvP items of Minecraft. It has good FPS, and a very unique and aesthetic design. The color schemes are very impressive and would work really well for Medieval roleplay. This texture pack can benefit you in terms of both speed and looks. This could also work well if you are just interested in replacing the vanilla textures of the Netherite armor and weapons sets. Either way, this texture pack looks great, and runs awesome.
Cons
If you are looking for a texture pack to replace the overall look of the game then you might need to look elsewhere. This texture pack only replaces the Netherite Weapons and Armor so it might not appeal to players who are looking to change the whole theme of the game.
Jhnathan's Diamond and Gold Netherite 1.16.5 PvP Texture Pack Preview
There are two versions of this texture pack. Please view below to see the essential previews of this texture pack before you download it to make sure that it suites your preference.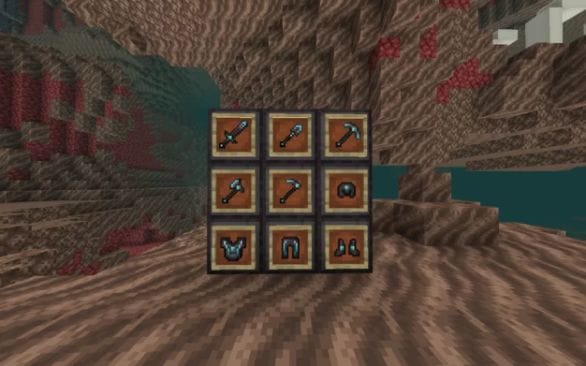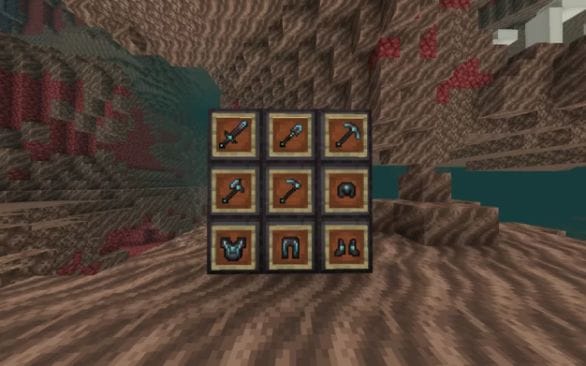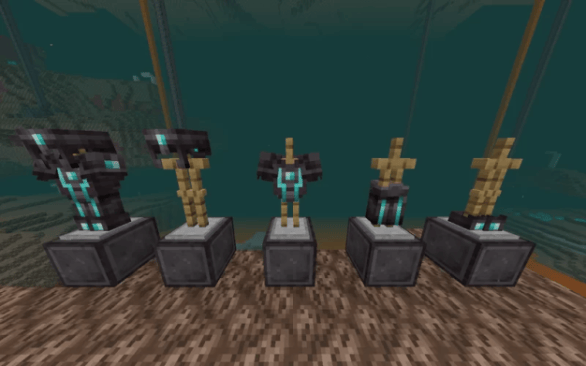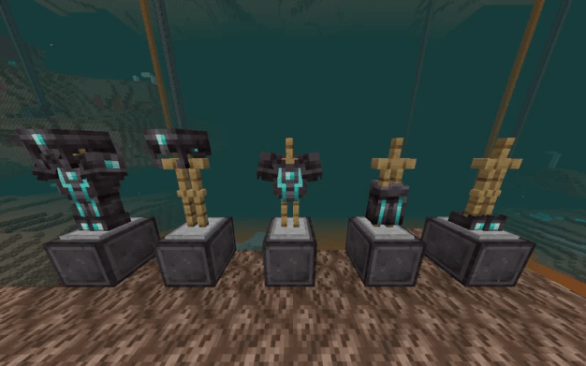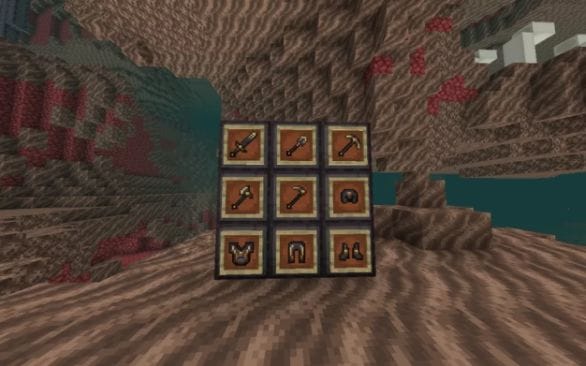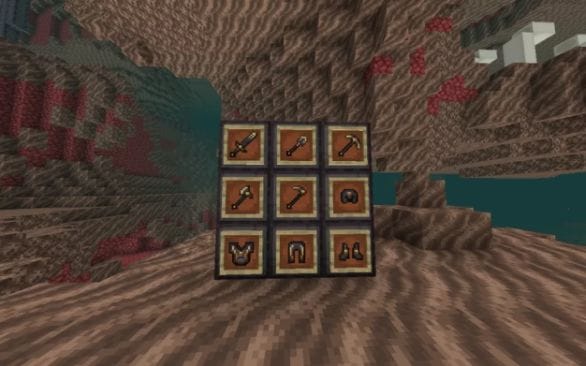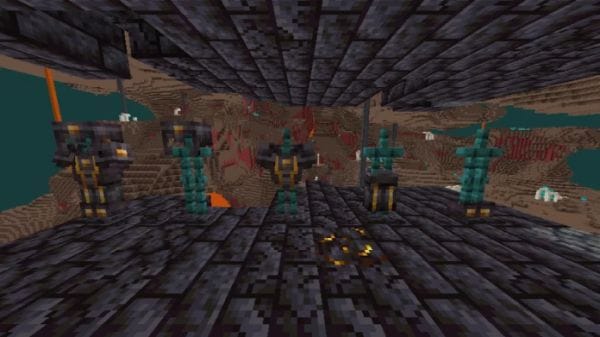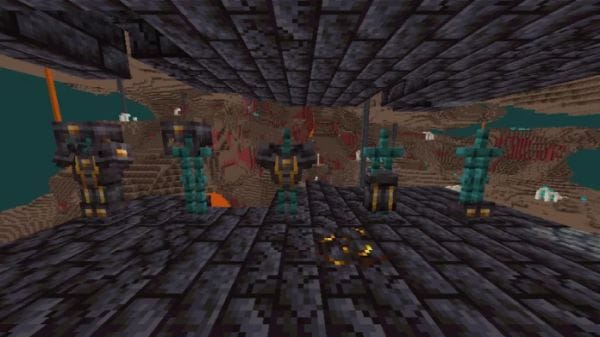 How to Download Jhnathan's Diamond and Gold Netherite 1.16.5 PvP Texture Pack?
If you do not know the basics on how to download and install texture packs then it would be best if you read our full articles regarding how to download from minecraft-resourcepacks.com.
Before attempting to download and install the texture pack do know that you will need to install Optifine in order to make sure that the texture pack will run properly.
To start, download the zip file. Now, place the zip file into your Minecraft resource pack folder. To find the folder easily, go to Minecraft's options menu and navigate to resource packs>open resource pack folder. Alternatively, use the table below to see which file directory your folder is stored in.
| | |
| --- | --- |
| OS | Location |
| Windows | %APPDATA%\.minecraft |
| macOS | ~/Library/Application Support/minecraft |
| Linux | ~/.minecraft |
File location of Minecraft resource packs folder
With the resource pack folder open, place the zip file inside. Finally, activate the texture pack in-game via Minecraft's resource pack menu on the game menu.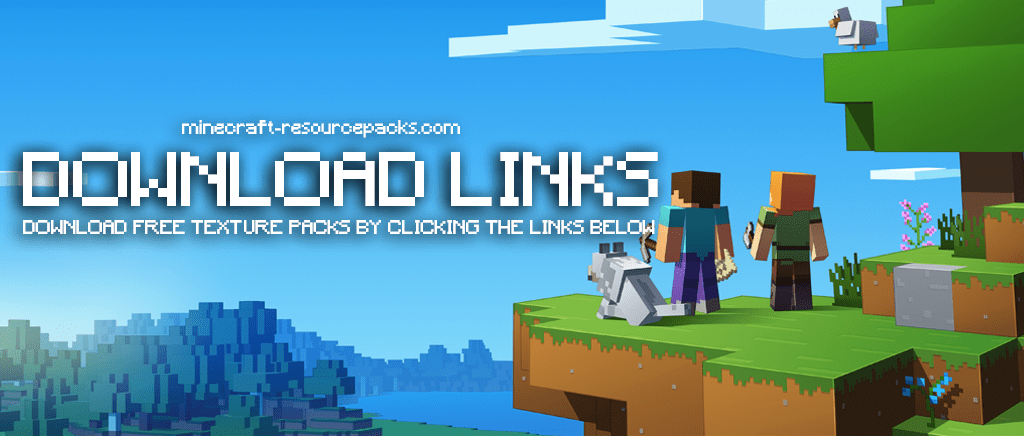 Download Links
Below, you can see the legitimate download links hosted on our servers. We do not sell our texture packs, and are all for free. Please see corresponding download link below to download the texture packs. After you have clicked on the link you will be redirected to the download page. Your download will automatically start once the file is ready, you do not need to click any buttons. Once the file is ready, your download should begin automatically. All you will need to do is save it on your device.
📁 Download Jhnathan's Netherite 1.16.5 PvP Texture Pack Gold Version
📁 Download Jhnathan's Netherite 1.16.5 PvP Texture Pack Diamond Version