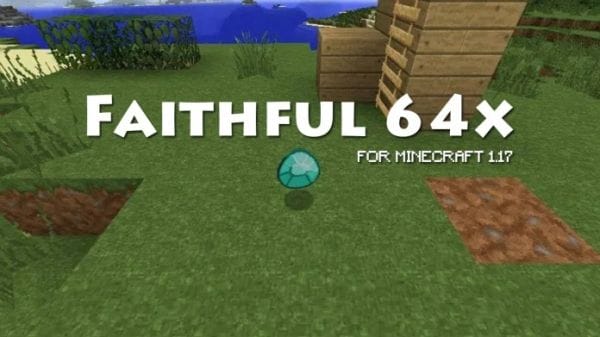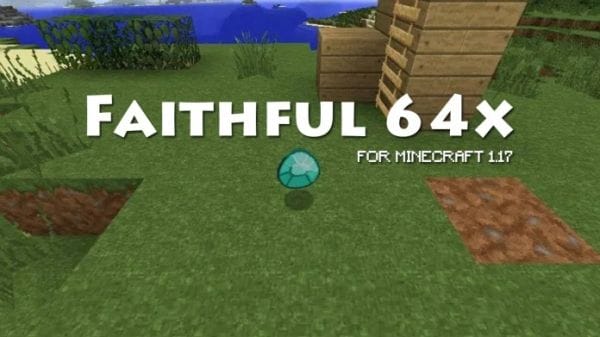 Minecraft's graphics are good and all, but what if they had 4 times the amount of pixels to play with? Well, with Faithful 64x 1.17 you can make that a reality. Want to give your version of Minecraft a textural makeover? Well then keep reading to find out how!
What is Faithful 64x 1.17 - Steven's Traditional Texture Pack?
Steven may be an all-powerful texture pack god, or maybe Steven is just some guy on the Minecraft texture pack forums, but one thing is for certain: Steven makes a pretty great resource pack! Steven's Traditional takes everything you know and love about Minecraft' classic look and gives it a resolution upgrade, turning up those 16x16 textures up a few notches to a beefy 64x64 resolution, and giving you some of the nicest looking textures available. Alternatively you can also utilize the classic Faithful 32x 1.17 download for the most faithful pack ever.
Is Faithful 64x 1.17 - Steven's Traditional Texture Pack worth the download?
Of course! Steven's Traditional has made quite a name for itself over the years, and with the new Caves & Cliffs update, you can discover everything new that Minecraft has on offer with some of the best textures in town.

Tired of exploring Minecraft's new content with those dull, old default textures? Then go and install Steven's Traditional 1.17 and explore the mysterious cave biomes, experiment with skulk blocks, and find some copper ore, with a new lick of paint that is guaranteed to enhance your 1.17 experience.

Deep down, we all love the game's original and default textures, but they aren't really famous for their graphical fidelity. Steven's Traditional helps change that narrative, by expanding the texture size four times over, the palette for the game's pixel art is quadrupled, and so is their overall impact.

Though, just because you might want a higher resolution, that doesn't mean players want to sacrifice the look and feel of classic Minecraft. This is what makes Steven's Traditional pack so special, because it takes extra care to conserve everything you love about those classic textures, and aims to give as authentic an experience as possible.
While the pack isn't recommended for people who like a lot of style in their resource packs, Steven's Traditional 1.17 is the perfect way to break in the Caves & Cliffs update, and offers players an authentic, yet graphically satisfying way to play Minecraft.
Want to play with Steven's Traditional Texture Pack 1.17? Check out our installation guide down below!

What's great about Faithful 64x 1.17 - Steven's Traditional Texture Pack:
✔ Incredibly faithful to Minecraft's classic look, but still has its own vibe and charm
✔ A nice option for players with better PCs
✔ The boost in resolution means textures have more detail, color, and visual stimulation
What's not great about Faithful 64x 1.17 - Steven's Traditional Texture Pack:
X May struggle on PCs that are lower-end or have low specs
X Some textures are arguably a little bit boring
X Not recommended for players who love themed packs or heavily stylized resource packs
How do I install Faithful 64x 1.17 - Steven's Traditional Texture Pack?
Even if you've never installed a resource pack before, you'll be able to download, install, and play Steven's Traditional in less than 10 minutes. It's really that easy! Just keep reading to find out how it's done.

First, download the zip file for Steven's Traditional pack. Move the zip file to somewhere you can grab it again later, such as your downloads folder or desktop.
Once the zip is downloaded, we'll need to open up and access Minecraft's folder for resource pack storage. The simplest way of achieving this is by going to the game's main menu screen and then going to the options menu. Then click 'resource packs' and then 'open resource pack folder'.

Similarly, you can use your OS' file explorer to find the folder through the following table of file directories:
| | |
| --- | --- |
| OS | Location |
| Windows | %APPDATA%\.minecraft |
| macOS | ~/Library/Application Support/minecraft |
| Linux | ~/.minecraft |
Installation is easy. Just drop the zip into the resource pack folder and you're done! Just make sure to activate the pack in the in-game resource pack menu.
Note: Currently, Steven's Traditional for Minecraft 1.17 is not yet released to the public. However, you can download the previous versions while the developers work on their 1.17 version.
Faithful 64x 1.17 - Steven's Traditional Texture Pack Preview
Faithful 64x 1.17 - Steven's Traditional Texture Pack Download Links
As of now the official downloads for Faithful 64x 1.17. has not yet been released. However please bookmark this page or keep visiting our site as we will be one of the first to upload it soon and make sure that you will get a strong and fast download.
[kkstarratings]