Our Minecraft Dungeons Unique Weapons and Armors Guide are sure to help you get in the game faster. Mojang brings the whole Minecraft franchise to a whole new level with Minecraft Dungeons. This game introduces you to a whole new world and gameplay. Heavily inspired by Diablo 3, this role-playing game is centered on fighting the heck out of tons of mobs and grinding your butt for stronger gear. With it's take on loot-driven style gameplay and dungeon crawling you are sure to be engaged with plenty of never before seen weapons and armors which you can discover as you play.
The very signature which comes with Minecraft Dungeons which makes it different from the other games from the genre is its high-tier unique equipment and gear. Each one features its very own design and specialties. We have come and summarized the list of unique weapons and armor that have already been revealed. Without further ado here is Minecraft Dungeons Unique Weapons and Armors Guide.

Minecraft Dungeons Unique Weapons and Armors
Here is the list of the Minecraft Dungeons Unique Weapons and Armors we have so far:
Diamond Pickaxe
One of the most iconic items in the Minecraft franchise this sturdy pickaxe comes back to Minecraft Dungeons as one of the weapons to help you get Emeralds faster. No, you won't be mining diamonds but you would be kicking butt and destroying mobs with the aid of this baby. Not to mention it helps you get Emeralds faster. But this is just the beginning of our Unique Weapons and Armors list.
Firebrand
By the name Firebrand you would already get the hint on what this bad boy does. This wicked axe embraces the element of fire and gives players a fiery blaze in their hands. This axe gives players the ability to burn mobs on hit and the ability to use a "spin" attack. The spin attack is a devastating 360-degree radius attack that damages all enemies within the radius.
Burns Mobs

Spin attack move
Diamond Sword
Not the strongest weapon on our Unique Weapons and Armors list. Another signature item from the Minecraft franchise, this blade comes back as a simple yet hard-hitting sword which adds plenty of damage to the player. Although it is not exactly the most powerful weapon it can still pack a punch when using strong enchantments, plus the nostalgia you get is super real.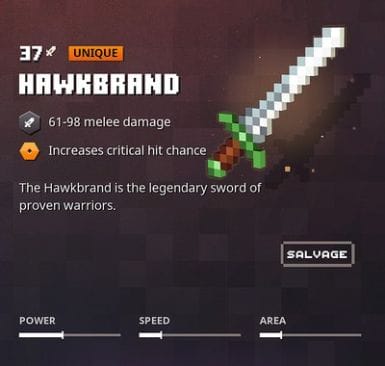 Hawkbrand
The Hawkbrand is a new weapon introduced in Minecraft Dungeons. This weapon is a sharp blade that boosts your chance to hit with Critical strikes giving you the big advantage you need in tight situations. Use this sword to trim down HP from thicker mobs and obliterate them with a critical strike.
Increased critical hit chance
Nightmare's Bite
Sickles are not found in the original Minecraft so this weapon is entirely new. This unique sickle is sure to easily chip-in your enemies HP as it spawns poison clouds as you hit an enemy. The poison clouds damage any mob or foe within its radius. This weapon is dual wield and considered one of the best weapons to easily wipe low-level mobs in seconds. This is the only sickle in our Unique Weapons and Armors list.
Spawn Poison Clouds

Dual Wield

Guardian Bow
The Guardian Bow is a unique weapon newly added to Minecraft Dungeons. Although it lacks the modifiers to make it exactly unique, it makes up for it with it's powerful charged attacks that quickly destroy enemies lined up. This is our first bow in our Unique Weapons and Armors list.
Strong Charged Attacks

Super Charged Arrows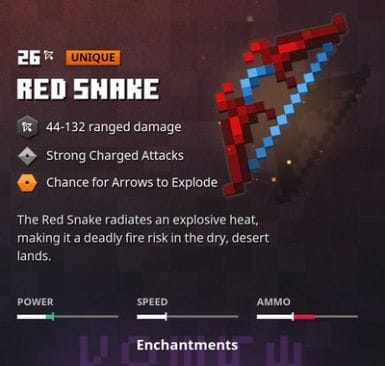 Red Snake
The Red Snake is an "explosive" bow that gives the player the chance for arrows to explode on hit. Although, do note that explosive shots are by chance and are not 100% going to trigger on every shot. Explosive arrows, however, throw mobs of several spaces after getting hit plus they get their HP taken away by bonus damage. Also, it does a stronger charged attack.
Strong Charged Attacks

Chance for Arrows to Explode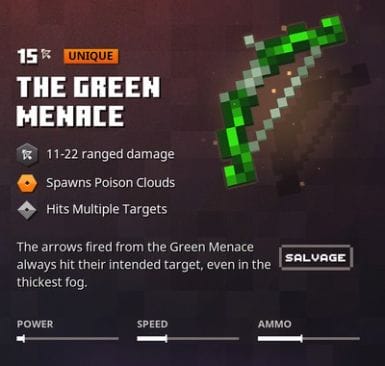 The Green Menace
Judging from the name "Green" Menace, you would think that this unique bow would have something to do with poisons. And, you are definitely right! This bow spawns poison clouds by chance on hit. Just like the Nightmare's Bite, the poison clouds it spawns damage enemies within the radius. This ensures sustained hit and heavy DPS.
Spawns Poison Clouds

Hits Multiple Targets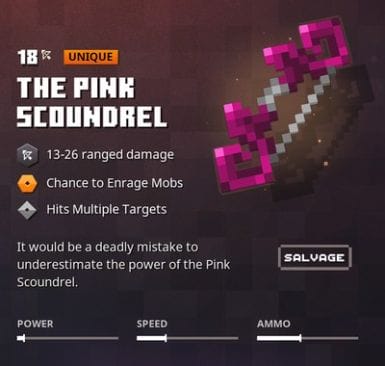 The Pink Scoundrel
This unique bow can be the x-factor to any battle. This is because this bow turncoats mobs to help you and attack its allies, kind of like mind control but cooler. Shoot a couple of shots into a huge horde of mobs and see how much chaos it brings to the mobs. Also, it hits multiple targets.
Change to Enrage Mobs

Hits Multiple Targets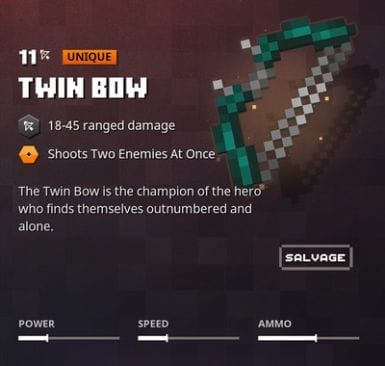 Twin Bow
If you have been an RPG fan for a long time then you would have probably heard or seen this bow before. Basically, this bow gives players the ability to target two enemies at one shot. So, by using this weapon you can easily chunk in huge DPS on a huge horde as you Spray them with your "machine gun" like bow. Perhaps one of the strongest bows in our Unique Weapons and Armors list.
Shoots Two Enemies At Once

Highland Armor
The sole armor in our Unique Weapons and Armors list. Very few unique armors have been introduced as of yet. However, Mojang did say that they will have tons of updates in the future. Who knows how much unique armor they have more for us. The Highland Armor is a very versatile armor which brings players tons of advantages. It provides players the chance to boost their speed after a successful dodge. Not to mention you get 35% melee damage and 35% damage reduction.
Gains Speed after Dodge

35% damage reduction

30% melee damage
All these unique items are just a beginning. If the game blows up like Sandbox Minecraft the developers have promised to add new content, before lore, better armor, better items, and more!
[siteorigin_widget class="WP_Widget_Custom_HTML"]