Castaway Seed is a beautiful seed with many biomes within walking distance to the spawn point. Right when you enter the game, you spawn right in the middle of two biomes, a birch forest, and a dark forest. The dark forest is filled with giant mushrooms. Snowy mountains can be seen off in the distance, and a lake runs through the two biomes.
Castaway Seed is a seed for 1.14.4 and a perfect seed for those who love beautiful landscapes and scenery. I would not consider Castaway Seed a good seed for beginners, as there is a ton of difficult terrain. Since there is a ton of birch trees around the seed, if your favorite wood to build with is birch, you will probably like this seed. Beyond the many trees, you will find very high mountains with lots of waterfalls and lavafalls. There are many overhangs and overlapping land bridges between each of the mountains. There is also a dark forest with a lot of giant mushrooms near the birch forest. Beyond each of the biomes, there are large bodies of water and beaches. If all of these biomes sound appealing, give this seed a try.
If you like having a lot of caves at your disposal, Castaway Seed might not be for you. While there are a lot of trees and mountains near you, there are not many caves. This might make finding materials a bigger challenge. 
Castaway Seed has no shortage of trees, stone, and snow. There are plenty of building materials that can be found with this seed in such a short distance to the spawn point. There is no need to venture off for many miles while using this seed on your survival world.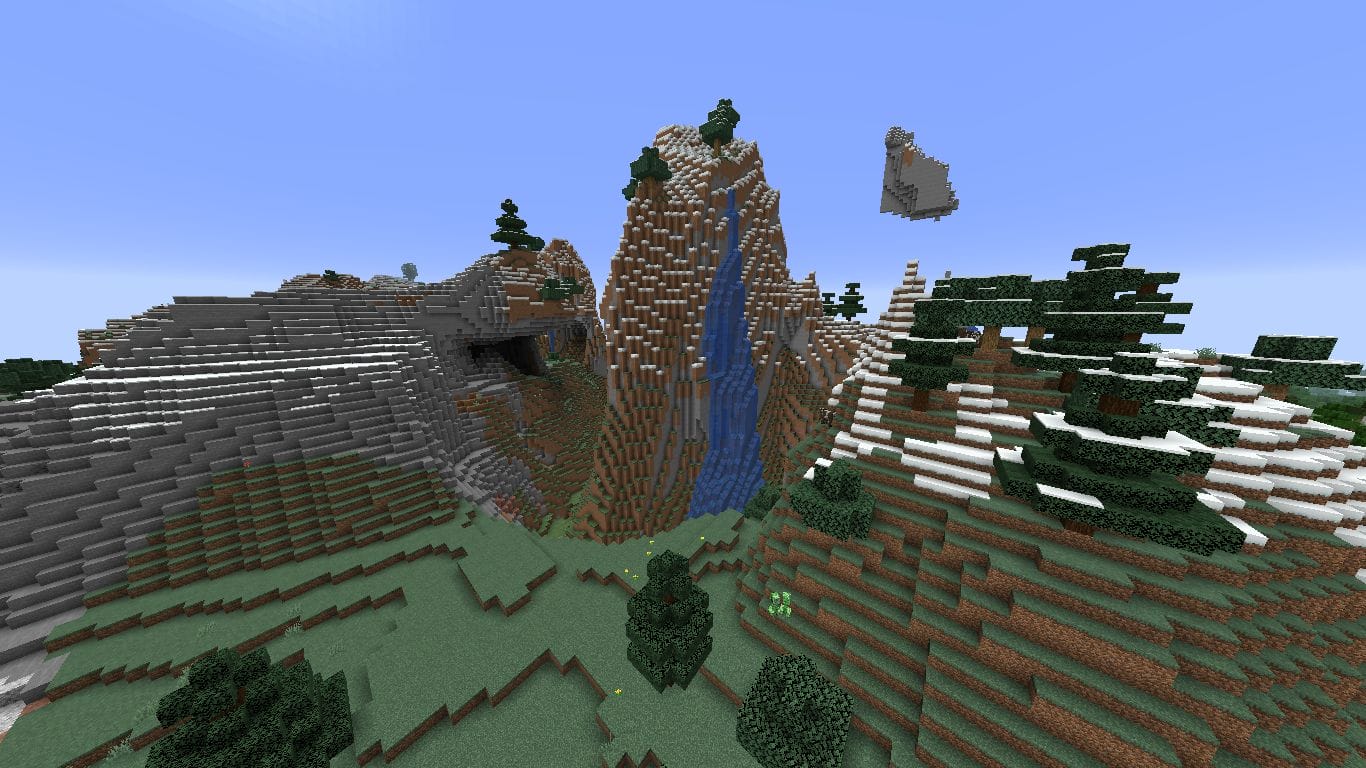 If you like naturally spawned buildings, Castaway Seed is not your best option. There are not any villages, pillager outposts, temples, and more in sight. If you like gathering materials through looting villages and trading your emeralds with villagers, you might not get that opportunity with Castaway Seed. 
While Castaway Seed has many uncommon biomes right at your spawn point, finding biomes that do not have as rough as terrain is harder than it looks. It seems as if Castaway Seed is a big island, with these extreme biomes surrounded by sea. It is truly a beautiful, yet unconventional, seed. 
Castaway Seed has a lot of blocks that need to be loaded, and due to this, a strong computer might be needed in order to run this seed smoothly. You will encounter some lag if your computer is not very strong. However, the lag can be reduced if you lower the render distance of the number of chunks you have loading. This can be done in the video settings section of options. 
If you want a challenge, Castaway Seed is the seed for you. While it is very beautiful, surviving in such a world will be harder than if it were a normal world. With a lack of caves, yet plenty of shaded land, mobs are very prevalent.
Pros of Castaway Seed:
Spawn point near many trees, which makes it easy to gather resources fast.

Lots of biomes to explore, so if you have a favorite biome, you might be able to easily find it and set up your base there. 

This seed is a very beautiful seed. 
Cons of Castaway Seed:
The terrain makes it hard to build, there are not many flat surfaces in this seed.

There are a lot of obstacles to get around while walking, so if you need to travel, it will take much longer than it normally would. 

It is hard to find animals near the spawn point, but the more you walk the higher the chances you will find some.
How to use Castaway Seed
Using a seed is very simple, anyone can do it! It only takes a few simple steps. Each seed is a different set of letters, numbers, or words. For this seed, Castaway Seed, the set of numbers is  -573947210. Here's what you need to do!
Open Minecraft 1.14.4

Click "Singleplayer" then select "Create New World"

Click on "More World Options…"

In the textbox labeled "Seed for the World Generator" write these numbers: -573947210

Click "Create New World" again, and your new world will have the Castaway seed!
For a faster and smoother gaming experience, it is recommended to download and use Optifine!