Blue Whale 1.14.4 16x PvP UHC Minecraft Texture Pack is a resource pack that certainly is for players who love Minecraft PVP. Bored of your crummy old vanilla textures for your awesome enchanted sword? Then take a look at this equally awesome texture pack.
What is Blue Whale 1.14.4 16x?
Blue Whale is a unique texture pack that is focused mostly on three things: PVP,  item textures and skybox textures. Trust us, Blue Whale doesn't get its name for nothing. This whale isn't something to shake a stick at!
So, what is Blue Whale 1.14.4 16x like to play with?
Blue Whale 1.14.4 is a fairly new resource pack (released in September 2019) and is still being developed as of this review. Therefore it makes sense that the pack doesn't cover everything, and the majority of blocks aren't accounted for with new textures. Clearly though, that hasn't been the creator's intention from the get-go. What has clearly been the focus is PVP.

Blue Whale does a fantastic job at revamping vanilla Minecraft's PVP aesthetic. All of your standard tools needed for a PVP skirmish are here: swords, armour, golden apples, lava, water, you name it. This is clearly why certain items have been focused on so heavily.
This pack is less about a wider Minecraft experience and is more like a much smaller pack intended to fill the needs of a community niche. While things like fishing rods have seen an update, the best update comes in the form of the bow and arrow. Blue Whale introduces a brand new animation for drawing your bow, that even uses colour to illustrate at what stage your bow has been pulled back. How cool is that?

The two most immediate changes are the hotbar and the skybox. Firstly, let's discuss the hotbar. The standard Minecraft hotbar has been tossed away in Blue Whale and has been replaced with a much sleeker, modern and stylised version.
This being a PVP focused resource pack, it makes sense that the hotbar has been given such a powerful blue gradient that makes it much easier to see what items you have in your immediate inventory. This proves to be especially useful when you're in a fight or been caught off guard and need to access something quickly.
Although I can't be certain, it also feels like a similar thought process went behind the creation of the ore textures as well. Initially I was put off by the new look of the many ores, which are now outlined with bold thick lines, producing an almost cell shaded style. However, I can imagine this might prove to be a great advantage for survival and PVP scenarios.

What are the positives of Blue Whale 1.14.4 16x?
✔Great visual experience for PVP
✔Cool and sleek updates to vanilla Minecraft
✔Excellent for PVP players
What are the negatives of Blue Whale 1.14.4 16x?
X Not much use for non-PVP player at the moment
X Still in development
X Some block textures may not be to your taste

How do I install Blue Whale 1.14.4 16x?
Consider yourself a PVP king? Need a resource pack that will give you the extra edge to hone your MInecraft skills? Just use our easy to follow guide below that goes step by step into installing resource packs.

The first step is to download the Blue Whale texture pack. Once that's done, you should have a zip file downloaded. Note: you won't need a file extractor for this installation process.

Now you need to place the zip file into your Minecraft resource pack folder. Find this by starting up Minecraft and selecting "Options" and then "Resource Packs". Once there, click on "open resource pack folder". You can also find this folder outside of Minecraft through the following directories:


| | |
| --- | --- |
| OS | Location |
| Windows | %APPDATA%\.minecraft |
| macOS | ~/Library/Application Support/minecraft |
| Linux | ~/.minecraft |

When you've found the folder, just place the downloaded zip in there. Lastly, in the Minecraft resource pack menu make sure to activate the resource pack. Happy PVPing!

How to install Blue Whale 16x 1.14.4 PvP UHC Minecraft Texture Packs for Minecraft?
If you don't know how to install Blue Whale 16x 1.14.4 PvP UHC Minecraft Texture Packs for Minecraft? just look below, we'll provide you with a short tutorial there. This installation guide should work with all Minecraft versions. To see the Official Download Links just scroll down.
After you have seen the instructions we recommend that you first install OptiFine. Also please note that you might have to zip the zipped file twice if ever the zip file contains another zip file. Some packs might have been zipped twice for better compression which is why please be wary of double zipped texture packs to make sure that all the packs run perfectly well without any issues.
Simple 6-step installation below is recommended! 
1. Make sure you have installed Optifine.
2. Download Blue Whale 16x 1.14.4 PvP UHC Minecraft Texture Packs for Minecraft?  from the official links.
3. Start Minecraft, navigate to "options" then.
4. Navigate from "options" > "Resource Packs" > "Open resource packs folder".
5. Drag and drop the pack into the folder.
6. When you now launch Minecraft you should see the Pack.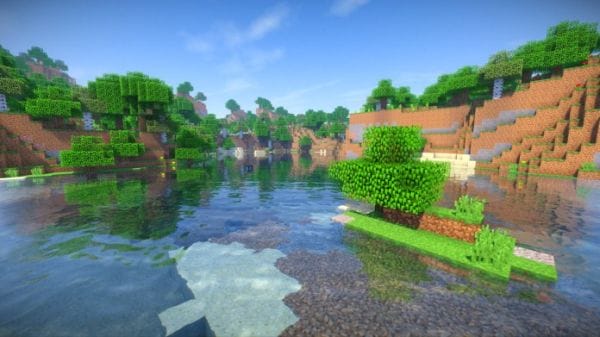 OptiFine for Minecraft 1.14.3 / 1.14.2 / 1.14.1 / 1.14 Resource Packs & Texture Packs
Before Proceeding to download this texture pack and play it like the pro that you are we would like to recommend OptiFine! Please download and install OptiFine to ensure that you will not be having any problems or troubles after downloading this texture pack.
Although texture packs are known to have already altered the resolution and quality of the default looking textures and particles of Minecraft you still can't go wrong with OptiFine. OptiFine will help your game load better with any default texture pack and at the same time ensure the compatibility.
OptiFine can make Minecraft 1.14 combined with texture packs run faster, look better and significantly make the game better all around.
Here are awesome links to help you download OptiFine,
Blue Whale 16x 1.14.4 PvP UHC Minecraft Texture Packs for Minecraft Download