Blue Clouds 1.14.4 256x PvP UHC Minecraft Texture Pack is a PVP focused resource pack that will transform your old boring Minecraft look with one that will give even the most seasoned of PVP players that extra edge.
What is Blue Clouds 1.14.4 256x?
Blue Clouds 1.14.4 is beautifully blue resource pack that is full of new textures to breath some new life into your Minecraft PVP experience. A new skybox, weapons and armour, oh my!
Is Blue Clouds 1.14.4 256x good to play with?
In the same vein as the creator's other Minecraft resource packs, Blue Clouds is created primarily for PVP use. You'll find all the same sort of changes in this pack too, but of course with the pack's own unique style.

We better tackle PVP item textures first. The typical fair of items that you use in PVP are all accounted for here. You've got swords, armour, lava buckets, even the fishing rod. All the items have been given new textures, that with the 256x resolution now have an incredible amount of detail.
Players who have been doing PVP for a long time will know that vanilla Minecraft can become a bit stale, and sometimes it leaves you wanting something more visually interesting to look at. All the blocks have been given new textures (some of which aren't the best) but it's in the items where the upgrade really shines.
The skybox for this resource pack is probably the most impactful change it has to offer. The skybox here is great. It's a very tasteful almost painterly interpretation of a beautiful blue sky with soft white clouds.
The colours chosen here are a great representation of the pack's name and clearly have been the direct inspiration for this entry into the creator's wide collection. The hotbar has also seen an upgrade as well. The hot bar is much darker and has a basic grey to black gradient.
I must say that compared to the creator's other work, this hotbar is a bit disappointing, especially when the skybox was so well executed. The black colour scheme is really intuitive and actually hinders your ability to see which items you have available to you.

If you love PVP and want something that offers more detail, cool textures and an awesome skybox, there's very few packs you could go to other than Blue Clouds 1.14.4

What are the pros of Blue Clouds 1.14.4 256x?
✔Skybox is fantastically well-executed
✔Colours are generally bright and visually appealing
✔The pack uses high resolution textures

What are the cons of Blue Clouds 1.14.4  256x?
X Unappealing and impractical hotbar design
X Similar to creator's other packs
X Ugly ore textures
How do I install Blue Clouds 1.14.4  256x?
Tried dozens of times to get yourself a sweet new resource pack but have no idea on how to actually download and install the thing? We've been there, so let us help you out. Just read on to see our easy guide on how to install Minecraft resource packs with no hassle and be ready to take on the Minecraft world in just a few minutes.

The first step is to download Blue Clouds 1.14.4 256x, which will download as a zip file. Once the download is complete, you then need to find the location of your Minecraft resource pack folder.
You can do this really easily by opening up Minecraft, then going to options>resource packs>open resource pack folder. This will automatically open up the location of your Minecraft resource pack folder. If you'd rather find the location without starting Minecraft, use the table below to see where your default directory is depending on what operating system you use.
| | |
| --- | --- |
| OS | Location |
| Windows | %APPDATA%\.minecraft |
| macOS | ~/Library/Application Support/minecraft |
| Linux | ~/.minecraft |

Once you've found it, just place the download file in there. The last step is to open up Minecraft and go to resource packs. Make sure to activate the pack by hovering over it and clicking the arrow pointing to the right hand side of the screen.


How to install Blue Clouds 1.14.4 256x PvP UHC Minecraft Texture Packs for Minecraft?
If you don't know how to install Blue Clouds 1.14.4 256x PvP UHC Minecraft Texture Packs for Minecraft? just look below, we'll provide you with a short tutorial there. This installation guide should work with all Minecraft versions. To see the Official Download Links just scroll down.
After you have seen the instructions we recommend that you first install OptiFine. Also please note that you might have to zip the zipped file twice if ever the zip file contains another zip file. Some packs might have been zipped twice for better compression which is why please be wary of double zipped texture packs to make sure that all the packs run perfectly well without any issues.
Simple 6-step installation below is recommended! 
1. Make sure you have installed Optifine.
2. Download Blue Clouds 1.14.4 256x PvP UHC Minecraft Texture Packs for Minecraft?  from the official links.
3. Start Minecraft, navigate to "options" then.
4. Navigate from "options" > "Resource Packs" > "Open resource packs folder".
5. Drag and drop the pack into the folder.
6. When you now launch Minecraft you should see the Pack.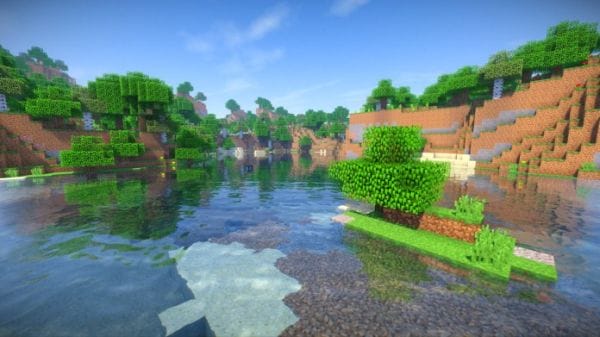 OptiFine for Minecraft 1.14.3 / 1.14.2 / 1.14.1 / 1.14 Resource Packs & Texture Packs
Before Proceeding to download this texture pack and play it like the pro that you are we would like to recommend OptiFine! Please download and install OptiFine to ensure that you will not be having any problems or troubles after downloading this texture pack.
Although texture packs are known to have already altered the resolution and quality of the default looking textures and particles of Minecraft you still can't go wrong with OptiFine. OptiFine will help your game load better with any default texture pack and at the same time ensure the compatibility.
OptiFine can make Minecraft 1.14 combined with texture packs run faster, look better and significantly make the game better all around.
Here are awesome links to help you download OptiFine,
Blue Clouds 1.14.4 256x PvP UHC Minecraft Texture Packs for Minecraft Download