Black & Gold 16x Revamp FPS PvP Texture Pack is a fancy PVP resource pack that adds excellent flair to the vanilla Minecraft PVP experience. Read on to find out why this pack wins gold for Minecraft PVP.
What is Black & Gold 16x Revamp FPS PvP Texture Pack?
This resource pack is an elegantly-styled texture pack that is for all you posh PVP players out there. If you're looking for a pack that delivers on usability and aesthetic, then this is the resource pack for you!
What is Black & Gold 16x Revamp like to play with?
If you're familiar with the creator's other resource packs, you'll know what to expect with this pack. However, Black and Gold 16x manages to exceed the quality of the creator's other work and brings itself to the top of the pile for PVP focused resource packs.
Like the other packs, Black and Gold refers to its name through its unique thematic style. In this case though, we are treated to an elegant and extravagant looking user interface that is pimped out with beautifully contrasting black and gold trim.

There are two big changes that come with this resource pack: the PVP user interface and the world skybox. Since this is a PVP pack, let's discuss that side first. It must be said that this pack has a great sense of style when it comes to your PVP toolbox.
All of the items that you'll be well accustomed to have brand new looks. The hilts of swords now have beautifully golden hues and beam out against the now jet black hotbar. Likewise, items like lava buckets and golden apples have been redesigned to match the pack's swanky style, so your full arsenal for PVP play matches together like a custom built set.
What's great is that the style of these items doesn't clash with the rest of the pack either. You'll see this happen sometimes, when a creator pours their effort into certain textures, but they don't quite fit in with other custom or borrowed textures. Black and Gold manages to avoid this through its use of a classic colour scheme that doesn't constrain it in any stylistic way.

The aforementioned hotbar works fantastically for a strategic advantage towards PVP play. The jet black background is a great backdrop for the shining golden indicators for item selection. You'll never be left in a fight not knowing which item you currently have selected in your immediate inventory, as a professional golden trim surrounds the item you have in your hand.

If you love PVP and want a pack that delivers on its practical application in PVP as well as on its looks, then Black & Gold is something you need to try out.

What are the pros of Black & Gold 16x Revamp?
✔Greatly styled user interface
✔Pleasantly designed textures
✔Excellent choice of colour pallete
What are the cons of Black & Gold 16x Revamp?
X Skybox is not the greatest out there
X Not useful for non-PVP players
X More blocks could use the pack's colour scheme

How do I install Black & Gold 16x Revamp?
Have we sold you on the idea on a beautifully styled resource pack for your PVP sessions? Just not sure on how to do it? Then just read our simple guide on how to install Minecraft resource packs. It's quick and easy, and will only take a few minutes.

The first step is to download the Black & Gold 16x pack (this will be a zip folder). When that's done, you need to find the location where your Minecraft resource packs are held. You can do this by booting up Minecraft and going to options>resource packs>open resource pack folder. Otherwise, you can find it through the following directories:
When you've located the directory, place the download in your resource pack folder. The final step is to start Minecraft and open up the resource pack section and activate the Black & Gold resource pack.
To make sure you get the best game experience possible we strongly recommend using PvP Texture Pack in combination with Optifine. For the best PvP experience, we recommend you use Minecraft version 1.8 or 1.7.
How to install Black & Gold 16x Revamp FPS PvP Texture Pack 1.8.9 / 1.8 for Minecraft?
If you don't know how to install Black & Gold 16x Revamp FPS PvP Texture Pack 1.8.9 / 1.8 for Minecraft? just look below, we'll provide you with a short tutorial there. This installation guide should work with all Minecraft versions. To see the Official Download Links just scroll down.
After you have seen the instructions we recommend that you first install OptiFine. Also please note that you might have to zip the zipped file twice if ever the zip file contains another zip file. Some packs might have been zipped twice for better compression which is why please be wary of double zipped texture packs to make sure that all the packs run perfectly well without any issues.
Simple 6-step installation below is recommended! 
1. Make sure you have installed Optifine.
2. Download Black & Gold 16x Revamp FPS PvP Texture Pack 1.8.9 / 1.8 for Minecraft?  from the official links.
3. Start Minecraft, navigate to "options" then.
4. Navigate from "options" > "Resource Packs" > "Open resource packs folder".
5. Drag and drop the pack into the folder.
6. When you now launch Minecraft you should see the Pack.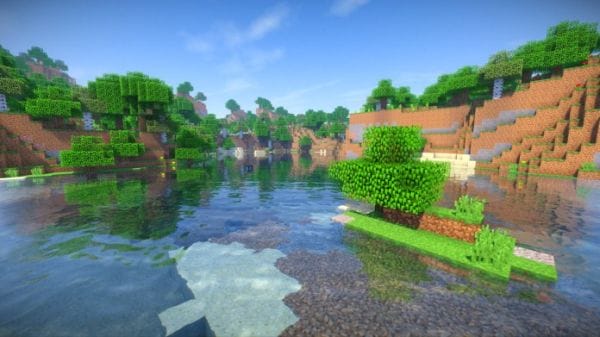 OptiFine for Minecraft 1.14.3 / 1.14.2 / 1.14.1 / 1.14 Resource Packs & Texture Packs
Before Proceeding to download this texture pack and play it like the pro that you are we would like to recommend OptiFine! Please download and install OptiFine to ensure that you will not be having any problems or troubles after downloading this texture pack.
Although texture packs are known to have already altered the resolution and quality of the default looking textures and particles of Minecraft you still can't go wrong with OptiFine. OptiFine will help your game load better with any default texture pack and at the same time ensure the compatibility.
OptiFine can make Minecraft 1.14 combined with texture packs run faster, look better and significantly make the game better all around.
Here are awesome links to help you download OptiFine,
Black & Gold 16x Revamp FPS PvP Texture Pack 1.8.9 / 1.8 for Minecraft Download