The Best Minecraft Toys have been in demand by plenty of parents and collectors since the time that minecraft has been released. As it has become one of the most famous video game in the world – so does it's demand for physical "toys" which people can hold and have fun with. Being sort of a building block itself – who else to create Minecraft toys than the giant building blocks company Lego.
Since Minecraft is a sandbox video game it provides players the chance to experience exploration, crafting, gathering resources, combat against mobs and even to the extent of player vs player action. But, at the same time since it is a video game once your device is turned off you can't get to enjoy the game. Which is why Minecraft toys is a must if you enjoy the entire essence of the game.
What are The Best Minecraft Toys?
The Best Minecraft toys can provide you with the same fun as the video game. At the same time, it also excercises your imagination and creativity. It also provides you with the same feeling of being free to create anything you want since all lego blocks fit with each other. Basically, it is like having Minecraft even with the power off.
We have handpicked not only the best looking minecraft toys but also the most enjoying ones. We guarantee that after you read our list we would have been able to help you pick which would be the most ideal Minecraft toy for you as a collector, you to play with, and even play with your kids.
The Best Minecraft Toys for 2020
The best minecraft toys are not only those which look the best or look coolest. Rather our list also contains the best toys which can help you promote self growth in terms of being more creative as an individual and more imaginative. This list also helps you pick the most ideal toy to get your children to let them develop proper imagination.
Without further ado – here is our top 10 list for the best minecraft toys for 2020.

This Minecraft Lego Set is one of the most iconic set as it provides kids and adults the chance to visualize Minecraft at it's most optimum level. In this set, you get to have steve, a zombie, a buildable baby zombie and a buildable bat which you can play with to liven up your Minecraft play time and visualize being steve fighting his way inside a cave filled with zombies.
On a role-playing perspective, you play as steve with minimal resources such as only an iron helmet and an iron pick-axe. Grab all your might and sharpen your heart as you are about to dig through a cave filled with zombies and bats.
You can get this Minecraft toy now by clicking here.
This Minecraft Lego set is considered as one of the best Minecraft toys not just because of it's complexity. This set also fills the players with imagination since this has many pieces. You can reshape and form your bridge to any possible model that you want. In this set you also get Alex with full diamond armor, diamond equipment, multiple mobs and even a wither skeleton!
Just imagine, you are trying to build a bridge and then suddenly a mob of blazes suddenly ambush you from behind. It will depend on your quick thinking and imagination on how to survive the attack. With the use of your diamond equipment you manage to fend off the blaze spawns but just when you are about to put your equipment back to your chest a Wither Skeleton arrives! Fight or flight?
You can get this Minecraft toy now by clicking here.
If you were a big fan of the Minecraft 1.13 major update then you and your kids are definitely going to LOVE this minecraft lego set. This set contains alex, pirate steve, multiple animals, an island build kit, a pirate ship build kit and even a zombie. What more could you want to start your pirate adventure?
Set off to the deep with your mates and try to find dry land. Just when you reach land, you venture into the proximities and scout. So, you take a quick rest and find some sea turtles and a dolphone playing nearby. Then you suddenly hear a growl. When you turn your back you see a zombie! Would you fight or go back to your ship?
You can get this Minecraft toy now by clicking here.
In terms of number of pieces this Minecraft Lego build kit contains not very many. However, this building kit s still considered as one of the best Minecraft toys because it re-visualizes the final battle on Minecraft. It contains some end mobs, steve with full diamond armor and the ender dragon!
Imagine, you have already gathered all the possible items you possibly want for Minecraft. So, as a natural born explorer you somehow managed to stumble across the end. You see some ender men and think hey this place is cool. Suddenly you hear a large flapping sound. When you look up you see the ender dragon breathing purple fire at you. So, you quickly hide behind a block and get ready for the final battle.
You can get this Minecraft toy now by clicking here.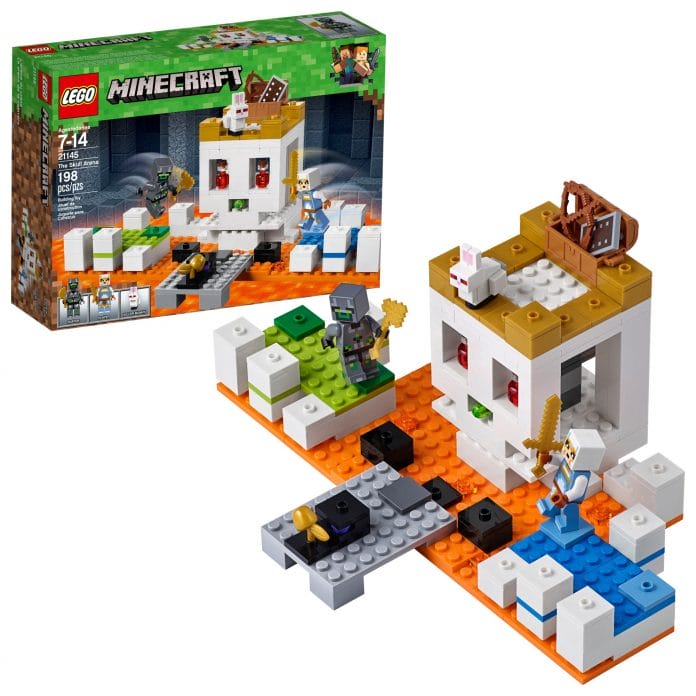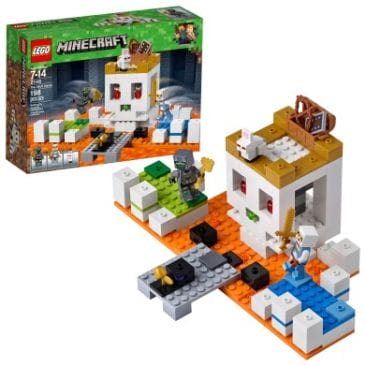 This minecraft lego set is considered to be one of the best minecraft toys due to the fact that it has one of the most rarest mobs you can possibly find in the game – the killer bunny. If you have played the game for some time now, you would know how rare this mob is. This building kit also contains steve, an armored zombie and a very awesome skull arena build set.
So there you are, readying your weapons and arming yourself. You are a gladiator under the rule of the great emperor evil bunny. You fight to the death against one of the most elite warriors on his entourage – the armored zombie. Fight your way to victory and be the new elite!
You can get this Minecraft toy now by clicking here.

This Minecraft lego set looks very minimalist just by looking at the number of pieces you get. However we added this lego set to the list due to the classical vibes and multiple number of scenarios which you can visualize while playing with this set. This set contains some animals, bearded steve with a golden sword and a skeleton archer.
Visualize being in the taiga biome looking for new places to explore and make your sub-base. As you venture you you stumble across some furry creatures which you then tame to be pets. Just when you thought it was gonna be an easy venture to the woods a skeleton archer appears. Get ready for a fight.
You can get this Minecraft toy now by clicking here.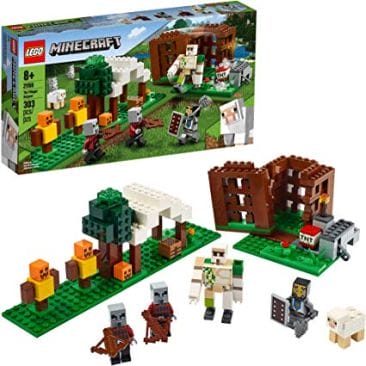 If you have been a giant fan of the Minecraft 1.14 village and pillage major update then it is a surefire guarantee that you are going to love this Minecraft Lego set. This is due to the fact that you get all of the possible pieces you could possibly need to visualize pillager raids. You get multiple village and pillage pieces at the same time golems and a character with full iron set.
Think about it, you were just minding your own business travelling with your golems as you suddenly bump across a Pillager outpost. It's time to pillage the pillages are ravage their base as you fight your way to dominate their base!
You can get this Minecraft toy now by clicking here.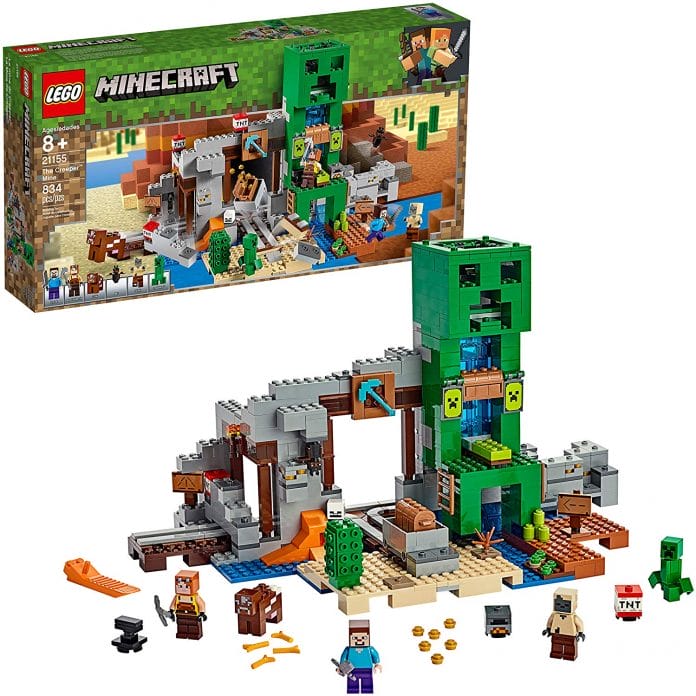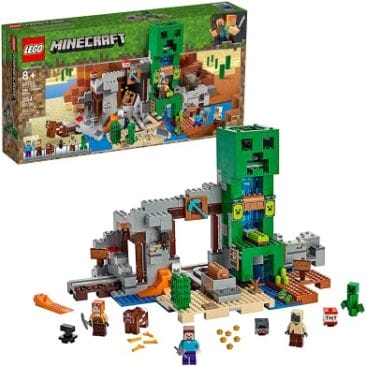 This minecraft lego set contains very many pieces. you have the freedom to mix and combine various blocks as it's diverse collection is quite admirable. You also get a creeper, a zombie and more! You are going to love playing with this lego set alone or with your kids as you can imaging multiple scenarios with this lego set.
One example of a scenario you can do is being miners looking for diamond. You and your buddy dig and venture deep into a tunnel which you have created. Little did you know that it was connected to a creeper mine! So you keep digging on, then you suddenly hear the hiss. So, you and your friend equip your weapon and get ready for an explosive battle.
You can get this Minecraft toy now by clicking here.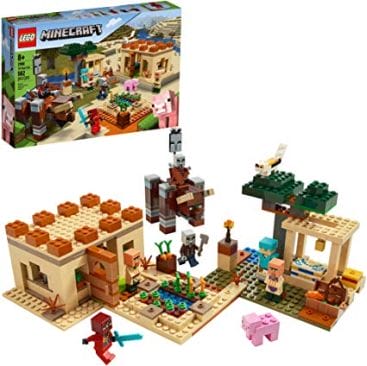 This minecraft lego set is another kit from the Minecraft 1.14 Village and pillage major update. However, what makes this more fun is that you are the one on defence. If you buy this together with the pillager outpost build kit you are guaranteed to fully immerse yourself to the Minecraft 1.14 experience. This set includes  Pillager mobs, some villagers, and two characters equipped with some diamond equipment.
So, imagine that you are minding your own business and trying to help a nearby village in striving and expanding. So you help and farm the crops. Suddenly, the pillagers arrive out of nowhere and start to raid your village. You and your friend equip your diamond equipment and get ready for a battle to defend your land!
You can get this Minecraft toy now by clicking here.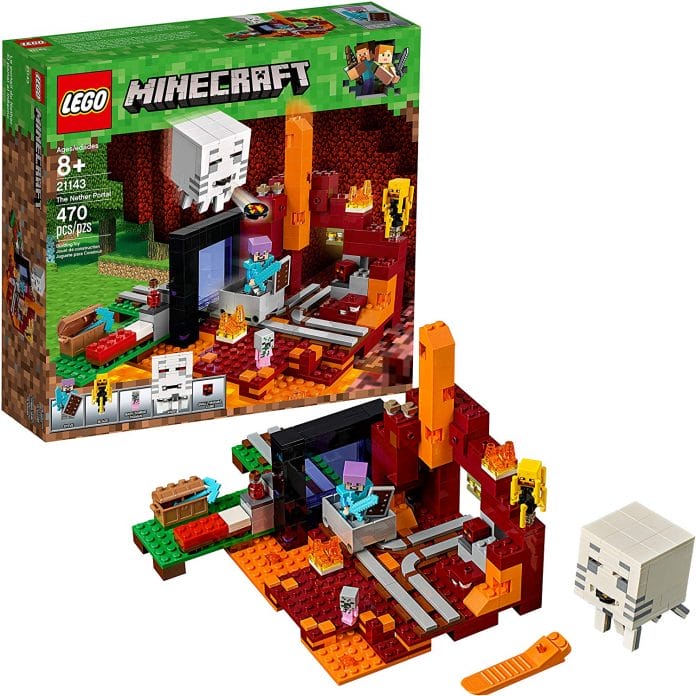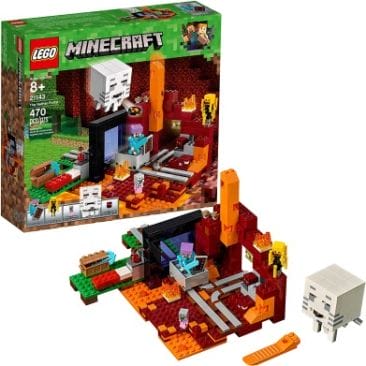 This minecraft lego set is filled with tons of possible fun scenarios which you can visualize. This is due to the fact that this set has diverse nether pieces and full diamond armor sets plus a shield. This kit contains nether blocks and overworld blocks. You also get treated to tons and tons of mobs for whole hours of battles. We consider this as the best minecraft toy due to the fact that it has a good number of total pieces and tons of possible scenarios to imagine as you play.
So here is a super way to imagine and visualize this play set. So, you have already created tons of armor and weapons. You have also gathered enough resources to give you confidence in travelling in the game even further. You decide to create a nether portal. So you finally pieced it all, and the portal activates. As a brave adventurer, you dashingly charge in without knowing what lies ahead.
You can get this Minecraft toy now by clicking here.
Conclusion and Takeaway
No matter which of the best minecraft toys you decide to buy you are guaranteed that you will be getting tons of play time. You won't just get bored easily. You get enjoy playing with the lego sets with your children or alone while excercising your minds as you have tons of fun. You get to feel a deeper connection with the game as you visualize scenarios in your minds.
You can even go to the extent of buying multiple sets and mixing them up. You and your children will have lots and lots of happy moments. We would also like to remind you of the choking hazard. Always execute proper safety and always be there for your child as much as possible. Aside from that, if you are a parent, a teen, a collector, or just someone who loves minecraft then buying a minecraft toy can make you immerse in the game better. Buy one or Buy all.