Archangels 16x PvP Texture Pack 1.8.9 / 1.8 is a PVP resource pack that is simple yet totally effective in its execution. Looking for something simple that'll still spice up your PVP life? Keep reading!
What is Archangels 16x PvP Texture Pack 1.8.9 / 1.8?
Archangels is a pretty back-to-basics sort of texture pack that doesn't over promise and doesn't underdeliver. Using a solid texture pack as its foundation, Archangels adds a selection of new PVP item skins to put its foot in the door that is Minecraft PVP resource packs.
What is Archangels 16x PvP Texture Pack like?
Like a lot of resource packs, Archangels uses an already established resource as a springboard for its own unique taste. In this case we have Latenci Blueberry 16x as the pack's foundation for blocks, and the pack benefits from this tasteful choice.

Where the pack begins to show off some of its personality is through the PVP items. And in those items the creator has applied a monochromatic colour palette, giving the pack a unique look. As a fairly new pack, this is a great foundation to begin developing from, and the bold colour choice allows the pack to stand out while still keeping the actual work behind it fairly simple.

If you're used to switching resource packs for PVP, then the typical array of items are present in this pack as well. Shovels, flint and steel, even apples have been given a great grey new look. Overall, items like the jet black sword, as well as the matching bow and arrow are great.
They look awesome and make you feel cooler than you probably should. You can't help but feel like a pro wearing a full set of totally black armour now can you? The general useability of the pack is solid.
The colours never work against each other, and because the creator has stuck to a simple design, the pack's custom content still stands out in your hotbar, so there's no chance of getting flustered in the middle of a fight.
The biggest issue is the amount of content that the pack provides. Although the creator has made a great foundation, I'll be looking forward to seeing if they continue to develop this pack further. Some might find it too simple, but those looking for something that just works without too many unnecessary bells and whistles will certainly be pleased.

If you love PVP and want a new resource pack that won't change the look of Minecraft too much, but still want something that looks just as good as you are at battling other players, then I highly recommend installing Archangels 16x PVP texture pack.

What is good about Archangels 16x PvP Texture Pack?
✔Solid foundation for development
✔Good choice in colour scheme
✔Simple but effective
What is not so good about Archangels 16x PvP Texture Pack?
X Could use more unique designs
X Some might want more detail
X Not as impactful as other packs
How do I install Archangels 16x PvP Texture Pack?
If you're looking to install Archangels 16x for your next Minecraft session but aren't sure how to go about it, then you're in the right place. We've put together a simple guide on downloading and installing resource packs for Minecraft. It's quick and easy, and will only take a couple of minutes. Let's go!

You're first job is to download Archangels, which will download as a zip file. When you've done that you need to place the download into your Minecraft resource pack folder. If you're not sure where that is, just open Minecraft and go to options>resource packs>open resource pack folder. If you'd rather not go through Minecraft, go to one of the three directories below depending on your computer's operating system:

To make sure you get the best game experience possible we strongly recommend using PvP Texture Pack in combination with Optifine. For the best PvP experience, we recommend you use Minecraft version 1.8 or 1.7.
How to install Archangels 16x PvP Texture Pack for Minecraft?
If you don't know how to install Archangels 16x PvP Texture Pack for Minecraft? just look below, we'll provide you with a short tutorial there. This installation guide should work with all Minecraft versions. To see the Official Download Links just scroll down.
After you have seen the instructions we recommend that you first install OptiFine. Also please note that you might have to zip the zipped file twice if ever the zip file contains another zip file. Some packs might have been zipped twice for better compression which is why please be wary of double zipped texture packs to make sure that all the packs run perfectly well without any issues.
Simple 6-step installation below is recommended! 
1. Make sure you have installed Optifine.
2. Download Archangels 16x PvP Texture Pack for Minecraft?  from the official links.
3. Start Minecraft, navigate to "options" then.
4. Navigate from "options" > "Resource Packs" > "Open resource packs folder".
5. Drag and drop the pack into the folder.
6. When you now launch Minecraft you should see the Pack.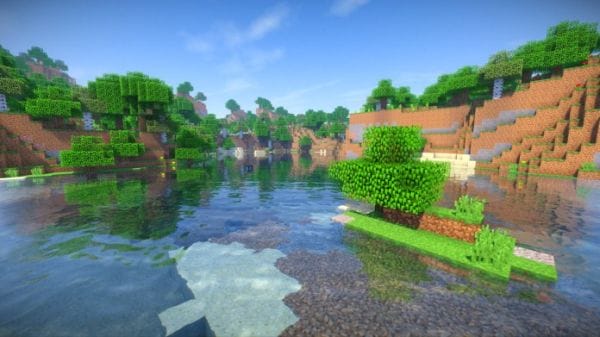 OptiFine for Minecraft 1.14.3 / 1.14.2 / 1.14.1 / 1.14 Resource Packs & Texture Packs
Before Proceeding to download this texture pack and play it like the pro that you are we would like to recommend OptiFine! Please download and install OptiFine to ensure that you will not be having any problems or troubles after downloading this texture pack.
Although texture packs are known to have already altered the resolution and quality of the default looking textures and particles of Minecraft you still can't go wrong with OptiFine. OptiFine will help your game load better with any default texture pack and at the same time ensure the compatibility.
OptiFine can make Minecraft 1.14 combined with texture packs run faster, look better and significantly make the game better all around.
Here are awesome links to help you download OptiFine,
Archangels 16x PvP Texture Pack 1.8.9 / 1.8 for Minecraft Download